BSc, MPH, DrPH, PhD (Hon), OC, FRSC, FCAHS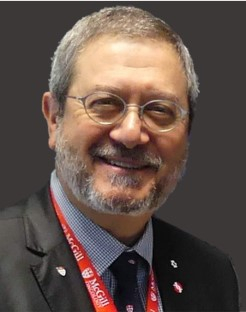 Dr. Franco is James McGill Professor in the Departments of Oncology and Epidemiology & Biostatistics, Director, Division of Cancer Epidemiology, and Chairman, Department of Oncology, at McGill University's Faculty of Medicine, in Montreal, Canada. He was in the faculty of the Université du Québec (1989-94) and Senior Researcher and Head of the Epidemiology Unit, Ludwig Institute for Cancer Research, Sao Paulo, Brazil (1985-89).
He holds BSc (1975) and Licentiate (1976) degrees in biology from Universidade de Campinas, Brazil, and master's (MPH) and doctoral (DrPH) degrees in public health microbiology from the University of North Carolina at Chapel Hill (1981-84). He was a Guest Researcher at the U.S. Centers for Disease Control, in Atlanta (1980-81 and 1983-84), and a post-doctoral fellow in cancer epidemiology during 1984 at the International Agency for Research on Cancer in Lyon, France, at the U.S. National Cancer Institute (NCI) in Bethesda, and at Louisiana State University, in New Orleans.
Since 1985, his research has focussed on the following topics: molecular epidemiology and prevention of cervical cancer and human papillomavirus-associated diseases, cancers of the upper aero-digestive tract, prostate, endometrium, and childhood tumours; studies of epidemiologic methods for evaluating efficacy of cancer screening strategies; the impact of measurement error in epidemiology; and societal and clinical influences on cancer patient survival. Much of his research has been international, with projects in Canada, Brazil, Mexico, Portugal, the Congo Republic, United States, and with the International Agency for Research on Cancer, in France.
His research has been funded by the Canadian Institutes of Health Research (CIHR), the US National Institutes of Health, National Cancer Institute of Canada, Canadian Cancer Society Research Institute, Fonds de la recherche en santé du Québec (FRSQ), and Cancer Research Society. As of early September 2022, he had published 560 scientific articles (h index: Scopus=84; Google Scholar=106) and 63 chapters, edited two books on cancer epidemiology and prevention, and co-edited 10 journal supplement issues. Many of his articles have appeared in premier biomedical journals, such as The Lancet, Journal of the American Medical Association, New England Journal of Medicine, Journal of the National Cancer Institute, British Medical Journal, and PLOS Medicine. He made 778 presentations as invited speaker or session chair in national and international conferences and in seminars in academic or clinical departments throughout the world (excluding 545 offered abstracts presented in conferences).
He is Editor-in-Chief of Preventive Medicine (2013-) and Preventive Medicine Reports (2014-), and Senior Editor at eLife (2018-). He has served in the editorial boards of American Journal of Epidemiology (1993-98), Cancer Detection and Prevention (2001-08), Cancer Epidemiology, Biomarkers & Prevention (1995-), eLife (2012-), Epidemiology (1993-2009), International Journal of Cancer (2009-), Medical and Pediatric Oncology (2000-04), Tumor Virus Research (2015-), PLoS-Medicine (2004-17), Preventive Medicine (2008-), among other biomedical journals. He has served in several scientific or grant review panels for the above agencies and for national and international health organizations, as well as a consultant to the pharmaceutical and biotechnology sector on cancer screening and prevention. He served twice as an advisor to the US President's Cancer Panel (2012, 2013).
He has mentored 96 graduate students (59 MSc, 37 PhD), 36 post-doctoral fellows, and 41 undergraduate trainees since 1985. In addition to his regular teaching at McGill, he taught 49 courses on cancer epidemiology and best practices in scientific publishing in Canada, the US, Latin America, Europe, Southeast Asia, and the Middle East. He has served as member of and occasionally chaired organizing or program committees for 65 national and international conferences on epidemiology, infectious diseases, and oncology themes. He chaired the organizing committee for the 16th World Congress of Epidemiology, in Montreal in August 2002 and was Honorary President for the EUROGIN Congress, Monaco, February 2010. He was elected twice (2002-05 and 2017-21) as representative for North America in the Council of the International Epidemiological Association. He represented the latter in the Joint Policy Committee of the Societies of Epidemiology (2011-15). He is Vice-President and President-Elect (2020-22) of the Canadian Society for Epidemiology and Biostatistics.
His awards include: Doctor Honoris Causa, Universidade Fernando Pessoa, Porto, Portugal (2018); Distinguished Service to Cancer Research Award, Canadian Cancer Research Alliance (2017); Dr. Chew Wei Memorial Prize in Cancer Research, University of British Columbia (2017); Geoffrey Howe Outstanding Contribution Award, Canadian Society for Epidemiology and Biostatistics (2017); Officer of the Order of Canada (2016); Lifetime Achievement Award, International Papillomavirus Society (2015); Foreign Member of the Brazilian Academy of Sciences (2013); Fellow, Canadian Academy of Health Sciences (2012); Fellow, Royal Society of Canada (2011); McLaughlin-Gallie Award, Royal College of Physicians and Surgeons of Canada (2011); Lifetime Achievement Award, American Society for Colposcopy and Cervical Pathology (2010); Women in U.S. Government's Presidential Leadership Award (2008); Distinguished Services Award, EUROGIN Society (2006); Canadian Cancer Society's Warwick Prize in cancer control research (2004); James McGill Professorship (2002, 2009, 2016); CIHR Distinguished Scientist (2000); Educational Excellence at McGill University (2000); Montreal's Emeritus Ambassador for the Palais des Congrés (2007); FRSQ's "Chercheur National" Award (1999); Superior Performance Award, US Centers for Disease Control (1984).
Visit McGill's Cancer Epidemiology Unit website      View Dr. Franco's PubMed References 
Visit McGill's Oncology Department website           View Dr. Franco's Google Scholar Profile
Division of Cancer Epidemiology
McGill University
5100 Maisonneuve Blvd West, Suite 720
Montreal, QC, Canada  H4A 3T2
Phone: +1-514-398-8014
E-mail: eduardo.franco [at] mcgill.ca (Email Dr. Franco) at eduardo.franco (at) mcgill.ca