Course listings in History and Classical Studies include regular offerings in Modern Greek language, history, literature and culture. All courses related to Modern Greek may be counted towards the Minor in Neo-Hellenic Studies. 

Depending on the type of course, credits earned in Modern Greek may also be counted as:
- Civilization credits towards degree option in Classical Studies
- History electives towards degree option in History. 
Minor Concentration in Neo-Hellenic Studies
Program Advisor
Prof. Anastassios Anastassiadis
tassos.anastassiadis [at] mcgill.ca (Email)

Office: 827, Leacock Building
Office Hours: Friday, 9:00-12:00 am 
Appointments available upon request.
Program description
The Minor Concentration in Neo-Hellenic Studies immerses students in the rich literary and cultural tradition of Greece. The Minor Concentration is designed to enable students to achieve linguistic proficiency in Modern Greek and to provide them with an understanding of the diachronic influence and the synchronic importance of the Modern Greek language, literature and history in the contemporary global world of diversity and pluralism. The Program Advisor explains why a minor in Neo-Hellenic Studies is an important undertaking here. 
Program Requirements
Complementary (18 credits)
Students may choose 12-15 credits from the following courses:
Additionally, students may choose 3-6 credits from the following list:
(With advisor's approval, other courses might also be considered)
Students are required to take a minimum of 12 credits at the 300-level or above.
Course Offerings
The following courses are also admissible when the topic is relevant to Greece in its Balkan, European, or Mediterranean context:
Fellowships
The Greek Grand Tour Summer Fellowship

The proposed fellowship ($1200 in 2015) contributes to the travel and living expenses of one outstanding graduating student with a Neo-Hellenic studies minor, so that they might fund, as well as report on, their own "Grand Tour" through Greece in the summer following their graduation from McGill. For more information, click here.
 

Stavros Niarchos Foundation Fellowship

Qualified students pursuing or wishing to pursue graduate studies at McGill University can apply for the Stavros S. Niarchos Foundation Fellowships. 

 
Students and Alumni
Watch Ariana Collas (B.A. 2013, Political Science/Minor in Neo-Hellenic Studies) explain why she took Modern Greek at McGill. 
Click here to see what Dimitrios Tomaras (B.A. 2014, Economics/Minor in Neo-Hellenic Studies) did with his 2014 Greek Grand Tour Summer Fellowship. 

Ekaterini Kostopoulos, the 2015 'Greek Grand Tour Summer Fellowship' recipient and McGill Graduate (B.A. 2015 Political Science, Double minor in Philosophy and Neo-Hellenic Studies), shares her Grand Tour experience on her blog!
Neo-Hellenic Studies minor student, Katerina Patouri, wins in 2014 the Guy Ouellette Chomedey-Laval MNA scholarship from the Hellenic Scholarships Foundation of Montreal.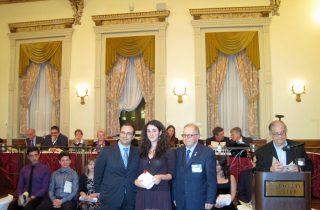 Alumni Donations to the Phrixos B. Papachristidis Chair in Modern Greek and Greek-Canadian Studies can be made here.
Fund code: 02287
Teaching Greek
Teaching Greek Language and Culture Option
within the Bachelor of Education,
Teaching English as a Second Language (B.Ed. TESL)
Elementary & Secondary
In the fall of 2016, McGill's Faculty of Education will launch the first comprehensive degree in North America to prepare Greek language teachers for elementary and secondary schools. Through the 4 year B.Ed. TESL Elementary & Secondary Program – Teaching Greek Language and Culture Option, students will combine studies in education with studies in Greek language and culture to become teachers of both English and Greek as a Second Language.
The B.Ed TESL program includes studies in language and language learning from linguistic, literary, social, cultural, philosophical, political, and psychological perspectives, accompanied by a minimum of 700 hours of supervised field experiences in schools. The NEW Option includes studies in Greek Language and Culture from History and Classical Studies, Art History, Philosophy and Political Science, and offers field experiences in Hellenic schools.
Montreal is a natural fit for this fresh initiative! Its vibrant Greek community and full-program day schools within the Socrates School network offer Greek as well as French and English as part of the curriculum. This new program option will bolster the efforts of McGill's Phrixos B. Papachristidis Chair, which was established in 1988 in memory of the late Montreal shipping industrialist for whom it is named. The Chair aims to maintain Greek language and culture as a shared tradition among the diasporic community and to further the study of Modern Greek and Greek-Canadian relations. We are thrilled to add the preparation of Greek language teachers to these efforts.
For more information visit B.Ed. TESL/Teaching Greek Language and Culture Option/Concentration.