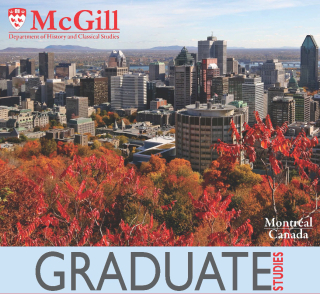 The Department of History and Classical Studies includes 47 full-time faculty members with particular strengths in Canadian history, British and European history, East Asian history, the history of medicine, the history of science, historiography and critical theory, and newer fields such as the history of gender and sexuality, the history of the Atlantic and Indian Ocean worlds, and global history.
In addition to research by individual scholars, the department is home to a number of major collaborative research projects, all of which also include students. Among these are the Montreal History Group; the Indian Ocean World Centre (IOWC); Quelques arpents de neige, an environmental history group; and the French Atlantic History Group.
Registration for Incoming Graduate Students
Registration opens on July 5, 2016, at 9:00 AM on Minerva for incoming graduate students.
Contacts