The Department of History and Classical Studies welcomes postdoctoral scholars.
Current Postdoctoral Scholars
Susan Lamb
Susan Lamb is a SSHRC Postdoctoral Fellow (2013-2015) working in the Department of History and Classical Studies at McGill University and advised by Professor David Wright. Dr. Lamb is an historian of science and medicine who received her PhD from the Institute of the History of Medicine at Johns Hopkins University in 2010. In addition to teaching in McGill's Faculty of Medicine and Faculty of Arts and Sciences, during the initial year of the fellowship she completed her first book. Pathologist of the Mind: Adolf Meyer and the Origins of American Psychiatry is published by Johns Hopkins University Press (October 2014) and is the first systematic historical analysis of the pioneering, but often forgotten or misunderstood figure in the history of modern psychiatry. Dr. Lamb was recently awarded the John C. Burnham Early Career Award sponsored by the History of Science Society, Forum for History of Human Science, and the Journal of the History of the Behavioral Sciences for her article "Residual Effects and Early Manifestations: Intersections of Neurasthenia and Subconscious Conflict as Explanatory Models for Functional Disorders in Prewar America," which was researched and written during her tenure as a SSHRC Fellow. Currently, she is researching the development of clinical medicine in North American medical schools at the end of the 19th century using historical collections in the Osler Library at McGill University and in the medical archives of Johns Hopkins Hospital. Working with historians and computer scientists at several Canadian universities, Dr. Lamb is also heading an exciting digital history project—creating a searchable digital archive of Adolf Meyer's scientific corpus (1890-1945) that will subject his foundational (yet notoriously confounding) writings to new modes of computational analysis and historical interpretation.
Simon Macdonald
Simon Macdonald is a Banting Postdoctoral Fellow at McGill University. He received his PhD in History from the University of Cambridge in 2011, and has undertaken postdoctoral work at University College London, the Institute for Advanced Studies in the Humanities at the University of Edinburgh, and the British School at Rome. He has also held visiting fellowships at the Beinecke and Lewis Walpole libraries at Yale, and at the Houghton library at Harvard.

Dr Macdonald's research revolves around Enlightenment concepts and practices of cosmopolitanism, exploring intellectual debates, cross-cultural transfer, and transnational groups. His doctoral thesis, which is now the subject of a book manuscript, examined the British expatriate presence in France during the eighteenth century, using a focus on population exchange so as to explore broader spheres of cross-Channel interaction and to probe larger historical questions about changing patterns of cross-border conjunctures. His postdoctoral work develops this research agenda, exploring how Enlightenment thinkers constructed sophisticated ideas about the 'cosmopolitan', with the term's meaning being comparable to our current usage of 'international', a term which was only invented in the late eighteenth century; studying ideas about cosmopolitanism accordingly provide a means of reviewing how commentators from this period identified, debated and valorized the negotiation of difference. Dr Macdonald's recent journal publications include 'English-language newspapers in revolutionary France', Journal for Eighteenth-Century Studies (2013); and 'Identifying Mrs Meeke: Another Burney Family Novelist', Review of English Studies essay prize (2013).
Contact details:
Office: Room M5.35, The Burney Centre, 5th Floor, McLennan Library Building.
Telephone: 1 (514) 398-6599.
simon [dot] macdonald [at] mail [dot] mcgill [dot] ca (Email)
Darren Wagner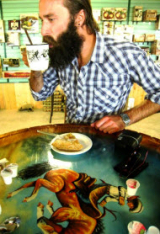 Darren Wagner is a SSHRC Postdoctoral Fellow at McGill University. He is associated with both the History and Classical Studies Department and the Social Studies of Medicine Department, with Professor Andrea Tone as his supervisor. Dr Wagner's interdisciplinary training and expertise is in history of medicine, eighteenth-century British literary culture, history of sex, and reproductive biology. His labour of love, a doctoral thesis titled Sex, Spirits, and Sensibility: Human Generation in British Medicine, Anatomy, and Literature, 1660-1780, earned him a PhD in History from the University of York (UK) in 2014. He is also co-editor—with Professor Raymond Stephanson—of the scholarly collection The Secrets of Generation: Reproduction in the Long Eighteenth Century, due to be published by the University of Toronto Press in 2015.

While at McGill, Dr Wagner is researching the paradigmatic shift from animal spirits to electricity in late eighteenth-century understandings of neurophysiology, sex, and reproduction. His project seeks to answer how cultural movements and scientific revolutions interrelate, by closely examining how modern medical understandings of sexuality and reproduction came about in the early Romantic period. This new research contributes to his monograph-in-preparation about the culture of sensibility, neurology, and "generation" in the long eighteenth century. Topics particularly resonant in Dr Wagner's historical work include literature and science; medicine and gender; museums and visualization; reproductive pathologies and social anxieties; cultures of experiment, anatomical technologies, and sexuality.

Contact details:
3647 Peel St., Room 209
Montreal, Quebec
H3A 1X1
darren [dot] wagner [at] mail [dot] mcgill [dot] ca (Email)


Funding Opportunities
Information on Post-doctoral Fellowship Opportunities can be found on the Faculty of Arts Website; in particular, note the Banting, Mellon, and Tomlinson Fellowships, as well as the links to SSHRC and FQRSC fellowships.

Banting Fellowship Competition
Faculty of Arts Procedures, Fall 2015
Please see this page for more information.
2014-2015
Mellon Post-Doctoral Fellowships in the Humanities and Related Social Sciences at McGill University
A world-renowned university located in the cosmopolitan metropolis of Montreal, Canada, McGill University has earned an international reputation for scholarly achievement and scientific discovery. Founded in 1821, McGill has 21 faculties and professional schools, which offer more than 300 programs from the undergraduate to the doctoral level. McGill attracts renowned professors and researchers from around the world and top students from more than 150 countries, creating one of the most dynamic and diverse educational environments in North America.

Three Mellon Postdoctoral Fellowships will be awarded for the academic year 2014-2015 to promising young scholars. The stipend for each fellow is $52,000 CAD (plus benefits), in addition to a research allowance of $8,500. The Fellowship is renewable once. Each fellow will teach an undergraduate course in both fall and winter terms and may be asked to give a public presentation on his or her research. Fellows will be provided with office space and are expected to be on campus making use of McGill's resources, particularly during the academic year.

Eligibility:
Scholars who received their PhD after June 2011 or who will have completed all PhD degree requirements by June 1, 2014, in any discipline of the humanities or related social sciences are eligible to apply. Interdisciplinary applications are especially welcome, and the fellowships are open to scholars of any nationality.

Applicants who do not have the PhD in hand at the time of application must include a letter from their Department Chair specifying the date of the dissertation defense. Successful applicants who do not complete all requirements for their PhD by June 1, 2014, will have their offer of award withdrawn.

To Apply:
All applicants must be in contact with a full-time faculty member in the Faculty of Arts in advance to identify an appropriate supervisor for his or her work. The deadline to contact a proposed supervisor is Friday, October 25, 2013. Since each supervisor can only endorse one Mellon fellowship application, an application can only proceed once endorsement from a proposed supervisor has been obtained. Applicants will be notified of this decision by the proposed supervisor by Friday, November 1, 2013.

There is no application form. The application should include:

1) A one-page statement of interest from the applicant detailing the proposed research project
2) A full curriculum vitae
3) An official copy of university graduate transcripts
4) A copy of the doctoral diploma, or a letter from the Department Chair specifying the defense date
5) Two letters of recommendation, one of which must speak to competence in teaching
6) A writing sample, not to exceed 20 pages (extract from the dissertation, published work, or draft of a work in progress)
7) A letter of support from the proposed supervisor in the Faculty of Arts at McGill, to be forwarded directly to the address below by the proposed supervisor

Applications must be received by Monday, November 18, 2013.
For more information contact: adr [dot] arts [at] mcgill [dot] ca or 514-398-4400, ext. 094822
Applications should be submitted electronically to adr [dot] arts [at] mcgill [dot] ca. Electronic letters of recommendation should be attached as PDF documents only and sent directly by the referees.

Submission by mail is also possible. The completed application should be sent to:
Professor Jim Engle-Warnick
Associate Dean, Research and Graduate Studies
Faculty of Arts
McGill University
853 Sherbrooke St. W.
Montreal, QC H3A 0G5 CANADA

The Fellowship term will begin on August 1, 2014.
SSHRC
Canadian residents who qualify for Social Science and Humantities Research Council Postdoctoral Fellowship can find more information at the website. 
FQRSC
Residents of Quebec are also qualified to apply to Fonds québécois de la recherche sur la société et la culture. Website
General information concerning McGill regulations and resources for postdoctoral scholars can be found at the Postdoctoral Website.