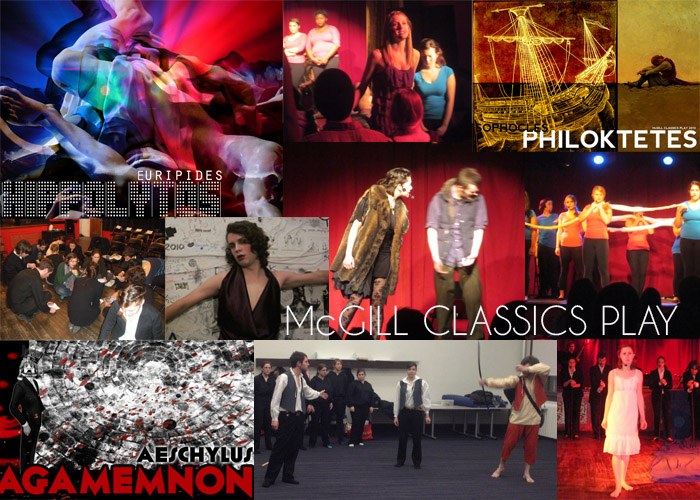 Welcome to our fundraising page, and thank you for supporting the McGill Classics Play! You can donate here.
MISSION STATEMENT
The goals of the annual McGill Classics Play are simple: to give Classics students a new perspective on material that they usually only experience as written texts in the classroom, to give all university students an opportunity to experience ancient drama, and to provide a space for the exchange of art and ideas around Greek texts in our Montreal community.
FUNDRAISING INITIATIVE
The McGill Classics Play is a non-profit venture committed to giving Montreal university students a unique educational experience, while fostering cultural exchanges with our Montreal community around ancient texts. In addition to offering free and low-cost performances to our community, we also bring in guest speakers for public lectures on Classical drama and performance, and engage local artists to help bring our productions to life. We depend on support like yours in all these activities, and hope that you will continue to support us that we can continue to expand our programming, to include more neighbourhoods, to have more workshops, and, eventually, to offer productions in both French and English. 
The McGill Classics Play operates independently, and has no stable source of funding from McGill, though we do receive small contributions from the John MacNoughton Chair in Classics and the Phrixos B. Papachristidis Chair in Greek Studies. We have also, for the last two years, won small grants from the Dean of Arts Development Fund. The majority of our income is still from ticket sales, which means that the production team, including students, puts up money for the play before we are able to make it back through tickets sales. So the goal of fundraising is threefold: first, to make up this ticket sales gap so that all money for the play can come from our fund; second, to have enough money to continue to offer and expand free and accessible shows in our community, complete with academic programmes and lectures of high quality; third, to continue to hire local artists to contribute to our projects. Your donations are essential in making these goals a continuing reality. You can donate directly to the McGill Classics Play here, and you will automatically receive a tax receipt for your donation. Thank you for supporting the McGill Classics Play!
FACTS
The McGill Classics Play is a member of the Quebec Drama Federation, and its community partner, Oimoi Productions, is a member of the Freestanding Creative Collective.
Each year, the Classics Play produces an all-new English translation of a Classical play, with original music, in an off-campus venue. Past venues have included the Sala Rossa, the Montréal, arts interculturels space, and the Mainline Theatre.
In 2014, the McGill Classics Play performed two community shows in addition to its main run, one a free show as part of the Westmount Winter Carnvival, in Victoria Hall, and one as a fundraiser for Greek schools at the Hellenic Community Centre.
Since 2011, the McGill Classics Play has produced Aeschylus' Agamemnon, Euripides' Hippolytos, and Sophocles' Philoktetes, and Aristophanes' Lysistrata. 
In the last four years, over 100 students have gained valuable experience participating in the McGill Classics Play (translating, directing, acting, writing music, playing music, designing and making costumes, doing make-up, designing lighting, tech directing, stage managing, managing publicity and marketing, and keeping the books). These students are undergraduates and graduates, and have come from faculties across McGill- we have also had students from UdeM and Concordia participate.
Any university student who wants to participate can; anyone who auditions is cast.
The McGill Classics Play hires local artists to participate in and enhance our shows- we believe that we can learn from each other through engaging ancient texts. Past artistic collaborations have been with musicians, composers, and comedians.
In 2011, the Arts Undergraduate Society awarded the McGill Classics Play "Best New Activity".
In 2012, student director Carina de Klerk adapted her Classics Play production of Hippolytos into an award-nominated Montreal Fringe Festival production, giving several students their first professional experience in the theatre.
In 2012, the McGill Classics Play began a continuing partnership with local professional theatre company Scapegoat Carnivale, and became a member of the Quebec Drama Federation.
Over just 11 performances, the McGill Classics Play has sold over 1100 tickets, a slight majority of which were discounted tickets for students from local universities, high schools, and CEGEPs, seniors, and local artists.
Every year, the McGill Classics Play sponsors an academic lecture that is free and open to the public on the topic of Ancient drama.