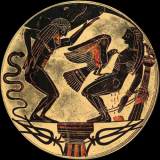 Classical Studies offers rich opportunities for students who wish to participate in scholarly research, both at the advanced undergraduate and the graduate level. Besides their individual research agenda, many of our faculty members are involved in continuing international research collaborations and editorials that provide additional training opportunities for students who excell in the classroom. Among other cooperations, we are an institutional member of the Canadian Institute in Greece and the British School at Rome. The academic resources of both institutions are open to our students during research trips to Greece and Italy.

Areas of interest and research specializations of our current faculty members include:
Anastassiadis, Anastassios:
Modern Greek history and literature
Beck, Hans:
Greek government and federalism; political culture of the Roman republic; historiography; cross-cultural approaches to ancient elites
Fronda, Michael:
Roman Italy; history of the Roman republic and early empire; interstate relations
Gladhill, Bill:
Roman republican and imperial poetry; the ancient body; Roman space and cosmology; history of Classical scholarship
Kozak, Lynn:
Greek tragedy; Homer, Thucydides, Plato; the reception and production of Greek drama and critical theories.
Serrati, John:
Warfare and imperialism in the Roman republic and the Hellenistic world; history of Sicily
Sirois, Martin:
Classical and Hellenistic Greek culture, Cynicism, ancient literary criticism
---