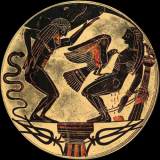 Classical Studies offers rich opportunities for students who wish to participate in scholarly research, both at the advanced undergraduate and the graduate level. Besides their individual research agenda, many of our faculty members are involved in continuing international research collaborations and editorials that provide additional training opportunities for students who excell in the classroom. Among other cooperations, we are an institutional member of the Canadian Institute in Greece and the British School at Rome. The academic resources of both institutions are open to our students during research trips to Greece and Italy.
Current faculty are engaged in a number of affiliated and collaborative research projects.
Classical Studies is the home of Teiresias, a review and continuing bibliography of Boiotian studies published since 1971 and since 1991 available electronically.
Classical Studies also preserves the McCullagh Photo Archive, which includes photographs taken by Paul F. McCullagh between 1964 and 1976 of remains from ancient Greece and the Persian Empire. Image downloads are free.
---