LAB ACCESS: 
Use of the AMLF is reserved exclusively for students registered in a McGill Faculty of Arts language course and for their instructors.
To login to the computers, authorized users need to know their McGill username and password.
---
LAB RULES:
Food and drink are NOT permitted in the laboratories.
Jackets must be left on the coat hooks provided.
Cellular phones are NOT permitted in the hallway or laboratories.
Noise in the lab should be kept at a minimum level suited to a research and recording environment.
Everyone is urged to review the policy on Responsible Use of McGill Information Technology Resources. The AMLF subscribes to these rules and will apply them.
---
HEADSET POLICY:
When headsets are required for work in the AMLF labs, please follow these instructions.
Instructors and students are encouraged to purchase their headsets at the following location:
   McGill University Bookstore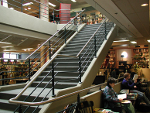 3420 McTavish Street
Montreal, Quebec
H3A 3L1

Tel.: 514-398-7444
Fax: 514-398-7433
Toll free: 1-800-362-0320
Email: bookstore [at] mcgill [dot] ca (McGill Bookstore)
Regular hours:


Monday to Friday, 9:00am to 5:00pm
Saturday, 11:00am to 5:00pm
Closed on Sundays
Students are encouraged to purchase a headset during the first week of classes.
The Plantronics Audio 355 Multimedia PC Headsets sold at the Bookstore have been tested and approved for use with the hardware and software installed at the AMLF. The purchase price will be $24.99, plus taxes, as long as supplies last.
Disclaimer: Voice recordings for exams and assignments must be of high quality. We therefore urge students to buy the recommended headset model. The Plantronics headsets have a one-year manufacturer warranty against defects. No exchanges will be honoured for headsets broken through the purchaser's neglect. The AMLF is not responsible for lost or stolen headsets.
Note: USB headsets will also work at the AMLF, however we do not have a specific model to recommend at present.
---
CANADIAN MULTILINGUAL KEYBOARD SHORTCUTS
Here are the keyboard shortcuts for the keyboard layout found at the AMLF:
Canadian Multilingual Keyboard Layout [.pdf]
 
---