Degree(s):
PhD, Johns Hopkins University
Research areas:
Comparative Government and Politics
Areas of interest:
Chinese Politics, Contentious Politics, Law and Politics
Historical Institutionalism, Relational Approach, Content and Discourse Analysis
Selected publications:
---
Book: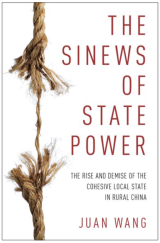 2017. The Sinews of State Power: The Rise and Demise of The Cohesive Local State in Rural China (New York: Oxford University Press)
[Critical Dialogue in Perspectives on Politics with Ralph Thaxton, Vol. 17, Issue 3 (2019), pp. 843-847.]
---
Articles:
2022. "Institutional Proximity and Judicial Corruption: A Spatial Approach" (with Sida Liu), Governance, 35(2): 633-649.
2021 (Open Access). "The Paradigm Shift in the Disciplining of Village Cadres: From Mao to Xi" (with Grace Mou), The China Quarterly.
2021. "Law for What? Ideas and Social Control in China and Vietnam" (with Nhu Truong), Problems of Post-Communism, 68(3): 202-215.
2020. " 'It's not just about the Divorce:' Law, Politics, and Mediation in Communist China" pdf(with Hongqin Mu), Journal of Comparative Law, 15(2): 160-178.
2020. "中华人民共和国成立初期的Y县离婚诉讼研究" (Divorce Litigation in the Early People's Republic of China: The Case of Y County) (with Hongqin Mu), 《法律和社会科学》(Law and Social Sciences)18 (1): 69-93.
2019. [Open Access] "Ordering Power under the Party: A Relational Approach to Law and Politics in China" (with Sida Liu), Asian Journal of Law and Society, 6(1): 1-18. 
2019. "Political Resources and Divergent Court Empowerment: Subnational Comparison in China,"  (with Wenting Liang), Modern China, 45(6): 629-665.
2018. "What's Wrong with Corruption? Messages from Confessions in China," Crime, Law and Social Change, 69(3): 447-463.
2015 "Managing Social Stability: The Perspective of a Local Government in China," Journal of East Asian Studies, 15: 1-25.
2012. "Shifting Boundaries between the State and Society: Village Cadres as New Activists in Collective Petition," The China Quarterly, 211: 697-717.
2009. "The Political Economy of Earmarked Transfers in a State-Designated Poor County in Western China: Central Policies and Local Responses" (with Mingxing Liu, Ran Tao, & Rachel Murphy), The China Quarterly, 200: 973-994.
2007. "The Politics of Poverty Mis-targeting in China," Journal of Chinese Political Science, 12(3): 219-236.
2005. "Going beyond Township and Village Enterprises in Rural China," Journal of Contemporary China, 14(42): 171-181.
---
Book Reviews
---
Opinion Pieces
Projects:
-Population Classification in Communist China and North Korea
-Policing in Communist China and the Soviet Union
-The Historical Origin of Powerful Police in China
-Hukou Work and Everyday Policing in Communist China (1949-1963)