You're kindly invited to our next virtual Plurilingual Lab Speaker Series panel presentation with 22 authors of the forthcoming Special Issue in the TESL Canada Journal:
Plurilingualism and Translanguaging: Pedagogical Approaches for Empowerment and Validation
In the field of language education, languages have often been conceptualized and studied as separate systems giving way to the implementation of monolingual approaches to additional language learning. In the field of TESOL and Applied Linguistics more generally, teachers and researchers have consistently questioned and challenged these monolingual views. As a result, we have witnessed a surge in research with plurilingual learners and their teaching across educational contexts (e.g., ESL programs, adult education, foreign language programs), and this plurilingual turn is giving way to vibrant discussions surrounding theories, concepts, and, most importantly, pedagogical approaches that empower and engage plurilingual students (Galante, 2020, Payant, 2020). This panel presentation brings the voices of authors who contributed articles to the forthcoming Special Issue on Plurilingualism and Translanguaging in the TESL Canada Journal, co-edited by Caroline Payant and Angelica Galante. These scholars present research on plurilingual learners' language development, identity construction, and teacher education from diverse theoretical perspectives and in several contexts.
When: December 9, 2021 (Thursday)
Time: 12:00-1:30pm (EST, Montreal)
Language of presentation: English with some data examples in languages other than English
Mode of delivery: Synchronous via Zoom
All attendees must register by December 8, 2021. Register here
The following authors will be discussing their article:
Plurilingualism and Translanguaging:  Pedagogical Approaches for Empowerment and Validation
Caroline Payant is an Associate Professor and Director of Graduate Studies in the Department of Language Education at the Université du Québec à Montréal. She specializes in additional language (AL) teaching and learning and task-based language teaching. Her work with AL learners, pre-services teachers, and novice writers can be found in journals such as Foreign Language Annals, Language Teaching Research, Modern Canadian Language Review, Canadian Journal of Applied Linguistics, and International Journal of Bilingual Education and Bilingualism.
Angelica Galante is an Assistant Professor in Language Education and Applied Linguistics in the Department of Integrated Studies in Education at McGill University and Director of the Plurilingual Lab. Her research examines social factors in language development, plurilingual and pluricultural competence, and language pedagogy in multilingual settings. Her work can be found in journals such as Applied Linguistics, TESOL Quarterly, International Journal of Multilingualism, and Applied Linguistics Review.
From 'Promising Controversies' to Negotiated Practices: A Research Synthesis of Plurilingual Pedagogy in Global Contexts

 
Le Chen is a postdoctoral fellow at the Ontario Institute for Studies in Education, University of Toronto. Le has extensive experience in teaching academic English courses and English language teacher training courses. She holds a PhD in Education with a specialization in Applied Linguistics and her research interests include plurilingualism, multiliteracies, and language policy.
Michael Karas teaches courses in English for Academic Purposes and Applied Language Studies at Renison University College, University of Waterloo. His research interests include language teacher self-efficacy, high variability phonetic training, and learner silence.
Mohammadreza Shalizar, MA, OCELT, is a PhD student in Language and Literacies Education at OISE, University of Toronto, where he works as a Research Assistant. He has over 20 years of experience teaching English at several private schools, colleges, and universities.
Enrica Piccardo is a Professor in the Languages and Literacies Education Program (Department of Curriculum, Teaching, and Learning) and the Head of the Centre for Educational Research in Languages and Literacies at Ontario Institute for Studies in Education (OISE). Her research is centred around second/foreign language learning and teaching, plurilingualism and bi-/multilingualism, the impact of the CEFR on language teaching and assessment, complexity theories, and creativity in language acquisition.
"I Subtitle Myself": Affordances and Challenges of Canadian EAL Students'

Plurilingual Learning Strategies in a Francophone College

 
John Wayne N. dela Cruz is a PhD student in Educational Studies – Language Acquisition in the Department of Integrated Studies (DISE) at McGill University. As a plurilingual speaker himself, he is interested in researching plurilingualism, plurilingual instruction, and educational and societal language policies. John currently lectures in DISE's B.Ed. program, and he has also taught English as a Second Language in primary, secondary and post-secondary levels in Montreal.
Negotiating Writing Identities Across Languages: Translanguaging as Enrichment of Semiotic Trajectories

 
Amir Kalan is Assistant Professor in the Department of Integrated Studies in Education (DISE) at McGill University. His research interests include critical literacy, multiliteracies, second language writing, intercultural rhetoric, multilingual text generation, and multimodal and digital writing. He is particularly interested in learning about the experiences of minoritized and racialized students in multicultural and multilingual contexts and about non-Western forms of language and literacy education.
Promoting Plurilingualism through Linguistic Landscapes:

A Multi-Method and Multi-Site Study in

Germany and the Netherlands
Lisa Brinkmann is a research assistant at the University of Hamburg and is currently doing her PhD about the use of portfolios in the French classroom (as a foreign language) in school and its impact on German students' motivation. She is part of the ERASMUS+ -projects LoCALL (Local Linguistic Landscapes for global language education in the school context) and CoMMITTEd (Covid, Migrants and Minorities in Teacher Education).
Joana Duarte is an associate professor and chair of the Minorities & Multilingualism group at the University of Groningen and a professor at the NHL Stenden University of Applied Sciences, research group on Multilingualism and Literacy. Her main research areas are on multilingual education, teachers' professional development, equity in education, global citizenship education and didactics.
Sílvia Melo-Pfeifer is full professor of foreign language (French and Spanish) teacher education at the University of Hamburg. Her main research areas are on multilingual education and pluralistic approaches to language learning and teacher education. She coordinates the LoCALL and the CoMMITTEd projects and integrates several international research projects as well as research groups in Portugal, France, Germany and Brazil.
Plurilingualism, Equity, and Preservice Teacher Identity: Centring [Linguistic]

Diversity in Teacher Education
Monica Shank Lauwo is a PhD candidate in Language and Literacy Education at the University of British Columbia. She is the founder and director of Cheche Community Library, a multilingual learning centre in Northern Tanzania. Her research interests include translanguaging, multiliteracies, critical pedagogy, identity, language ideologies, and teacher education, in East Africa and Canada.
Kathryn Accurso is an Assistant Professor of Teaching at the University of British Columbia. Her work reimagines K-12 literacies instruction for multilingual contexts. Using discourse analysis and action research methods within a new critical paradigm, she works with pre- and in-service teachers to recognize, affirm, and expand students' rich language and literacy practices in disciplinary contexts and to critically reflect on their language ideologies and the teaching practices they lead to.
Harini Rajagopal is a PhD candidate in Language and Literacy Education at the University of British Columbia. Her research interests include languages and literacies in the early years, multiliteracies, translanguaging, critical pedagogies, and teacher education. She enjoys working on collaborative and creative pedagogical designs to value children's communicative repertoires and to listen to their stories.
Applying Complex Dynamic Systems Theory to Identify Dynamic Properties of Plurilingual Repertoires

 
Quinton Stotz is a practicing FSL and French Immersion teacher in Western Canada as well as a research assistant at Concordia University's Applied Linguistics Lab. His language experience intersects multiple language families, contexts, competencies, and motivations, each of which adds a new dynamic to his praxis. His professional interests centre on plurilingualism with a focus on learner experience, language pedagogy, and language teacher training.
Walcir Cardoso is a Professor of Applied Linguistics at Concordia University. He conducts research on the L2 acquisition of phonology, morphosyntax and vocabulary, and the effects of computer technology (e.g., clickers, text-to-speech synthesizers, automatic speech recognition, intelligent personal assistants) on L2 learning.
Articulating Translanguaging as Pedagogy of Empowerment for Racialized, Language-Minoritized Bilinguals: from Concepto to Proyecto through Digital Storytelling

 
Josh Prada is Assistant Professor of Spanish Applied Linguistics in the World Languages and Cultures Department at the Indiana University School of Liberal Arts (IUPUI). His research is in the broad, interdisciplinary field of bilingualism and multilingualism with an emphasis on heritage language education and translanguaging. On the whole, Prada's research is geared towards the advancement of just policies and practices regarding bi-/multilingualism in society and in education. His work has been published in international journals such as Classroom Discourse, Foreign Language Annals, and The Journal of Multilingual and Multicultural Development, among others, as well as in specialized edited volumes with Routledge, Springer and Georgetown University Press. Josh is Associate Editor of Spanish as a Heritage Language, and Reviews Editor for the International Journal of Bilingual Education and Bilingualism.
Plurilingualism in a Constructively Aligned and Decolonized TESOL Curriculum

 
Dulani Suraweera, an ESL/EAP Professor at Sheridan College, Canada, is a Sri Lankan-Canadian scholar. Dulani has a PhD in Adult Education and Community Development (OISE/University of Toronto), an MA in Applied Linguistics (York University), and an MA in Linguistics (University of Kelaniya, Sri Lanka). She is also a researcher and visiting scholar focusing on the role of global allies in promoting anti-discriminatory ESL and TESL education around the world.
Becoming Critical Sociolinguists in TESOL through Translanguaging and Embodied Practice
Saskia Van Viegen is an Assistant Professor in the Department of Languages, Literatures and Linguistics at York University. Engaging with bi/multilingualism in education, her SSHRC-funded projects examine language and literacy practices of youth from refugee backgrounds, multilingual approaches to assessment, and language teaching and learning in multilingual university contexts. She co-edited the book Plurilingual Pedagogies: Critical and Creative Undertakings for Equitable Language (in) Education (Lau & Van Viegen, 2020) and co-edits the journal Critical Inquiry in Language Studies.
Sunny Man Chu Lau is Associate Professor at Bishop's University in Quebec and recipient of the 2012 International Society for Language Studies' Founders' Emergent Scholars Award. Her research (variously funded by SSHRC, FRQSC, and The Higher Education Hub—Estrie) examines teachers' cross-language and cross-curricular collaborations for critical literacy education. She co-edited the book Plurilingual pedagogies: Critical and Creative Endeavors for Equitable Language in Education (Lau & Van Viegen, 2020) and is a co-editor for Critical Inquiry for Language Studies.
Plurilingualism and Multimodality: The Metanoia within Reach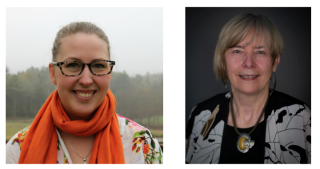 Riah Werner is a PhD student in Language and Literacies Education at the University of Toronto, where her research focuses on collaboratively developing arts-based language teaching pedagogies with Ivorian English teachers. She has taught and trained teachers in Cote d'Ivoire, Tanzania, Ecuador, Thailand and South Korea, and has developed curricula for community action theatre and multimodal storytelling projects. She is the founder of TESOL International's Arts and Creativity Professional Learning Network.
Elka Todeva is Professor of Applied Linguistics at the SIT Graduate Institute. Her teaching and research are in the areas of plurilingualism, SLA, applied linguistics, language education, and teacher cognition. Her publications include the book "The multiple realities of multilingualism: Personal narratives and researchers' perspectives" (co-edited with Jasone Cenoz, 2009) and a book chapter entitled "A sociocognitive theory for plurilingualism: Complex dynamic systems theory" (co-authored with Diane Larsen-Freeman, 2021).