Carlos Arias Mejía, Ph.D.
Supervisors:
Eldredge Bermingham
Daniel Schoen
Graduated in Winter 2013
Thesis topic:
Patterns of diversification in neotropical butterflies
My Research centers on the use of phylogenetic information and ecological data to address questions about the underlying causes of diversification in Neotropical butterflies. In order to test this, I propose generate a phylogenetic hypotheses for Hyalyris sp. (Nymphalid sub-family Ithomiinae) using nuclear and mitochondrial gene sequences. These phylogenetic hypotheses can then be used to investigate the evolution of traits such as mimicry and ecological preferences, and also use genetic and ecological data with the aim of testing the hypothesis of ecological speciation in neotropical and Andean butterflies. My research questions are: i) Have been ecological adaptations played an important role in the diversification of this genus of mimetic butterflies? ii) Is this diversification associated with change in mimicry-related coloration? iii) Are there other characters, for instance host plant, associated with this diversification? iv) Do these changes accumulate gradually over the time? v) Are niches partitioned between closely related species?.
---
Catherine Bailey, M.Sc.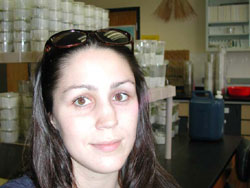 Department of Natural Resources (Entomology)
Supervisors:
Donald Windsor
Christopher Buddle
Graduated in Spring 2007
Thesis topic:
Effects of Age on Cytoplasmic Incompatibily and Wolbachia Titer in Individuals of Three Different Populations of Chelymorpha alternans in Panama.
My research is conducted on Neotropical beetles (Chelymorpha alternans Boh) found in Panama. Like many other insects species, C. alternans are infected with the Alpha-proteobacteria, Wolbachia pipientis. Throughout the country, populations bearing different types of infection are found. In Western Pacific Panama individuals carry exclusively one strain (wCalt1) whereas in the remainder of the Isthmus insects carry two strains (wCalt 1, wCalt 2). Wolbachia induces reproductive problems in the host such as parthenogenesis, cytoplasmic incompatibility (CI), feminization and male killing, increasing its own transmission in the process. CI is known to cause the production of unviable offspring when individuals bearing different Wolbachia strains are mated together. Unidirectional CI occurs when an infected male mates with an uninfected female, with the reverse cross being totally compatible. For my project, I will first try to determine if the age of C. alternans males has an effect on CI using double infected males aged 1 month to 9 months and antibiotically cured females. Further, I want to determine Wolbachia titer by immunofluorescence in the males previously used and verify if there is a correlation with CI. Wolbachia infection level is known to be inversely proportional to age in some species of Drosophila and wasps. Those species have a relatively short lifetime (20-40 days) and I am interested to see if Wolbachia present the same behavior in C. alternans, which have a life expectancy of approximately one year. Having one year to spread instead of 20 days might affect the development of Wolbachia.
---
Elizabeth Barona Adarve, M.Sc.
Department of Geography
Supervisors:
Navin Ramankulty
Glenn Hyman
Graduated in Spring 2009
Thesis topic:
Identifying the role of crop production in land cover change in Brazil, 1990-2006.
Crop production in Brazil has been changing significantly during the last decade. Much of the best farmland is cultivated not only with traditional subsistence crops, but also with products for exports that have been gaining prominence since the 1990s. The new demand is causing a substantial land cover change such as increased large-scale mechanized agriculture, deforestation, and the intensification of agricultural land use. An increased demand for export crops in Brazil will either directly or indirectly push the agricultural frontier further into the Amazon, cerrado, or Atlantic forest ecosystems. The goal of this project is identify the spatial patterns that have caused the greatest impact on land cover change in Brazil since 1990. This analysis will focus on the principal crops in order to take a broad view of agricultural land, in particular to know what is causing the most recent changes in cultivation. What is driving the crop expansion and which ecosystems have been affected? As a fundamental part this project will seek to produce reliable information on the geographic distribution of Brazilian's crops and their most significant changes during the last decades. Crops distribution mapping can support analyses of environment and land use change, and help us understands the relationship between crops and the environmental constraints in which they are growing.
---
Karina Benessaiah, M.Sc.
Department of Geography
Supervisors:
Raja Sengupta
Agnes Saborio Coze
Graduated in Fall 2008
Thesis topic:
Mangroves, shrimp aquaculture and coastal livelihoods in the Estero Real, Gulf of Fonseca, Nicaragua.
This study aims at understanding the relationship between environmental change, coastal livelihoods and shrimp farming development in the Estero Real, a delta that feeds into the Gulf of Fonseca, a gulf shared by Honduras, Nicaragua and El Salvador. Environmental change is embodied here by the degradation of mangrove ecosystems in the region. Nicaragua, Honduras and El Salvador are among the poorest countries of Central America, and the Gulf of Fonseca is one of the most densely populated and poor area of the region. Shrimp farming development started in the late 1970s and provided much needed employment and investments in the region; it was also identified as one of the main threats for mangrove ecosystems and their dependent livelihoods. A dichotomy between the shrimp farming industry on one hand and coastal people on the other was drawn that did not identify the diversity of the shrimp farming development, ranging from small-scale farmers to large industries, and its interactions with also diverse coastal communities. Local coastal communities are important actors in the land use change caused by shrimp farming and it is therefore important to identify the role that shrimp farming has played in local household's livelihood and how that dynamic plays at the local and regional level in terms of coastal wetlands integrity. Understanding better the dynamics of coastal land use change in that region will provide the basis for sound integrated coastal management and poverty alleviation strategies. The case of commercial aquaculture development has been fairly studied on the Honduran side of the Gulf of Fonseca but seems to be understudied in the Nicaraguan side of the Gulf. I therefore chose the example of the Estero Real in Nicaragua as a case study in order to link the land use and cover change framework with the livelihood approach, which will require integrating multiple scales (temporal and spatial).To do so, triangulation of various sources of data and methods will be used including remote-sensing, household surveys, unstructured and semi-structured interviews, focus groups, map sketches as well as textual analyses.
---
Sandra Bolaños, M.Sc.
Department of Geography
Supervisors:
Raja Sengupta
Thomas Oberthur
Graduated in Fall 2007
Thesis topic:
Using image analysis and GIS for Coffee Mapping.
Coffee ranks as one of the world's most important commodities and represents the main income for 25 million families on the hillsides in the tropical mountain forest of Latin America, Southeast Asia and East Africa. Shade grown coffee plantations play a key role in the conservation of migratory birds that have found a sanctuary in their forest-like environment. Furthermore, the change from traditional agroforestry systems (shade coffee) to non-shade coffee varieties of high productivity has generated environmental problems due to deforestation and the use of agrochemicals in the fragile mountain soils where coffee is grown. Considering the strong impact on biodiversity, several certification programs against this type of adoption are currently being created, which include special incentives for shade-coffee farmers through the promotion of differential coffee brands. However, not much has been done to evaluate the impacts of changes in coffee systems on the environment in large geographical regions. Therefore, this research will evaluate the potential of Geographic Information Systems and Remote Sensing to characterize diverse coffee plantations using an integrated approach. This approach will consist of image and spatial data segmentation for landscape analysis. The main hypothesis is that different coffee growing systems can be mapped using spectral and spatial information derived from satellite imagery, and topographic maps, and that context information provided by an object-oriented approach (segmentation) will provide more information than the traditional pixel-based approach during spatial analysis of the data.
---
Mark Brooks, M.A.

Department of Geography
Supervisors:
Peter Brown
Stanley Heckadon
Graduated in Winter 2005
Current Policy Analyst in the Global Affairs Secretariat of the Privy Council Office, Goverment of Canada.
Thesis topic:
Economic Growth, Ecological Limits, and the Expansion of the Panama Canal
I am researching some of the projected impacts and benefits of a proposed expansion of the Panama Canal. I am particularly interested in economic development and environmental sustainability in an age when vital global resources are becoming increasingly scarce. Is the global economy becoming too big in relation to our ecological support base? What do we mean by 'development'? What are we trying to achieve with large-scale development initatiaves such as the Panama Canal expansion? Do the environmental and social costs associated with increased economic growth sometimes outweigh the benefits to be gained? Using the proposed canal expansion as my case study, it is these questions I am exploring through my thesis work in Panama.
---
Anne-Sophie Caron, M.Sc.
Department of Entomology
Supervisors:
Christopher Buddle
Donald Windsor
Graduated in Spring 2018
Thesis topic:
Stand diversification and tropical ecosystems: community ecology of beetles and ecosystem functioning in Sardinilla, Panama.
In the context of reforestation initiative in Latin America, experimental plantations focusing on tree diversity can help us understand the implications of plantations on ecosystem functioning and biodiversity. The Sardinilla project particularly investigates the effects of stand diversification, which may lessen the negative impacts of herbivory on ecosystem functioning. Herbivores are important in tropical ecosystems since they constitute the majority of primary consumers, cause a wide array of damage and show relatively high levels of host specificity. Understanding the impacts of herbivory can inform ecosystem functioning and improve the delivery of ecosystem services by forests. For my Master's, I will describe beetle herbivore communities of six ecologically and economically important tropical tree species in order to observe how herbivory affects those species, investigate the changes in community along a tree diversity gradient and observe the effect of herbivory on ecosystem functioning, through statistical analysis and modelling. The goal is to provide information to help understand the complex dynamics of forest ecosystems and improve management decisions related to reforestation. 
---
Kathryn Clark, M.Sc.
Department of Plant Science
Supervisors:
Todd Capson
Tim Johns
Graduated in Spring 2008
Current PhD student at Oxford University in the Oxford Centre for the Environment studying The Role of Landslides in the Peruvian Andes in Determining Forest Ecology and Carbon Transport.
Thesis topic:
Marine chemical ecology: the search for sequestered and bioactive compounds in the sea hares dolabrifera dolabrifera and stylocheilus striatus and in their preferred food, the cyanobacterium, lyngbya majuscula.
As a part of the bioprospecting and drug discovery initiative and under the auspicious of STRI and Panama's International Cooperative Biodiversity Group (ICBG) we carried out a marine chemical ecology study of the sea hare (Anaspidea: Opisthobranchia) D. dolabrifera, evaluating its chemistry and dietary repertoire. Additionally, through bioassay-guided fractionation, we successfully isolated two novel cyanobacterial metabolites from the preferred food source cyanobacterium L. majuscula and evaluated the sequestration of these compounds in D. dolabrifera and S. striatus. All samples and compounds were tested in Panama ICBG bioassays, which evaluated them for activity in malaria, Leishmania, Chagas' disease, Dengue Fever, cancer and cytotoxicity.
I worked in the ICBG laboratories at INDICASAT in Panama with Dr. Marcy Balunas and Dr. Roger Linington, and at the University of Panama with Professor Dr. Luis Cuibilla. As well I have collaborated with Marine Chemical Ecologists Dr. Valerie Paul and Dr. Angela Capper at Smithsonian Marine Station in Fort Pierce Florida, and Opisthobranch expert Dr. Alicia Hermosillo. I carried out the feeding experiments at the Liquid Jungle Lab near Coiba National Park and at the NAOS Smithsonian Marine Laboratory in Panama.
---
Jason Cochran, MSc.
Department of Bioresource Engineering
Supervisors:
Robert Bonnell
Stanley Heckadon
Graduated in Winter 2003
Current Program and Training Officer for Peace Corps Paraguay.
Thesis topic:
Assess the successes and/or failures of international development agencies transferring agro forestry technology to the field.
I am investigating the reasons and motivations of subsistence farmers who change from slash and burn agriculture to more sustainable techniques such as organic agriculture in the Veraguas province. To do this, I am working with the NGO IDEAS which uses the farmer to farmer model of sustainable development. Then, I go to the communities they have trained leaders and interview them using an open-ended question format. The goals of my research are to determine how many farmers the leaders have trained since they completed the training, the reasons for adoption, and the barriers in place for non-adopters. I will use the results to strengthen host-agencies in their approaches towards agriculture development in Panama.
---
Cristián Correa-Guzman, Ph.D.
Department of Biology
Supervisors:
Andrew Hendry
Martin Thiel
Graduated in Fall 2012
Thesis topic:
Ecological impacts of invasive trout in Patagonian lakes.
Species traveling beyond their native range through anthropogenic pathways sometimes become invasive in novel habitats changing local biodiversity and ecosystem functioning. The ecological effects of invasive species are so widespread and acute that they are regarded as one of the main global treats to biodiversity. However, it is generally difficult to disentangle the effects of invasive species from alternative environmental stressors such as habitat degradation, pollution or climate change. Additionally, it is often the case that there is no baseline information describing the original state of ecosystems further obscuring the effects of invaders. I am interested in understanding the adaptive and evolutionary consequences biological invasions. My model system is located in Chilean Patagonia where I study the effects of invasive trout on native galaxoid fishes, food webs and ecosystems. Galaxoids are the most specious taxon of the sparse freshwater fish fauna of the temperate austral world, and amongst the most threatened fishes known. Trout – widely introduced for over a century in austral countries – are the main putative cause of the endangerment of galaxoids yet quantitative evidence is evasive, particularly for lakes. I am employing a variety of approaches to i) locate and describe the ecological properties of pristine lakes and compare them to invaded lakes, ii) uncover effects on native fish populations, iii) investigate adaptive responses of native fish, and iv) study cascading effects and historical changes in zooplankton communities. This multidisciplinary approach will dissipate much of the uncertainty associated with the effects of introduced trout, and will orient future management and conservation efforts.
---
Philippe Crête, M.Sc.
Department of Bioresource Engineering
Supervisors:
Robert Bonnell
Fernando Santos-Granero
Graduated in Spring 2006
Current climate change and energy analyst at ÉcoRessources Montreal
Thesis topic:
Agro-pastoralists turned fishermen: Environmental impacts and socio-economic changes in the buffer zone of Coiba National Park, Panama.
The main objective of my research project is to determine why, and in which proportion, some coastal inhabitants living in the buffer zone of Coiba National Park, a protected-marine area on Panama`s Pacific coast, have been switching from an agro-pastoralist life-style to a fishing lifestyle over the past 30 years. Particularly, I am looking at current and historical competing land uses and socio-economic conditions of coastal farmers and cattle ranchers, and the main drivers behind agro-pastoralists' decision-making process in the Bahía Honda region. I am also looking at how the socio-economic conditions of those who gave up their agro-pastoralist lifestyle for a fishing lifestyle have changed, and how is the fishing lifestyle option being affected by the enforcement of the legal framework of Coiba National Park, which has historically been the main fishing ground of the area. By comparing the living conditions of agro-pastoralists in the buffer zone of Coiba National Park to their fishermen counterparts, I am hoping to provide a portrait on how the coastal environmental and social landscape is changing, which could potentially be used in the ongoing development of an integrative management plan for Coiba National Park.
---
Felipe Dargent Bocanegra, Ph.D.
Department of Biology
Supervisors:
Gregor Fussmann
Marilyn Scott
Graduated in Spring 2015
Thesis topic:
The wild side: Assessing evolutionary ecology of defence against parasites in nature
Resistance and tolerance, the two main component of host antipathogen defence, trade off with each other leading to two conceptually different mechanisms through which the host can decrease the parasite burden or reduce the fitness decreasing effects of a given burden. Although well explored in plants, these mechanisms have been scarcely studied in animals due to practical and conceptual complications for measuring such mechanisms. By comparing parasite population dynamics and an array of host health indicators through different generations I will assess the rate and nature of the evolution of host's defence.
---
Luis Fernando De León Reyna, Ph.D.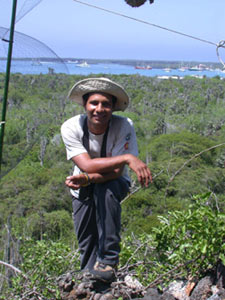 Department of Biology
Supervisors:
Eldredge Bermingham
Andrew Hendry
Graduated in Spring 2011
Thesis topic:
Testing for incipient speciation: gene flow between morphs in Darwin's finches.
I study the process that determine organic diversification. The process of speciation has riddled human curiosity through generations and it still remains, being a topic of constant controversy and discussion. Therefore, it is very interesting for me to have the opportunity of applying modern molecular techniques for shedding light on this fascinating issue. Recent surveys of Darwin's finches, the world's iconic birds of evolution (as first popularized by Darwin after his voyage to the Galapagos Island in 1885), have revealed conspicuous variation and a bimodality in the beak size distribution of some Geospiza fortis populations. These patterns suggest a possible restriction in gene flow among populations which may reflect an incipient speciation. Using DNA microsatellites markers, I intend to look at the genetic differentiation among these populations in order to estimate gene flow between them. Based on this analysis we will be able to infer more precisely about this likely event of incipient speciation. This work will be carried out at NAOS molecular laboratories at Smithsonian Tropical Research Institute (STRI), Panama.
---
Guillaume J. Dury, M.sc.
Department of Plant Science
Supervisors:
Donald M. Windsor
Jacqueline C. Bede

Graduated in Fall 2013
Thesis topic:
Evolution of cycloalexy in neotropical Chrysomeline beetles (Coleoptera: Chrysomelidae).
The larvae of some herbivore insects show a remarkable behaviour: they group in a circle for defence: this is called cycloalexy. It is scattered in species from various insects including some species of two leaf beetle genera; Platyphora and Proseicela. I will study the evolution of grouping and cycloalexy with a molecular phylogeny. Not all Platyphora have cycloalexy: some are solitary or gregarious but not cycloalexic, enabling comparisons. I hypothesize Platyphora and Proseicela are not sister taxa and cycloalexy evolved separately in each.
Larval and adult specimens of Platyphora, Proseicela and other related genera will be collected in Panama and Ecuador and preserved in ethanol. I will observe behaviour and assign one of four behaviour categories: solitary, non-dispersing, gregarious and cyclocalexic. Host plants will be identified. To infer a molecular phylogeny, sequences will be amplified by Polymerase Chain Reaction (PCR); three sequences from mitochondrial genes (12S and cytochrome oxidase I and II) and one sequence from the nuclear genome (phosphoenolpyruvate carboxykinase). Sequences will be aligned using software and checked manually. Phylogenetic analysis methods will be chosen, possibilities include Maximum Parsimony, Maximum Likelihood and Bayesian. Tests of the clades and cladograms will be conducted.
---
Sergio Estrada Villegas, M.Sc.
Department of Biology
Supervisors:
Andrew Gonzalez
Graduated in Fall 2010
Thesis topic:
Controlling factors of community structure: The case of neotropical aerial insectivorous bats.
I am interested in understanding how biodiversity changes across the landscape in the neotropics. I take a "community" level approach investigating how such changes take place across environmental gradients (altitudinal, fragmented vs. non fragmented or precipitation) and trying to understand what structures a "community", incorporating the gradients as structuring moulds. In particular, I want to link how environmental conditions and resources shape "community" properties by studying an ensemble of insectivorous bats across the Panama Isthmus, intending to relate how species richness, relative abundances and species traits vary in relation to vegetation structure and insect abundance.
---
Victor Frankel Vilches, Ph.D.
Department of Biology
Supervisors:
Mark Torchin
Andrew Hendry
Graduated in Spring 2017
Thesis topic:
Natural history of host-parasite interactions in an invaded community.
The complete separation of the Atlantic and Pacific Oceans by the rising Isthmus of Panama occurred approximately four million years ago, reproductively isolating populations of marine species and permitting speciation of many species across different taxa. This system provides a unique opportunity to test hypotheses on the factors that permit speciation processes. My research hopes to integrate ecological dynamics and evolutionary processes to understand factors that have shaped host-parasite interactions across the Isthmus of Panama.
---
Luz Ignacia Holmes Cheyre, M.Sc.
Department of Biology
Supervisor:
Catherine Potvin
Graduated in Fall 2016
Thesis topic:
Restoring forest carbon stocks while addressing local livelihoods: opportunities and challenges of the global climate change regime.
Since 2007, at the 13th Conference of the Parties in 2007, Reducing Emissions from Deforestation and forest Degradation, known as REDD+, has become a strategic issue in the climate change and development agendas for the period post 2012. REDD+ has the potential to affect forest dwellers lives in various ways that could include both benefits, by providing environmental services incomes, as well as threats, by restricting access and extraction right to forest dwellers and indigenous peoples to their natural endowment. Thus, in designing REDD+ interventions there is a need to consider the livelihoods needs of the local communities; forest access and management are essential to maintain forest dwelling communities and their cultures. My research will, therefore, focus in understanding how can REDD+ be implemented in indigenous communities without undermining local livelihoods. Using a participatory approach, I will explore the following issues: the conditions under which agroforestry could become a REDD+ intervention amongst indigenous communities; the information and capacity building needs for effective participation of indigenous peoples in REDD+; the role of local governance in REDD+ leakage and implementation; selective logging compatibility with REDD+; the social and economic impacts of REDD+ initiatives.
---
Paola Gomez Garcia, M.Sc.
Department of Plant Science
Supervisors:
Sylvie de Blois
Gerardo Ceballos
Graduated in Spring 2012
Thesis topic:
Assessing habitat availability and connectivity for an endangered species the jaguar (Panthera onca) in Yucatan Peninsula, Mexico.
Although agriculture and forest utilization are essential activities for human livelihood, extensive conversion and alteration of natural ecosystems for different land uses remain the main causes for the decline of biodiversity. In Mexico, land uses represent a major threat for the survival of populations of endangered species, such as the jaguar. Not all land uses, however, affect the same way habitat quality and availability, and it has been suggested that land management in remaining habitat patches can contribute to improve or degrade the quality of habitat. The overall objective of my research is to provide spatially-explicit habitat information for the management of the jaguar and the implementation of habitat corridors in the Yucatan Peninsula. Using information from jaguar surveys, land cover/land use maps, and habitat modeling, I will first identify potential suitable habitat patches for the jaguar. I will then measure structural connectivity and identify critical habitat patches, using a cost path approach. The identification of potentially suitable habitat patches at the landscape level will be useful to orient future jaguar surveys and, coupled with information on land management, will help determine whether land practices in the critical patches are compatible with jaguar conservation.
---
Catalina Gómez Gómez, M.Sc.
Department of Biology
Supervisors:
Héctor Guzmán
Andrew Gonzalez
Graduated in Winter 2012
Thesis topic:
Population dynamics and community structure of octocoral species (coelesterate: anthozoa: octocorallia) at Coiba National park, pacific Panama.
In general, I am interested in tropical marine environments, connectivity and conservation. I focus my study in Octocoral species, soft corals form the Tropical Eastern Pacific, looking at species abundance distributions, and population dynamics of native and invasive species. My study takes place in Coiba National Park, the biggest protected area in the Republic of Panamá, The park was declared a World Heritage site by UNESCO and it is part of the Tropical Eastern Pacific Biological Corridor which connects five oceanic islands; Mal Pelo and Gorgona (Colombia), Galapagos (Ecuador), Isla Cocos (Costa Rica) and Coiba in Panamá. Octocoral are sessile marine organisms that are distributed patchily in rocky coral communities with high-energy water movement. Not much is known about their biology, interactions, or reasons for their patchy distribution across the marine corridor.
---
Santiago Gonzalez Arriola, M.Sc.
Department of Bioresource Engineering
Supervisors:
Robert Bonnell
John Mwansa
Graduated in Spring 2009
Thesis topic:
Implementation of a spatial decision support system for water quality protection and management in the Holetown Watershed, Barbados: a case for the establishment of a NSDI for environmental management.
In collaboration with the Barbados Water Authority, I'm working to develop a decision support system for the integrated management of water resources in the west coast of Barbados. This computerized system seeks to integrate biophysical information (i.e. topography, rain data, soils, geology, and land-cover) with socio-economic effluents data (i.e. land use, agricultural, domestic, and industrial effluents discharged) in an effort to model the fate of pollutants discharged, and thus allow the BWA to take action to mitigate the effects on the underlying aquifers. The proposed DSS relies on the coupling of geospatial data with hydrologic and pollutant transport and dispersion models, allowing for the analysis of different management scenarios and their effects on the state of the resources: primordially on water quality.
---
Bruno Guay, M.A.
Department of Political Sciences
Supervisors:
Philip Oxhorn
Catherine Potvin
Graduated in Winter 2008
Thesis topic:
Reducing greenhouse gas emissions from deforestation: the United Nations Framework Convention on Climate Change and policy-making in Panama
So far developing countries have not taken an active role in the fight against global warming. In November 2005 at the 12th Conference of the Parties to the United Nations Convention on Climate Change (COP11) in Montreal, Costa Rica and Papua New Guinea launched an exploratory initiative to establish a regime of deforestation avoidance. Developping countries have since been asked to define their position towards such a regime and to actively enter the negociations surrounding its possible implementation.Using the case study of Panama I will seek to understand the challenges faced by developping countries as they actively enter the fight against climate change. I will describe the political process undertaken at ANAM (Autoridad Nacional del Ambiente) and try to answer the question of "who makes policy?" Focusing on the influence of foreign scientists and experts,environmental NGOs, foreign countries as well as international organisations, I will analyse the learning process and the conflicts or tensions that accompanied policy-making in the case of "avoided deforestation.
---
Julie Helson, M.Sc.
Department of Plant Science.
Supervisors:
Todd Capson
Tim Johns
Graduated in Spring 2006
Current PhD student in University of Toronto in macroinvertebrate communities in tropical rivers.
Thesis topic:
Tropical host plant-insect relationships as guides to medicinally-active plants.
I will be involved in a drug discovery program that is based at STRI in Panama in which we will use basic ecological research to guide drug discovery for cancer, malaria, American trypanosomiasis (Chagas' disease) and leishmaniasis. Specifically, we would like to determine if insects with bright warning coloration (i.e., aposematic) have the ability to guide us to plants that have chemical compounds with activity against the diseases mentioned above. It is known that many aposematic insects accumulate distasteful or toxic secondary compounds from the plants that they consume, which often helps them to deter predation. Furthermore, it is also known that some of these potent plant secondary compounds have disease-fighting activities. Today, many drug discovery programs randomly select plants to be tested for medicinal activity. It is reasoned that by using ecological theory to direct plant selection both the efficiency and success rate of drug discovery programs could be improved. This research also promotes the conservation of tropical forest ecosystems by showing how the study of tropical insects and plants can lead to the discovery of novel medicines useful for the treatment of a wide range of diseases.
---
Félix-Antoine Joli-Coeur, M.A.
Department of Political Sciences
Supervisors:
Leticia Merino, UNAM
Philip Oxhorn
Graduated in Winter 2005
Consultant at McKinsey&Company.
Thesis topic:
From Enemies to Allies: Transforming the relationship with local communities in the management of national parks. The uncertain case of the Reserva de la Biósfera Mariposa Monarca (México).
I am investigating the role of civil society in achieving sustainable development. I will study the case of the Mexican Reserva Especial de la Biósfera Mariposa Monarca, which is a protected area created in 1986 to safeguard the habitat of monarch butterflies. More specifically, I will look at the strengths and weaknesses of civil society (in this particular case, associations that represent local inhabitants), within the Mexican socio-political context. Moreover, I will question the assumption that the participation of a strong civil society automatically leads to sustainable development. I will study how the ambiguity contained in the concept of sustainable development may represent a problem in this particular case and even in any conservation effort that depends on local inhabitants' prioritization of certain ecological values over traditional economic activities.
---
Kecia Kerr, Ph. D.
Department of Biology
Supervisors:
Frédéric Guichard
Rachel Collin
Graduated in winter 2013
Topic:
Timing it right: reproductive timing during variable temperature and implications for risk of predation on larvae.
I am interested in the influence of life history adaptations of intertidal invertebrates on large scale population dynamics and community structure. We currently have little knowledge of the factors which influence connectivity of marine populations and the consequences for population persistence. One aspect of larval dispersal which is controlled by the adult stage is the timing of larval release. Many organisms time larval release to coincide with nocturnal large amplitude tides. This behavior has been shown to increase transport away from natal sites under the cover of darkness thereby reducing mortality of larvae by visual, nearshore predators. Several species of intertidal crabs living under varying temperature conditions exhibit this timing of release. As incubation time of eggs is dependent upon temperature, this consistent release timing across seasons suggests that adults are able to adjust to environmental variables to maintain optimal larval release timing. However, limitations in the ability to respond to temperature variation, methods for doing so, and implications of errors in timing for large scale population dynamics are currently unknown. Within Panama, contrasting oceanographic regimes of seasonal upwelling in the Gulf of Panama and lack of upwelling in the Gulf of Chiriqui provide differences in environmental conditions which allow comparative studies of adult response to temperature conditions. Building on research by John Christy, I am conducting field work to determine if fiddler crabs (Uca species) adjust when they mate in response to temperature variation or if females behaviourally regulate incubation temperature. Controlled temperature lab experiments will determine the importance of timing and intensity of temperature variation for errors in larval release timing. Based on field and lab results I will build a metapopulation model to examine potential implications of environmental fluctuations on local and regional population dynamics.
---
Vanessa Kilburn, M.Sc.
Department of Biology
Supervisors:
David Green
Robert Ibañez
Graduated in Spring 2009
Thesis topic:
Persistence and prevalence of the enzootic chytrid fungus, Batrachochytrium dendrobatidis, in relation to amphibian population decline in Panama
Although habitat destruction was once cited as the major factor limiting amphibian populations in the past, more recent evidence shows that amphibians living in pristine, montane regions of the tropics are at the receiving end of most of these major declines and extinctions. Enigmatic factors, such as climate change, contamination and disease have been posited as major decline factors, but are unfortunately difficult to quantify. Recent evidence suggests that a fungal outbreak, caused by the chytrid fungus Batrachochytrium dendrobatidis, can be implemented as a key player in these declines, especially in highland forest. Once the pathogen hits an area, whole populations and even communities are compromised in a relatively short period of time. Currently nothing can be done to protect an area from a pathogenic outbreak and at least in Panama the rate of disease spread has been clocked moving west to east at over 64 km/year, suggesting a potential non-amphibian vector, although none have been identified. At present many scientists believe that the only hope for amphibian persistence is through ex situ captive breeding programs. Although B. dendrobatidis is anecdotally known to exist in frog populations at middle and low elevations, the extent to which it exists in the environment and the effect it has on frog populations at these lower elevations is poorly understood. By establishing research sites and checking for fungus prevalence in frog populations and in environmental samples at varying elevations and at varying stages of infection, I hope to better understand chytrid ecology and transmission, as well as determine chytrid and anuran abundance survival post, during and pre-epidemic decline. In addition, determining whether or not non-amphibian vectors can transmit chytrid is paramount in the understanding of chytrid transmission. Through a sensitive DNA-based Assay and PCR amplification I will determine whether chytrid is present in my biotic and abiotic samples, whereby hopefully answering the question of whether or not chytrid persists in populations and in the environment pre or post-epidemic decline. Answering this question will be imperative for determining whether reintroduction of captive-bred amphibians is a plausible management plan for amphibian conservation.
---
Kate Kirby, M.Sc.
Department of Biology
Supervisors:
William Laurance
Catherine Potvin
Graduated in Winter 2005
Current PhD student in Ecosystem Services and community-based resource management at University of British Columbia.
Thesis topic:
Land-use change in the neotropics: regional-scale predictors of deforestation and local effects on carbon storage and tree-species diversity.
I am working on two projects for my MSc under the general themes of land-use change, development, and conservation. For the first project, I am using GIS to examine the drivers of deforestation in the Brazilian Amazon. Potential driver variables include population density, road density, soil fertility, annual rainfall and dry season length (Supervisor: Dr. W. Laurance). For the second project, I am working with an Emberá community in eastern Panama to quantify the amount of carbon stored in the forests, traditional agroforests and pastures of the community's 3000 ha collective lands. The community plans to use this information to establish a carbon sequestration project that will be eligible for investment through the Kyoto Protocol's Clean Development Mechanism (Supervisor: Dr. C. Potvin). Generally I am interested in the fields of landscape ecology and human geography, and in the effects of land use and environmental change on ecological processes and resource-reliant communities.
---
Jose del Rosario Loaiza, Ph.D.
Department of Biology
Supervisors:
Manfred Ernst Rau
Eldredge Bermingham
Marilyn Scott
Graduated in Fall 2010
Thesis topic:
Genetic structure, demographic history and taxonomic status of the malaria vectors: anopheles albimanus, An. darlingi and An. punctimacula, in southern Central America.
The incidence of human malaria, caused by Plasmodium vivax (Grassi & Feletti) and Plasmodium falciparum (Welch), has greatly increased in Panama since the early 2001. Consequently, it is one of the major health problems and probably the greatest public health challenge in Panama. Anopheles (Nyssorhynchus) albimanus is considered the major vector of malaria in Central America, the Caribbean, and coastal regions of northern South America (PAHO, 1990). However, few studies have attempted to confirm the role of this species as the primary vector of malaria in Panama. Furthermore, Panama has 30 species of Anopheles reported, 10 of which have been found carrying sporozoites of either P. vivax or P. falciparum in other countries of America. Although it is well known where malaria is distributed around Panama and how it is moving through it, the transmission dynamics along different bio-ecological zones within the country is still poorly understood. Furthermore, locally the situation is even more complicated because there are many species within the Anopheles genus that are considered as complexes or sibling species. For instance, A. albimanus, A. punctimacula and A. pseudopunctipennis are considered species complexes in America (Molina et al., 2004, Wilkerson, 1990 and Coetzee et al., 1999). This means that individual mosquitoes from different populations within the same species cannot be distinguished morphologically, but they have different resting and feeding behaviors. We are interested in investigating key ecological information regarding the behavior of each of these mosquito species, in order to obtain the basic knowledge to design appropriate vector control measures. Our project involves three main components the infection rate in the vector, the genetic structure and the bionomic of Anopheles species that carry either P. falciparum or P. vivax in different areas of Panama.
---
Maryna Lesoway, Ph.D
Department of Biology
Supervisors:
Rachel Collin
Ehab Abouheif
Graduated in Fall 2015
Thesis topic:
Direct development with nutritive embryos: Developmental polyphenisms in evolution and development
Understanding the evolution of marine invertebrate larvae, their development, and the transitions between different modes of development requires knowledge of the interplay between structure, the underlying genetic mechanisms and the environment. I study members of the calyptraeid gastropods, a group distributed world-wide, but with their highest diversity in the Americas. Panama is home to numerous species of calyptraied gastropod which have different developmental modes including indirect development with a free-swimming, feeding larva and direct development with nurse eggs: embryos that do not complete development, but are used as extraembryonic nutrition by developing embryos. Recent phylogenetic study has shown numerous rapid transitions in a relatively short time between different modes of development; notably from direct development with nurse eggs to indirect development with a swimming and feeding larva. Direct developing clades without nurse eggs appear to be an evolutionary dead-end, and do not show similar transitions. My research will focus on three axes to study the characteristics of nurse eggs that may have allowed for the re-evolution of a free-living, feeding larval type: understanding the structures that vary between larvae that feed on nurse eggs and larvae that may have re-evolved planktotrophy, the underlying developmental mechanisms that control the production of nurse eggs, and the environmental factors that affect nurse egg production and embryonic development.
---
Sohinee Mazumdar, M.Sc.
Department of Bioresource Engineering
Supervisors:
Robert Bonnell
Alexis Tejedor De León
Graduated in Winter 2008
Thesis topic:
Geographic information systems in the application of precision agriculture for sustainable sugarcane production in the Republic of Panama.
The use of spatial information technologies over the last few decades has led to unprecedented sophistication in environmental management. Space technologies, such as earth observation satellites, have greatly enriched our understanding of natural and human-driven processes. One of the greatest areas of advancement has been in agriculture, where the advent of remote sensing technologies and Geographic Information Systems (GIS) has revolutionized Precision agriculture. (PA) PA involves the wise managment of agricultural inputs, such a freshwater, in order to minimize environmental impact and increase economic efficiency. Instead of applying pesticide, fertilizer or freshwater uniformly over a full field, application can be directed where needed. Furthemore, remote sensing technologies offer the advantage of recognizing crop stress, such as pest or weed infestations, before they become evident to the naked eye. Although there has been sucess with various crops, considerable work remains to be done in the correlation of spectral information with crop haracteristics. This is particularly pressing for ecologically harsh (input intensive) crops such a sugarcane. My research project involves the implementation of PA at the Santa Rosa sugarcane plantation in Panamá, in partnership with the Universidad Tecnológica de Panamá (UTP). Implementation of PA at this site represents an important step in the Panamanian governmental mandate to increase efficiency and sustainability in agriculture. This project also reflects my interest to implement innovative and sustainable engineering solutions in partnership with local companies and communities internationally.
---
Alida Mercado, Ph.D.
Department of Natural Resource Sciences (Entomology)
Supervisors:
Christopher M. Buddle
Héctor Barrios
Graduated in Spring 2012
Thesis topic:
Ecology of beetle assemblages in Panamanian tropical forest with taxonomic notes  on Curculionidae and Histeridae.
My research will focus on the influence of the matrix on edge effects. I will assess how diversity and species composition of weevil assemblages varies at various distances from the edge towards the interior of the forest. Sites selected will be adjacent to either pastures or coffee plantations; this sampling design permits comparison between edge effects at forests adjacent to distinct habitat types. The adjacent habitats will also be sampled in order to analyze similarity on species diversity and composition between habitats. Forest gaps will be sampled to study if the species present in them also inhabit on forest edges. This study will be conducted in the Parque Nacional San Lorenzo, in Colón, Republic of Panama. During my stay in Panama I will be working at the Universidad de Panamá and the Smithsonian Tropical Research Institute.
---
Nathan Millar, M.Sc.
Department of Biology
Supervisors:
Eldredge Bermingham
Andrew Hendry
Graduated in Fall 2006
Current fisheries biologist for the Gwich'in Renewable Resource Board in Inuvik, Northwest Territories, Canada.
Thesis topic:
The influence of habitat and the visual systems of systems of predators on the evolution of male colour in Guppeis, Poecilia Reticulata
Animals use a variety of signals to communicate with each other. I am interested in how selection causes changes in animal signals. Divergence in signalling among populations contributes to reproductive isolation - which may eventually lead to the formation of new species. Signals are especially important during courtship, when males display elaborate traits (e.g., colors, songs) to attract potential mates. Females often choose the most conspicuous males, but these same males are also more susceptible to predation. A colourful male is therefore more likely to reproduce, but also more likely to be killed by a predator; male traits evolve as a compromise between natural and sexual selection. However, this compromise is avoided when the signals used by males are detectable by females but not by predators (private signalling). I am investigating a potential case of private signalling in a species of tropical freshwater fish, the guppy (Poecilia reticulata).
---
Andrew Moeser, M.Sc.
Department of Biology
Supervisors:
Eldredge Bermingham
Andrew Hendry
Graduated in Winter 2005
Current undergraduate student at Law School at the University of Toronto.
Thesis topic:
Genetic analyses of sympatric cryptic species in the Neotropical catfish, Pimelodella chagresi.
I am interested in studying patterns of biodiversity and attempting to elucidate the evolutionary mechanisms that have produced these patterns. Specifically, I am using a Neotropical catfish species ( Pimelodella chagresi) as a model system to investigate rates of diversification, the relationship between morphological and genetic divergence, and the conditions allowing sympatric existence of related lineages. Prior studies revealed the existence of two lineages of P. chagresi within Panama that harbour widely divergent mitochondrial DNA. This finding suggests that this group contains a greater level of diversity than is visible morphologically, and that P. chagresi populations may comprise a species complex rather than a single species. I am developing nuclear molecular markers (micro satellites) to test whether the two lineages are reproductively isolated, and therefore should be considered separate species. Additionally, these micro satellite markers will shed light on the historical demography (effective population sizes, bottleneck events, dispersal between isolated drainages, etc.) of P. chagresi.
---
Meaghan Murphy, M.Sc.
Department of Biology
Supervisors:
Tim Moore
Catherine Potvin
Graduated in Spring 2006
Current PhD student in the Geography department working on root processes in a peatland outside Ottawa.
Thesis topic:
Species Diversity and Soil Respiration in a Panamanian Tree Plantation.
I will be looking at the relationship between soil respiration and tree species diversity at the main plantation in Sardinilla, Panama. I will explore the neighbor-interactions between six tree species and compare them to monocrop plots. I am also interested in exploring the relationships between soil respiration and soil temperature and moisture levels at the site.
---
Jordan Oestreicher, M.Sc.
Department of Bioresource Engineering
Supervisor:
Robert Bonnnell
Graduated in Fall 2008
Thesis topic:
Application of the soil and water assessment tool in a tropical agricultural catchment of the Panama Canal watershed implications for its use in watershed management activities.
Examining the ability of physical models to accurately simulate natural systems is of practical importance to the case of the Panama Canal Watershed. Currently, the viability of canal operations and local ecosystem integrity in the watershed are threatened by soil erosion and shifting water flows (a result of land-use change and management practices). In such a context, physical models can help watershed managers predict the effects of alternative land-use/land-cover scenarios and thereby pinpoint more sustainable solutions to current environmental problems. As a first step towards doing so, I undertook an exploratory analysis of the Soil and Water Assessment Tool (SWAT), a watershed-scale hydrological model, for use in the Panama Canal Watershed. In particular, my work with SWAT was aimed at evaluating its ability to simulate water flow amounts and timings and sediment yield under different land-covers (i.e. pasture, agriculture, and forest cover), soils, and topographies that are characteristics of the region. In doing so, I was able to draw conclusions on SWAT's usefulness for the Panama Canal Watershed and recommend modifications to the model framework.
---
Johanne Pelletier, Ph.D.
Department of Biology
Supervisors:
Catherine Potvin
Navin Ramankutty
Graduated in Fall 2012
Thesis topic:
Emissions from land-cover change in Panama: uncertaintly, dynamics, and perceptions.
I am interested in understanding the effect of land-use change on the climate and to understand how we could minimize local and global impacts by focusing on strategies that promote sustainable development. Tropical deforestation accounts for about 10-25% of global GHG emissions according to recent estimates. Reducing emissions from deforestation could therefore be an efficient strategy to stabilize the composition of the atmosphere as the impact is immediate. Panama is currently looking at developing a national strategy to reduce emissions from deforestation. In collaboration with the Environment Authority of Panama (ANAM), I am looking at developing the baseline for GHG emissions resulting from land-use change through mathematical models on a national scale. The modeling process will also allow evaluation of the impact on emission reductions based on the implementation of an Avoided Deforestation pilot project in the region of the Palo Seco Forest Reserve, located in Bocas del Toro Province and Ngobe-Bugle Indigenous Reserve. Other aspects of my research will be based on the pilot project area where I will study the impact of forest degradation on carbon content and try to understand how to compensate subsistence-type farmers in their use of forest resources.
---
Guillaume Peterson St-Laurent, M.Sc.
Department of Biology
Supervisors:
Catherine Potvin
Nancy Gélinas
Graduated in Fall 2012
Thesis topic:
Colonist farmers and REDD+: Perceptions of land-use and conservation.
The extension of the agricultural frontier is a key motor of deforestation in Eastern Panama. Crucial actors in this process, the colonos have an important role to play in understanding land use dynamics on the frontier. The project aims at documenting the uses, values and perceptions of the territory of colonists (colonos) from Eastern Panama, and to determine how colonos' needs and aspirations could be taken into account when developing a reducing emissions from deforestation and forest degradation (REDD+) strategy. Participatory approach and individual interviews in colonos communities of the provinces of Darien and Panama were used to better understand the possible impact and compatibility with REDD+ to make sure future projects would not seriously undermine colonos' livelihood. Another part of the project is to look at local possible cooperation and participation between stakeholders in REDD+ preparation by analyzing a case study of an organized successful colonos group.
---
Sophie Picq, M.Sc.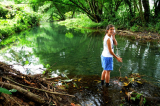 Department of Biology
Supervisors:
Rüdiger Krahe
Eldredge Bermingham
Graduated in spring 2013
Thesis topic:
Phylogeography and signal evolution in one species of neotropical weakly electric fish, brachyhypopomus occidentalis.
My M.Sc. research looks at the phylogenetic relationships between populations of one species of weakly electric fish, Brachyhypopomus occidentalis, to understand its dispersal dynamics and its evolutionary history in Lower Central America. This well‐resolved molecular phylogeny using both mitochondrial and nuclear genes establishes evolutionary independence between different populations, and therefore offers me a great setting to study signal variation and what forces might be shaping such variation. Thus, I also focus on recording the electric signals and quantifying electric signal variation of five isolated populations of B. occidentalis in Panama. By comparing genetic distances and signal distances between and within these populations, I am exploring if signals diverge at a rate that is different from general rates of genetic divergence; I am also looking at the role of stochastic or adaptive forces in shaping this signal divergence.
---
Alberto Prado, Ph.D.
Department of Plant Science
Supervisors:
Jacqueline C. Bede
Donald Windsor
Graduated in spring 2015
Thesis topic:
Chemical ecology of azoxyglycosides: plant-insect interactions between neotropical cycads (Zamiaceae) and leaf herbivores.
Plants have always been regarded as the ultimate chemists for their ability to synthesize a huge diversity of compounds. More than 200, 000 chemical structures have been described as plant secondary metabolites. Only in the recent decade have some of these compounds been linked to their original endophytic producers. Early scientists proposed that many of these secondary metabolites confer plants a chemical defense against herbivores. Since then, an array of plant-herbivore relationships have been elucidated, providing evidence of the co-evolution that plants and herbivores have undergone and how the secondary metabolism is involved. My research is centered on the chemical ecology of two different toxins of the neotropical cycad family, the Zamiaceae. I am focusing on the levels of these toxins in leafs, stems and roots in relationship to the genetic variability, the maturity of the leaves, herbivore damage, root conditions and root-symbionts. As a first step, I am comparing how toxins are handled by their associate leaf herbivores, the Aulacoscelinae beetles, against herbivore generalists. By combining field biology, biochemical analysis and feeding experiments, I hope to gain specific knowledge on the production and maintenance of the Cycad toxicity as well as how insects cope with them.
---
Oscar Puebla, Ph.D.
Department of Biology
Supervisors:
Eldredge Bermingham
Frederic Guichard
Graduated in Fall 2009
Thesis topic:
Molecular Ecology and Evolution in the genus Hypoplectrus.
I investigate speciation mechanisms in the marine realm using Caribbean reef fishes genus Hypoplectrus as model system.
---
Ciara Raudsepp-Hearne, M.Sc.
Department of Plant Sciences
Supervisors:
Todd Capson
Tim Johns
Graduated in Fall 2003
Current Ph.D. candidate in the McGill Geography department.
Thesis topic:
Discovering active biological compounds in tropical plant material to be tested against diseases such as HIV, cancers and numerous tropical diseases.
My master's research has been conducted within a conservation project called the International Cooperative Biodiversity Group of Panama (www.icbgpanama.org). The ICBG collects plants within national parks in Panama and tests them in bioassays against three lines of cancer cells, malaria, leishmaniasis and Chagas disease. My research involves tracing plant chemical compounds active against these important human diseases through the insects that feed on these plants. The hope is that brightly-coloured "aposematic" insects that are advertising their toxicity to predators could guide scientists to compounds of medicinal interest.
While in Panama, I have also been involved in environmental education endeavors and joined the Millennium Ecosystem Assessment as a researcher and lead author.
---
Victoria Reed, M.Sc.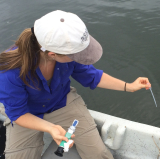 Department of Biology
Supervisors:
Brian Leung
Hector Guzman
Graduated in Fall 2017
Thesis topic:
Implications of hydropower and land use change for Antillean manatees in the lower Changuinola River, Panama: an integrative modelling analysis
In 2011, the 223MW Changuinola I Dam began operation after four years of construction inside a protected forest area in Bocas del Toro province, Panama by AES Changuinola Corporation (AES Changuinola, 2013; Central America Data, 2011). Located downstream from this dam in a system of interconnected lagoons is a population of Trichechus manatus, (Guzman & Rivera-Chavarria, 2014) commonly known as the West Indian manatee. This species is listed as "vulnerable" on the IUCN Red List of Threatened Species, and the subspecies located in Panama and the rest of Central and northern South America, is listed as "endangered" (Deutsch et al., 2008). The goal for this research project is to evaluate the potential impact the Changuinola I dam has had on the watershed and the local manatee habitat and population.
The objectives for my thesis are to:
-Develop a species distribution model for the T. manatus in the Changuinola watershed
-Develop a a hydropower model of the Changuinola River watershed using the HEC-ResSim model developed by the US Army Corps of Engineers
-Compare land use change over the past 10-15 years in the watershed using Landsat satellite imagery
---
Dominique Roche, M.Sc.
Department of Biology
Supervisors:
Brian Leung
Mark Torchin
Graduated in Spring 2009
Thesis topic:
Discovery, distribution, and eradication potential of the introduced mud crab, Rhithropanopeus harrisii, in the Panama Canal.
Invasion of the Panama Canal by the North American Harris mud crab, Rhithropanopeus harrisii : ecology, potential spread and the possibility of eradication.
My current research in Panama straddles the theoretical and practical aspects of biological invasions. On one hand, I seek to better understand the factors that may explain the demographic success of invaders in their introduced range. More specifically, I am studying patterns of macroparasite transmission between a native and an invasive species of cichlid fishes distributed throughout the Panama Canal Watershed. While comparing the macroparasite faunas of Vieja maculicauda, an endemic species, and Oreochromis niloticus, an African tilapia, I am recording intensities of all macroparasites found as well as indices of host fitness to investigate whether parasites found on both host species may have differential impacts.
---
David Ross, M.Sc.
Department of Biology
Supervisors:
Catherine Potvin
Hector Guzmán
Graduated in Fall 2015
Thesis topic:
Trace metal content in Panamanian marine turtles, its potential to differentiate populations, and implications for human consumption
My research interests include monitoring sea turtle population and ecological shifts with regards to predicted climate change scenarios; improving on-the-ground conservation efforts, especially in rural communities; and investigating the effects and severity of anthropogenic pollution on sea turtles and their environment. Currently, my work involves testing for trace metal concentrations in samples of se turtle eggs from multiple species and locations along the Pacific coast of Panama to better understand the current state of contamination in populations with no previous toxicological data, and where poaching and consumption of sea turtle products is ongoing.
---
Maria del Carmen Ruiz Jaen, Ph.D.
Department of Biology
Supervisors:
Catherine Potvin
Sylvie de Blois
Graduated in Fall 2011
Thesis topic:
The Relationship between Biodiversity and Ecosystem Function in Tropical Ecosystems.
I will study biodiversity of woody species in forest of same physiognomy but different species composition in Azuero Peninsula in Panama. I will see how this change in biodiversity affects different functions of the ecosystem (carbon storage and litter production). Moreover, I am interested in how this relationship changes at different scales.
---
Stephanie Sabbagh, M.Sc.
Department of Natural Resource Sciences
Supervisors:
Gordon Hickey
Melanie McField
Graduated in winter 2013
Topic:
Social factors affecting shark conservation on the Mesoamerican barrier reef: a case study of Beliz.
Shark populations are declining worldwide (1, 2, 3, 4) yet most are not protected. There is, however, growing evidence of their important ecological role in marine ecosystems (5, 6). Belize, a small Central American nation bordered by the Mesoamerican Barrier Reef, second largest in the world, is not an exception. Research on sharks is relatively recent in Belize. In the last two decades long-term population studies have contributed to the understanding of the local shark populations, habitat preferences and behavioral patterns for major reef apex predators in Belize: the Caribbean reef shark, C. perezi and the Nurse shark, G. cirratum (7, 8). Belize is especially known for its whale shark population, which attracts many tourists, and contributions on the behavior and biology of R. typus is on the rise (9,10). Nonetheless, the whale shark is the only species of shark that is protected under the Belize Fisheries Act, Chapter 210 and the CITES Act. There are currently a number of gaps in marine science, which Jacques (2010) suggests need to be filled by pushing for a new field, that of marine social science to assist in management, conservation and sustainability (11). This study aims to better understand the factors affecting shark conservation outcomes, through an analysis of the perceptions of local communities and stakeholders in Belize, using a grounded theory approach.
References
[1] Graham, N.A.J., Spalding, M.D., & Sheppard, C.R.C. 2010. Reef Shark Declines in Remote Atolls Highlight the Need for Multi-Faceted Conservation Action. Aquatic Conservation: Marine and Freshwater Ecosystems. 20: 543-548.
[2] Robbins, W.D., Hisano, M., Connolly S.R., & Choat, H.J. 2006. Ongoing Collapse of Coral-Reef Shark Populations. Current Biology. 16: 2314-2319.
[3] Verlecar, X.N., Desai, S.S.R., & Dhargalkar, V.K. 2007. Shark-hunting - an Indiscriminate Trade Endangering Elasmobranch to Extinction. Current Science. 92(8): 1078-1082.
[4] Ward-Paige, C.A., Mora, C., Lotze, H.K., Pattengill-Semmens, C., McClenachan, L., Arias-Castro, E., & Myers R.A. 2010. Large-Scale Absence of Sharks on Reefs in the Greater-Caribbean: a Footprint of Human Pressures. PLoS One. 5(8): e11968. doi:10.1371/journal.pone.0011968.
[5] Stevens, J.D., Bonfil, R., Dulvy, N.K., & Walker, P.A. 2000. The Effects of Fishing on Sharks, Rays, and Chimaeras (Chondrichthyans), and the Implications for Marine Ecosystems. International Council for the Exploration of the Sea, Journal of Marine Sciences. 57:476-494.
[6] Friedlander, A.M., & DeMartini, E.E. 2002. Contrasts in Density, Size, and Biomass of Reef Fishes Between the Northwestern and the Main Hawaiian Islands: the Effects of Fishing Down Apex Predators. Marine Ecology Progess Series. 230: 253-264.
[7] Pikitch, E.K., Chapman, D.D., Babckcock, E.A., & Shivji, M.S. 2005. Habitat Use and Demographic Population Structure of Elasmobranchs at a Caribbean atoll (Glover's Reef, Belize). Marine Ecology Progress Series. 302: 187-197.
[8] Chapman, D.D., Pikitich, E.K., Babcock, E.A., & Shivji, M.S. 2007. Deep-diving and Diel Changes in Vertical Habitat by Caribbean Reef Sharks Carcharhinus perezi. Marine Ecology Progress Series. 344: 271-275.
[9] Graham, R.T., & Roberts, C.M., 2007. Assessing the Size, Growth Rate and Structure of a Seasonal Population of Whale Sharks (Rhincodon typus Smith 1828) Using a Conventional Tagging and Photo Identification. Fisheries Research. 84: 71-80.
[10] Heyman, W.D., Graham, R.T., Kjerive, B., & Johannes, R.E. 2001. Whale Shark Rhincodon typus Aggregate to Feed on Fish Spawn in Belize. Marine Ecology Progress Series. 215: 275-282.
[11] Jacques, P. 2010. The Social Oceanography of Top Oceanic Predators and the Decline of Sharks: A Call for a New Field. Progress in Oceanography. 86: 192-203.
---
Divya Sharma, M.Sc.
Department of Biology
Supervisor:
Catherine Potvin
Graduated in Spring 2015
Thesis topic:
Genesis of an indigenous social-ecological landscape in eastern Panama.
I am interested in furthering the understanding of social-ecological landscapes development. Specifically, I am studying factors that inform land use decision-making in the indigenous community of Piriatí-Emberá in eastern Panama. The community members have expressed concern over loss of forest in their lands and in their culture through time. Thus, using participatory methods and interviewing, I aim to better understand reasons for changes in land use and culture in the community. The ultimate goal is to help identify causal factors in the genesis of a social-ecological landscape, using the indigenous community of Piriatí-Emberá as a case study.
---
Sean Sloan, M.Sc.
Department of Geography
Supervisors:
Oliver Coomes
Francisco Herrera
Graduated in Spring 2008
Thesis topic:
Reforestation amidst deforestation in the Bayano-Darién frontier, Eastern Panama: variations on the forest-transition thesis
---
Scott A. Smith, M.Sc.
Department of Biology
Supervisors:
Graham Bell
Eldredge Bermingham
Graduated in Fall 2003
Current Undergraduate student in Law in McGill.
Thesis topic:
The importance of regional and historical processes in the assembly and maintenance of lower Mesoamerican freshwater fish communities.
My research interests focus specifically around questions pertaining to the study of patterns of (tropical) biodiversity. I have spent the greater part of the last two years studying patterns of Neotropical freshwater fish diversity while stationed at the Naos Marine Laboratories of the Smithsonian Tropical Research Institute. I am particularly interested in understanding how regional (dispersal, speciation, extinction) and historical (age, geology, size and the climate of a region) processes influence the assembly and maintenance of biological communities. Thus, my academic allegiances lie somewhere in between the fields of biogeography and community ecology. The work that has come out of my Master's thesis has sought to examine patterns of freshwater fish diversity at two distinct spatial scales in order to understand the processes underlying the patterns of biological diversity that we observe in Nature.
---
Simon Strauss, M.Sc.
Department of Geography
Supervisors:
Tom Meredith
Leticia Merino, UNAM
Graduated in Spring 2006
Current environmental assessment specialist at Golder Associates Ltd. in Mississauga, Ontario
Thesis topic:
Marginal protection: sustainable development, social resilience and migration within natural protected areas of the Trans-Mexican Volcanic Belt, central Mexico
Natural protected areas are places intended to protect nature, but it is now accepted that their social impact must be compatible with the ideals of 'sustainable development': they must conserve nature while improving, or at least not injuring, the socio-economic status of human communities. In Mexico, recent conservation policy has emphasized the creation of biosphere reserves, a type of protected area designed as a practical application of the concept of sustainable development. Previous research has shown that in Mexico and elsewhere, such reserves are often created in areas that are environmentally marginal and where, therefore, the lives and livelihoods of inhabitants are precarious at best. This makes the dual challenges of protecting nature and aiding social and economic development particularly acute. My study explores these challenges by considering the socio-economic patterns within protected areas along the Trans-Mexican Volcanic Belt of central Mexico. I measure sustainable development, as indexed by the Mexican government, at both the regional and local scales, combining census data and interviews with residents in the Sierra Gorda Reserve. This combination of methodologies allows for a fuller description of the social impacts of protected areas at different scales, and highlights the importance of migration and social resilience in measuring the sustainability of communities.
---
Alex Tran, M.Sc.
Department of Biology
Supervisors:
Rudiger Krahe
Owan McMillan
Graduated in Spring 2015
Thesis topic:
The effects of predation on electric fish signals.
I work with Brachyhypopomus occidentalis, a weakly electric fish that generates electric signals used for navigation, prey location and communication. NEO alumna Sophie Picq recently showed that across Panama, many populations of B. occidentalis are diverging in the shape of their electric signals, but we don't know what is causing this divergence. Is it just due to the populations being isolated for a long period of time, or is there something driving this signal divergence? Co-existing with these electric fish are electroreceptive predators, predators equipped with electroreceptors which allow them to eavesdrop on the electric signals produced by B. occidentalis. My main objective of my M.Sc. is to investigate whether differences in densities of these electroreceptive predators may be what is driving the divergence of the electric fish signals.
---
Marie-Soleil Turmel, Ph.D.
Department of Natural Resource Sciences
Supervisors:
Joann Whalen
Benjamin Turner
Graduated in Spring 2011
Thesis topic:
Soil properties and the response of rice production to water regime and fertilizer source in low fertility soils of the Republic of Panama.
Rice is the staple food for more than half of the world's population, yet by 2030, global rice production must double to meet the demand. If we are to meet future rice demands while preserving environmental resources, new low-input solutions that can lead to stable, locally produced yields are necessary. The system of rice intensification (SRI) is an emerging method of rice production that has the potential to increase or sustain yields while reducing water and mineral fertilizer consumption. The yield benefits of SRI compared to conventional systems are regionally variable and have been the subject of debate, but a mechanistic explanation remains elusive. My preliminary research suggests that soil properties exert a considerable control on the yield benefits in SRI. I found that SRI has the greatest positive effect on rice yields on strongly- weathered tropical soils such as Ultisols and Oxisols, where phosphorus is considered the main constraint to food production. The underlying reasons for this observation are unknown so the objective of my work is to improve our knowledge of soil nutrient dynamics in intermittently flooded, strongly-weathered tropical soils in order to provide a framework to promote tropical soil fertility in SRI. Another aim of my work is to provide practical information on SRI to resource-poor farmers in Panama. I aim to develop agronomic recommendations for SRI based on both farmer's experiences and scientific findings though interaction and knowledge sharing with the local research institutes and farmers. I am working directly with the Instituto de Investigación Agropecuaria de Panamá and the Panamanian NGO Patronato de Nutrición.
---
Kate Turner, M.Sc.
Department of Geography
Supervisors:
Tom Meredith
Topilzin Contreras McBeth
Graduated in Fall 2007
Thesis topic:
Sustainability and Non-timber Forest Product Harvesting: Using the "Rapid Vulnerability Assessment" Approach in Huitzilac, Mexico .
The harvesting of non-timber forest products (NTFPs) has gained much attention as a means of coupling the conservation of biodiversity with the generation of sustainable income for impoverished rural communities. Frameworks and recommendations for assessing the sustainability of NTFP harvesting have been proposed, however many of these involve the collection of long-term ecological data. Because many conservation decisions need to be made rapidly, a method called the "rapid vulnerability assessment" (RVA) has been developed, which predicts the vulnerability of an NTFP to over-harvesting, based on a variety of life-history, population, and harvesting characteristics (Peters 1994, Wild and Mutebi 1996, Cunningham 2001). The aim of my research is to gain a deeper understanding of the rapid vulnerability assessment approach and its potential for use in local sustainability planning and monitoring in the community of Huitzilac, which is located in a protected corridor (Corredor Biológico Chichinautzin) in Morelos, Mexico. More specifically, the objectives of this research are to: 1.Use the "rapid vulnerability assessment" approach to assessing sustainability for a select number of NTFP (plant) species harvested by the community of Huitzilac. 2.Determine if, and how, the rapid vulnerability assessment approach could be useful to harvesters in Huitzilac for sustainability planning and monitoring.
---
Marisol Valverde, M.Sc.
Department of Biology
Supervisors:
Lauren Chapman
Mark Torchin
Graduated in Spring 2018
Thesis topic:
Potential impacts of the introduced peacock bass, Cichla monoculus, on the diet and trophic ecology of a native predator in Lake Gatun, Panama.
Biological invasions are one of the main threats to freshwater systems, yet the study of their impacts in tropical regions remains limited. My research aims at understanding how the introduction of the peacock bass, a predatory cichlid fish native to the Amazon River Basin, has influenced the trophic ecology of one of the native predators in Lake Gatún:  Hoplias sp. ("pejeperro"). Invasive predators may affect the native ones not only through resource competition, but also by predation on the natives' juveniles, therefore their impacts might be particularly strong. For my Masters, I will investigate the impact of the peacock bass introduction on the native predator both spatially (i.e. in the presence and absence of peacock bass) and temporarily (i.e. before and after the peacock bass invasion) by using a combined approach: stomach-content analysis, stable isotopes analysis and trohphically transmitted parasites. 
---
Brandon Javier Varela, M.Sc.
Department of Biology
Supervisor:
David Green
Roberto Ibáñez
David A.Lesbarreres
Graduated in Winter 2018
Thesis topic:
Variation of the frog skin microbiota across an environmental gradient: taxonomic diversity and potential function.
I am exploring ecological and evolutionary patterns of the amphibian skin microbiome. To this end, I study closely related species of the Dendrobatidae family, focusing on their metabolome, skin microbiome and how these two interact with the fungal pathogen Batrachochitrium dendrobatidis.
---
Gerardo Vergara Asenjo, Ph.D.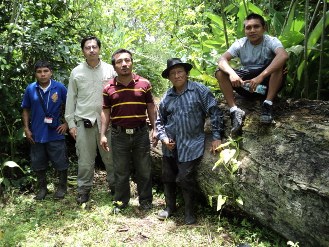 Department of Biology
Supervisors:
Catherine Potvin
Graduated in Winter 2017
Thesis topic:
Land cover dynamics in Panama: Local lessons addressing global challenges in the context of REDD+
In Panama as in many other countries of Central America where the agricultural frontier is a motor of deforestation, colonos are playing an important role in understanding land use dynamics. It must be recognized that colonos move in the forest to open new land for agriculture and cattle ranching in search for new livelihood opportunities and that not all the colonos have negative interactions with Indigenous people. Key questions that must be answered and that will provide deliverables are: Where are the zones of conflict of land and land-use? What is the impact of this conflict on the forest cover and carbon stocks?
To answer these questions, a work with COONAPIP will be coordinated to identify precise location of colonos incursions in Indigenous territories throughout the country, zones of overlap with protected areas and zones where land rights are either unresolved or conflictive. This will be mapped and analysis of aerial photos, ground truthing and interviews will be used to estimate the greenhouse gas emissions that directly result from such conflict. This research will estimate the change in forest cover in indigenous communities between 1992-2008.
The deliverables expected from STRI will be a GIS map of the zones of conflict in Panama and an estimate of how much carbon emissions can be ascribed to colonos invading indigenous land and the carbon stock present in zones of double or unclear land tenure.