Faculty
Liane S. Feldman, MD, FRCS(C), FACS
Chair, Department of Surgery, McGill University and Surgeon-in-Chief, MUHC
Professor of Surgery and Chief of the Division of General Surgery at McGill University. She holds the Steinberg-Bernstein Chair in Minimally Invasive Surgery and Innovation at the McGill University Health Centre where her clinical focus is advanced laparoscopic gastrointestinal surgery. She is also the Program Director for the Minimally Invasive Surgery Fellowship.
Dr. Feldman's clinical and research interests center on the measurement and improvement of recovery and other outcomes of gastrointestinal surgery. This includes measurement of patient-centered outcomes during surgical recovery; training and assessment of surgeons in laparoscopic techniques; and organization of perioperative care processes. Dr Feldman established the multidisciplinary group implementing evidence-based Enhanced Recovery perioperative care plans for the Department of Surgery at the McGill University Health Centre, which was recognized as a leading practice by Accreditation Canada. She represented Canada as the James IV Travelling Surgeon in 2010 and received the Canadian Association for Medical Education National Award for "distinguished contribution to medical education." She is a member of the executive council of the Society of American Gastrointestinal and Endoscopic Surgeons (SAGES) where she currently serves as Treasurer. She has had leadership roles at the Canadian Association of General Surgeons, the Fellowship Council and the American College of Surgeons, where she co-chaired the ERIN (Enhanced Recovery in NSQIP) collaborative helping hospitals implement care pathways to improve resource use and outcomes.
Dr. Feldman is author of 250 articles, book chapters and videos and is co-editor of three books, including The SAGES/ERAS Society manual on Enhanced Recovery for Gastrointestinal Surgery.
liane.feldman [at] mcgill.ca
Gerald M. Fried, MD, FRCS(C), FACS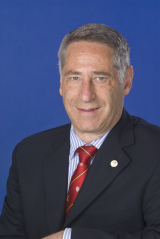 Professor of Surgery
Associate Dean, Education Technology and Innovation, Faculty of Medicine
Director of the Steinberg Centre for Simulation and Interactive Learning
He is a practicing general surgeon, and specializes in minimally invasive surgical therapies, especially as applied to treatment of digestive disorders. He founded the Steinberg-Bernstein Centre for Minimally Invasive Surgery and Innovation at the McGill University Health Centre to coordinate the clinical, research and education activities related to innovative and endoscopic therapies for GI disease. He has previously served as Adair Family Chair of Surgical Education, Program Director for General Surgery, Royal College Examiner for General Surgery.
He has served as President of SAGES, the James IV Association of Surgeons (Canada), The Canadian Association of General Surgeons and the Central Surgical Association, and is currently a member of the Board of Regents of the AmericanCollege of Surgeons. He is a member of the Editorial Boards of Annals of Surgery, Archives of Surgery, Surgery, Journal of the AmericanCollege of Surgery, Surgical Endoscopy, World Journal of Surgery, and Surgical Innovation. He has been named to the Faculty Honour List for Educational Excellence of the McGill Faculty of Medicine, and has received the John Ruedy Award for Innovation in Education from the Association of Canadian Faculties of Medicine.
Research interests: simulation and the training and evaluation methods specifically applied to acquisition of novel technical skills in surgery
Clinical interests: foregut surgery, hernia
gerald.fried [at] mcgill.ca
Melina Vassiliou, MD, M.ED, FRCS(C)
Associate Professor of Surgery, the Associate Director of the McGill Medical Simulation Centre, and Assistant Program Director of MIS Fellowship Program. She completed her Master's of Education at McGill during her residency at which time she obtained a Royal College Medical Education Research Grant to investigate the impact of simulation training on performance in the operating room. In 2009, she was awarded the Haemonetics Corporation Outstanding Paper Award at the ASE meeting for her work on the development of tools to measure flexile endoscopy skills.
Research interests: assessment of clinical and operative skills, simulation, and curriculum development
melina.vassiliou [at] mcgill.ca
Larry LEE, MD PhD
Lawrence Lee, MD PhD joined the MUHC division of General Surgery as a Colon and Rectal Surgeon in 2017. His main speciality clinical interests relate to the treatment of colorectal neoplasia and inflammatory bowel disease. In particular, Dr. Lee specializes in advanced minimally invasive and endoluminal approaches to the treatment of colorectal disease using flexible endoscopy, transanal endoscopic surgery, and Transanal Total Mesorectal Excision (TA-TME).
His research interests include health technology assessment and comparative effectiveness research for surgical technologies and innovations, with emphasis on the practice of colorectal surgery. Other areas of research include perioperative assessment, and functional and patient-reported outcomes after major abdominal surgery.
Dr. Lee completed his General Surgery residency at McGill during which time he completed an MSc in Epidemiology and a PhD in Healthcare Economics. He then completed a Colon and Rectal Surgery Fellowship at Florida Hospital in Orlando, FL. He is the recipient of the SAGES Researcher-in-Training award, amongst other national and international prizes and scholarships for his research and clinical work.
Dr. Lee is a fellow of the Royal College of Surgeons of Canada in General Surgery and Colorectal Surgery, and a diplomate of the American Board of Surgery, American Board of Colon and Rectal Surgery, and holds a specialist certificate from the Collège des Médecins du Québec.
Research interests: cost-effectiveness analyses of clinical pathways in abdominal surgery, functional status as a predictor of surgical outcomes
Clinical interests: colorectal cancer, inflammatory bowel disease, and advanced endoscopy
larry.lee [at] mcgill.ca
Julio F. Fiore Jr, PT, MSc, PhD
Julio is an Assistant Professor at the Department of Surgery and works with the MIS team since 2013. His research program focuses on optimizing perioperative care and improving outcomes after major surgeries using a patient-centered approach. His program builds on over 10 years of research training at prestigious institutions in Brazil (Federal University of Sao Paulo), Australia (Melbourne University) and Canada (McGill University). Dr. Fiore has published extensively in the fields of enhanced recovery after surgery, postoperative exercise interventions and measurement of surgical outcomes.
julio.fiorejunior [at] mcgill.ca
Simon Bergman, MD, MSc, FRCSC, FACS
Dr. Simon Bergman obtained his medical degree from McGillUniversity in 2001 and pursued his postgraduate training in general surgery. During this time, he obtained an M.Sc. focusing on surgical recovery and patient-centered outcomes. In 2008, he completed a fellowship in minimally invasive surgery at The Ohio State University, under the mentorship of Dr. Scott Melvin.
Dr. Bergman is currently Assistant Professor of Surgery at McGillUniversity in Montreal, Canada. He is also a clinician-scientist in the Department of Surgery at the Jewish General Hospital, where he works as a general/MIS surgeon. Dr. Bergman is also Director of Undergraduate Surgical Education at McGillUniversity.
Clinical interests: hernia and foregut surgery
Research interests: measurement of surgical recovery and the quality of surgical care in elderly patients
simon.bergman [at] mcgill.ca
Carmen Mueller, BSc(Hons) MD FRCSC
Originally from Southern Ontario, Dr. Carmen Mueller completed medical school and general surgery residency training at the University of Toronto. She came to Montreal to complete one year of specialty training in Minimally Invasive Surgery under renowned mentors Dr. Gerald Fried and Dr. Liane Feldman. During her fellowship training, she developed advanced expertise in laparoscopic (keyhole surgery) for hernia, colorectal, spleen, adrenal, bariatric, gastric and esophageal disorders, as well as learned advanced endoscopic techniques.
Following her fellowship, Dr. Mueller completed a Masters of Education degree at McGill University. Her area of research focused on assessments of endoscopic proficiency.
Dr. Mueller joined McGill University as Assistant Professor of Surgery in July, 2014 and is the recipient of the 3-year Tomlinson Award supporting new academic faculty. She divides her clinical time between St. Mary's Hospital Centre and the Montreal General Hospital at the McGill University Health Centre. She also frequently provides Acute Care Surgery coverage at the Glen Royal Victoria Hospital performing emergency procedures.
While at McGill, and under the ongoing mentorship of Dr. Lorenzo Ferri, Dr. Mueller has developed extensive clinical expertise in complex, benign and malignant gastroesophageal surgery. She continues to work closely with the Thoracic and Upper GI Surgery Division of the MUHC, providing consultations and surgical care. This unit sees over 250 new cases of gastroesophageal cancer each year, making it one of the highest volume foregut surgery centers in North America.
Having a keen interest in surgical education, Dr. Mueller assumed the role of Specialty Director of Education (Surgery) at the Steinberg Centre for Simulation and Interactive Learning at McGill in October, 2015. As demand for simulation training in surgery continues to increase, the mandate of this role is to enhance and develop simulation training programs offered across surgical specialties at the university. Dr. Mueller is an active member of the McGill General Surgery Residency Post-Graduate Committee and is committed to curriculum development projects. She consistently receives outstanding teaching evaluations from medical students and residents.
She has authored a number of peer-reviewed publications and book chapters in the fields of surgical education and foregut surgery. Her research interests include curriculum design and assessment, clinical outcomes in upper GI surgery, and the role of motivation in surgical training.
Dr. Mueller is committed to providing exceptional surgical care to her patients, with a focus on individualized treatment and enhanced recovery.
Other clinical interests include advanced GI endoscopy and solid organ minimally invasive surgery.
Research interests:endoscopy training, motivation, curriculum development, clinical outcomes
carmen.mueller [at] mcgill.ca
https://www.mismontreal.ca/ (personal website)
Sebastian Vincent Demyttenaere, MD
Dr. Sebastian Demyttenaere joined the Division of General Surgery at McGill University as an Assistant Professor of Surgery in 2009. His clinic focus is on Bariatric Surgery at the MUHC and also minimally invasive general surgery at Saint Mary's Hospital. He also is involved in surgical education at the undergraduate and postgraduate level.
Dr. Demyttenaere completed his General Surgery Residency at McGill University during which time he also completed a MSc in Experimental Surgery. He then completed a one-year Fellowship in Advanced Minimally Invasive and Bariatric Surgery at the Ohio State University, Ohio. He is a member of multiple national and international associations including the American Society for Metabolic and Bariatric Surgery (ASMBS) and the International Federation for the Surgery of Obesity (IFSO). He is also a member of the Society of American Gastrointestinal and Endoscopic Surgeons (SAGES).
Dr. Demyttenaere completed his general surgery residency at McGill and undertook an MIS fellowship at the Ohio state university in 2009.
Clinical interests: bariatrics, GI and hernia surgery, and endoscopy
sebastian.demyttenaere [at] mcgill.ca
Pepa Kaneva, MSc
MIS program coordinator, Pepa Kaneva, MSc, responsible for the development and administration of the MIS program's clinical databases. These databases track both short and long term patient outcomes.Coordinates the activities of the MIS research group.
pepa.kaneva [at] mail.mcgill.ca