The Graham Sommer Competition for Young Composers will invite audience members into the world of composition with the premiere of new works for piano trio (violin, cello, and piano). The winners of all prizes, including the audience prize, will be announced following the performance and jury deliberations.
In the spirit of Graham Sommer's love for sharing music, the competition will take place during Quebec's 25th edition of the Journées de la Culture in September 2021; this annual event promotes greater access to arts and culture for everyone, giving participants a peek into the creative process with free activities all over the province.
---
In Conversation with the Finalists (September 25, 2021)
Chris Paul Harman, Canadian composer and Composition Area Coordinator in the School's Department of Music Research, will moderate a discussion with the five competition finalists prior to the concert and prize gala on September 26. The discussion will focus on what it means to be an emerging composer and to write for piano trio.
This free event will take place at 2:00 p.m. in Tanna Schulich Hall in the Elizabeth Wirth Music Building (527 Sherbrooke Street W.). Please register in advance.
---
Concert and Prize Gala (September 26, 2021)
The Concert and Prize Gala will take place at 3:30 p.m. on September 26, 2021 in Pollack Hall at the Schulich School of Music of McGill University. If you can't attend, you'll be able to watch the webcast on the School's YouTube page.
Graham Sommer Trio
Amy Hillis, violin
Chloé Dominguez, cello
Meagan Milatz, piano
Alec Hall | The National Anthem
Laurence Jobidon | Hublots
Michael Kim-Sheng | Burning in Clarity
Jared Miller | Absolute
Matthew Ricketts | Still There
Download the complete programme or see it on your mobile devices
Vote for your favourite work following the performances! www.mcgill.ca/gsc/vote
Tickets are available online, at the Schulich School of Music Box Office by phone (514-398-4547) or in person: Monday to Friday 14:00 to 18:00 (555 Sherbrooke Street West).
Help keep our community safe
The safety of our community and our students' education remain a top priority.
As of September 1, 2021, spectators aged 13 or over will need a vaccine passport to attend concerts at the Schulich School of Music. The vaccine passport, along with a photo ID (photo optional for people aged 13 to 15, and 75 or over), must be shown upon entering the venue.
If you do not have a vaccination passport, you will be denied access to the hall.
The following passport formats are accepted with photo ID:
Paper format
PDF format on your mobile device
From the VaxiCode application
To download your vaccine passport, please visit the following page.
---
Attending events at Schulich
Please arrive at least 20 minutes before the start of the event and have your vaccination passport and photo ID ready BEFORE you arrive at the door to the hall to help our staff facilitate your entry. Your patience and understanding is most appreciated.
Procedural masks must be worn by everyone while circulating in Schulich buildings and concert halls. Masks will be available upon entrance to the Elizabeth Wirth and Strathcona Music Buildings.
Our concert halls are also classrooms which are in use throughout the day. Patrons are permitted to remove their masks only once they are seated, but are encouraged to keep them on throughout the performance.
Please respect posted social distancing guidelines, including seat availability.
Hand sanitizing stations are available throughout the McGill campus.
The Schulich School of Music is following all Government of Quebec and McGill University guidelines and directives closely. Visit the events calendar regularly as access to our halls is subject to change.
We thank you for your continued support.
Keep informed on how COVID-19 affects the Schulich School of Music via our FAQ.
---
Graham Sommer Trio
Amy Hillis, violin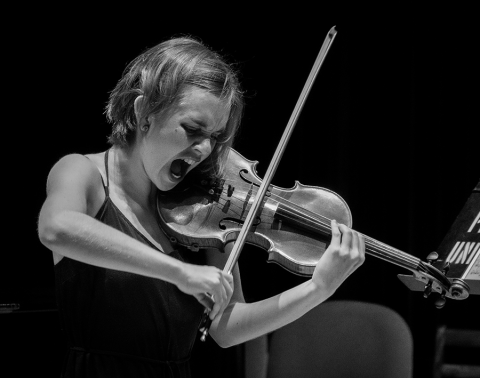 Amy Hillis challenges artistic norms in order to build and cultivate community relationships inside and outside the concert hall. As a soloist, she has commissioned and premiered new Canadian works by Jocelyn Morlock, Nicole Lizée, Carmen Braden, Randolph Peters and Jordan Pal. Amy has "a rich, warm sound and has mastered the violin with such ease, that it is impossible to ignore her passion in performance" (Ludwig Van Montréal). She is winner of the Eckhardt-Gramatté National Music Competition, an artistic residency at La Cité Internationale des Arts in Paris, the McGill Concerto Competition, and the Sylva Gelber Foundation Music Award.
As part of the meagan&amy duo, Amy was selected as winner of the inaugural "Pan-Canadian Recital Tour" to perform 50 recitals across all thirteen Canadian provinces and territories. Her duo's debut album titled Roots demonstrates the connections between select Canadian compositions and works from the traditional canon of classical repertoire. Amy is also a founding member and manager of the prairie-based Horizon String Quartet. During seven different tours, the HSQ has performed over 200 interactive concerts for more than 10,000 young people in 100 different Canadian cities.
Amy is currently Assistant Professor and the Helen Carswell Chair in Community-Engaged Research in the Arts at York University. She holds a Doctor of Music in Violin Performance from McGill University, completed under the guidance of Axel Strauss and with the support of the Joseph-Armand Bombardier Canada Graduate Scholarship from the Social Sciences and Humanities Research Council (SSHRC). She completed her Master of Music at the San Francisco Conservatory of Music with Ian Swensen and her Bachelor of Music at McGill University with Denise Lupien. While growing up in Regina, Amy studied with the concertmaster of the Regina Symphony Orchestra, Eduard Minevich.
Amy performs on the 1902 Enrico Rocca violin, on loan from the Canada Council for the Arts Musical Instrument Bank.
amyhillis.com
Chloé Dominguez, cello
Chloé Dominguez is known for her versatility and rich tone. Her reputation as an avid chamber musician has led her to perform in Canada, the United States, and many international festivals. She recorded under the labels ATMA, Oxingale Records and Espace 21.
She holds the solo cello position at the Orchestre classique de Montréal as well as the Ensemble Contemporain de Montréal +. As a fervent advocate of today's music, she has premiered many works as a soloist.
Chloé Dominguez has received numerous prizes and awards. In 2009, she was a winner of the Canada Council's Musical Instrument Bank Competition and was awarded McGill's Schulich School of Music's Golden Violin award.
She completed her doctorate degree in performance at McGill University. She curently teaches at the McGill University, the Domaine Forget's music academy and the Université du Québec à Montréal.
Chloé plays on a 1745 Lorenzo Carcassi cello.
Meagan Milatz, piano
Meagan Milatz, pianist, has appeared as soloist with orchestras across Canada including the Regina Symphony Orchestra, the Edmonton Symphony Orchestra, l'Orchestre symphonique de Sherbrooke, and the McGill Symphony Orchestra. Meagan is one of CBC's "30 hot Canadian classical musicians under 30", 2019 edition. Meagan embarked on a 50-concert, Canada-wide tour for the 2019/20 concert season alongside violinist Amy Hillis as the duo "meagan&amy", as winners of the first-ever Pan-Canadian Partnership Recital Tour offered by Jeunesses Musicales Canada, Debut Atlantic and Prairie Debut.
Meagan performs regularly as collaborative pianist for top international musicians, including Andrew Wan, concertmaster of l'Orchestre symphonique de Montréal; Stefan Dohr, Principal Horn of the Berlin Philharmonic; cellist Matt Haimovitz; and clarinetist Todd Cope, among many others. Meagan was top prize winner in the Shean Piano Competition, CFMTA National Piano Competition, McGill Classical Concerto Competition and Canadian Music Competition.
Meagan began her studies in Saskatchewan with Cherith Alexander and holds a McGill master's degree studying piano with Ilya Poletaev and fortepiano with Tom Beghin. Meagan has also studied collaborative repertoire under the tutelage of Philip Chiu and was the recipient of a Sylva Gelber Music Foundation Award.