Welcome to McGill Geography
Geography is the study of physical environments and human habitats. It deals with people and places. It covers issues such as global warming and climate change, food and water resources, management of ecosystems, human health, regional economic disparities, urban infrastructure, native land claims and permafrost problems. Both a physical and a social science, it provides a unique opportunity to obtain a broad exposure to modes of analyzing the many environmental and situational problems of contemporary society. Our department is based in the Faculty of Science and offers degrees at the Bachelors (B.A., B.Sc, & B.A.Sc.), Masters (M.A. & M.Sc), and Ph.D. levels.
Activities and Announcements
Professor Anthony Bebbington from Clark University will be giving a geospectives talk on April 12th titled "The New, the Same and the Ugly: Extractivismsin Latin America and beyond." The talk will take place in Burnside Hall 426 starting at 12:00pm.
Posted April 4, 2019
---
In Fall 2019, Professor Grant McKenzie will be teaching a new course on programming for the spatial sciences.  This will be an undergraduate course aimed at students in Geography and related disciplines.  No previous programming experience is expected.
geog407_fall2019.pdf
Posted March 29, 2019
---
Spring advising hours
The undergraduate advisor will be holding a special extended drop-in hour session Tuesday April 2nd from 1pm to 4pm in Burnside Hall room 323 to assist finishing students with registration issues. Regular drop-in hours will then continue throughout the week.
Drop-in hours on April 11th, 15th, April 19th and 22nd are cancelled.
Regular drop-in hours will then continue throughout the rest of April, and in May.
Can't make it to drop-in hours and need advice? advsior.geog [at] mcgill.ca (subject: appointment%20request) (Email) Michelle for an appointment.
Posted April 1st, 2019
---
Increased hours for undergraduate advising in Geography
Good news everyone! The Geography Undergraduate Advisor Ms. Michelle Maillet is now available full-time to help students navigate the intricacies of their Geography programs, including the Sustainability, Science & Society major/honours! Come by Burnside Hall room 323 during her drop-in hours, or send her an email at advisor.geog [at] mcgill.ca with your availabilities to book an appointment. Her new expanded drop-in hour schedule is as follows: Mondays from 1pm to 3pm, Wednesdays from 1pm to 4pm, Thursdays from 2pm to 4pm, and Fridays from 1pm to 4pm.
Posted January 29, 2019
Please join Harvey Molotch and Davide Ponzini on April 26 to discuss their recent book, The New Arab Urban: Gulf Cities of Wealth, Ambition, and Distress. Cities of the Persian Gulf display themselves as exceptional in cosmopolitanism, architectural reach, and futuristic capacities. Critics, in turn, stress environmental backwardness, radical inequality and cultural dependence. The aim of this international seminar (and of the edited book from which it springs) is to show what Gulf cities can substantively teach: how world places connect to one another through new patterns of real estate investment, design, and human migration. Experts, problems, and putative solutions circulate to the Gulf and out of it. We can learn by attending to such Gulf trends that – for better or worse, and however inconsistent with prior analytic paradigms – are now ascendant in other world regions. Where: ART 160, Arts Building, McGill University. When: 4:00-5:30
Posted April 11, 2019
---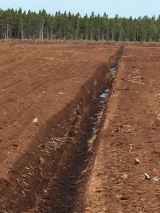 Professor Nigel Roulet, with Professors Tim Moore (Geography), Ian Strachan (Natural Resource Science, FAES, McGill University), Maria Strack (Geography and Environmental Management, University of Waterloo), and David Olefeldt (Renewable Resources, University of Ablerta and former McGill Geography PhD student) have been given a five year, $1,700,000 NSERC Collaborative and Research Development (CRD) grant with seven industrial partners and the Canadian Sphagnum Peat Moss Association (CSPMA) to examine the greenhouse gas emissions during peat extraction and the fate of the peat carbon when peat is used in horticulture.
Posted March 25, 2019
---
Professors Gail Chmura and Nigel Roulet have just published with several of their fellow wetlands scientists an editorial in the journal Wetlands that outlines the critical role of wetlands in the global system and what the lose of wetlands means to resilience.
Posted March 25, 2019
---
Professor Sarah Moser appeared on CBC National news this week to discuss massive urban developments that are being designed to jump-start economies in the developing world.  Click through to the article
This Is Big Money
.
Posted March 14, 2019