Welcome to McGill Geography
Geography is the study of physical environments and human habitats. It deals with people and places. It covers issues such as global warming and climate change, food and water resources, management of ecosystems, human health, regional economic disparities, urban infrastructure, native land claims and permafrost problems. Both a physical and a social science, it provides a unique opportunity to obtain a broad exposure to modes of analyzing the many environmental and situational problems of contemporary society. Our department is based in the Faculty of Science and offers degrees at the Bachelors (B.A., B.Sc, & B.A.Sc.), Masters (M.A. & M.Sc), and Ph.D. levels.
Activities and Announcements
A big congratulations to Geography Undergraduate Advisor Michelle Maillet on being awarded the the Excellence in Undergraduate Academic Advising Award from the Dean of Students.  Michelle's speech is available here. Congratulations Michelle.  Well deserved.
Posted May 16, 2019
---
The geography department is looking for TAs for geography courses in the fall 2019 semester.  If you are interested in applying please fill out this Word document.  Please check the deadline for applying written on each posting.  Good Luck!!
Posted May 2, 2019
---
MUGS first undergraduate society at McGill to achieve bronze-level sustainable workplace certification
We are proud to announce that the McGill Undergraduate Geography Society (MUGS) is the first undergraduate association at McGill to achieve bronze-level sustainable workplace certification through the Office of Sustainability! Congratulations to the 2018-2019 execs on this exciting achievement, and a special thank you to this past year's MUGS sustainability officer Erin Wen for leading the process. An important legacy for future cohorts, bravo!
Posted May 10, 2019
---
Increased hours for undergraduate advising in Geography
Good news everyone! The Geography Undergraduate Advisor Ms. Michelle Maillet is now available full-time to help students navigate the intricacies of their Geography programs, including the Sustainability, Science & Society major/honours! Come by Burnside Hall room 323 during her drop-in hours, or send her an email at advisor.geog [at] mcgill.ca with your availabilities to book an appointment. Her new expanded drop-in hour schedule is as follows: Mondays from 1pm to 3pm, Wednesdays from 1pm to 4pm, Thursdays from 2pm to 4pm, and Fridays from 1pm to 4pm.
Posted January 29, 2019
---
Instructor position available for Fall 2019 semester
The department of geography is looking for instructors for the following courses to be offered in the Fall 2019 semester.  Click on the link below for more information regarding the posting.  Deadline for applying is June 18, 2019.  Good Luck!
Geog202 for Fall 2019
Geog216 for Fall 2019
Geog331 for Fall 2019
Posted May 9, 2019
A recent study led by McGill Geography doctoral candidate Melissa Ward Jones finds that rapid changes in terrain are taking place in Canada's high Arctic polar deserts due to increases in summer air temperatures.
Posted May 23, 2019
---
A new study published by McGill geographers Guenther Grill, Bernhard Lehner, Heloisa Ehalt Macedo, Florence Tan, and colleagues finds that just one-third of the world's longest rivers remain free-Flowing. The first ever global assessment of the location and extent of the planet's remaining free-flowing rivers highlights severe degradation, and offers a method for tracking the status of free-flowing rivers over time.
Posted May 8, 2019
---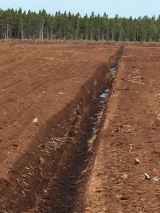 Professor Nigel Roulet, with Professors Tim Moore (Geography), Ian Strachan (Natural Resource Science, FAES, McGill University), Maria Strack (Geography and Environmental Management, University of Waterloo), and David Olefeldt (Renewable Resources, University of Ablerta and former McGill Geography PhD student) have been given a five year, $1,700,000 NSERC Collaborative and Research Development (CRD) grant with seven industrial partners and the Canadian Sphagnum Peat Moss Association (CSPMA) to examine the greenhouse gas emissions during peat extraction and the fate of the peat carbon when peat is used in horticulture.
Posted March 25, 2019
---
Professors Gail Chmura and Nigel Roulet have just published with several of their fellow wetlands scientists an editorial in the journal Wetlands that outlines the critical role of wetlands in the global system and what the lose of wetlands means to resilience.
Posted March 25, 2019