Leanore Lieblein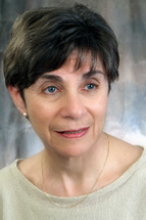 Degree(s):
B.A. (City College of New York); M.A., Ph.D. (Rochester), Associate Professor
Teaching areas:
Drama and dramatic theory, Renaissance literature.
Taught previously at:
City College of New York, University of Rochester.
Selected publications:
Edited Book:
A Certain William: Adapting Shakespeare in Francophone Canada.(2009).
Articles:
"Embodied Intersubjectivity and the Creation of Early Modern Character." In Shakespeare and Character: Theory, History, Performance, and Theatrical Persons, ed. Paul Yachnin and Jessica Slights (2009).
"Pourquoi Shakespeare?" in Shakespeare: Made in Canada, ed. Daniel Fischlin and Judith Nasby (2007)
"Nuancing Diversity: The Boyokani Company Hamlet." alt.theatre: Cultural Diversity and the Stage, 4.2-3 (May 2006): 22-24; 31.
"Corporeal Ecology and European Otherness on the Shakespearean Stage." In Shakespeare et l'Europe de la Renaissance, ed. Pierre Kapitanik (2004).
"My breasts sear'd": The Self-Starved Female Body and A Woman Killed with Kindness." (With Christopher Frey.) Early Theatre, 7.1 (2004): 45-66.
"Le Re-making of Le Grand Will" In "A World elsewhere?": Canadian Shakespeare, ed. Diana Brydon and Irena Makaryk (2002).
"Interrogating the Shakespearean Body," CTR 111 (Summer 2002): 15-21.
"Shakespeare in Francophone Quebec," Internet Shakespeare Editions.
"Alfred Pellan, Twelfth Night, and the Modernist Shakespeare" (with Patrick Neilson), Shakespeare Yearbook 11 (2000): 389-422.
Editor, "Traversees de Shakespeare" (Dossier), L'Annuaire Theatral, 24 (automne 1998): 9-138.
"Theatre Archives at the Intersection of Production and Reception," inTextual and Theatrical Shakespeare: Questions of Evidence (1996).
"`Les Grecs' à la francaise," TRI 18.2 (1993): 123-37.
"East Berlin Theatre Diary," JDTC 6 (Fall 1991): 106-23.
"Translation and Mise-en-Scène," JDTC 5 (Fall 1990:81-94.
"The Politics of Renaissance Culture," in L'Europe de la Renaissance(1989): 49-64.
"Flexible Iconography: The Experience of the Spectator of Medieval Religious Drama," Le Moyen francais 19 (1988): 135-47.
"Jan Kott, Peter Brook, and King Lear," JDTC 1.2 (1987): 39-49.
Co-translator of Les Esbahis (1561).
Director of Everyman, Calderon de la Barca's Life Is a Dream, Timberlake Wertenbaker's The Love of the Nightingale, the Towneley Pharaoh, and Slaying of Abel; co-director of George Peele's Old Wives Tale.
Book images:
Current research:
Shakespeare in France and French Canada; The Shakespearean Body and the Concept of Character.