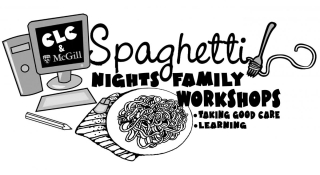 Launched in 2012, Spaghetti Nights Family Workshops are a series of free, monthly, two-hour workshops for parents, guardians and families developed through a collaboration between Branches, the Kahnawà:ke Education Center and the Riverview Community Learning Centre (CLC). 
Currently offered at Verdun Elementary School in Verdun and Karonhianónhnha Tsi Ionterihwaienstáhkhwa in Kahnawà:ke, many of the families who participate have children in Branches' Homework Zone Afterschool Mentoring Program. The workshop topics are suggested by parents/guardians and facilitated by McGill staff, faculty and Montreal-based professional educators. Free spaghetti dinner is prepared by the Coordinators and daycare service is animated by McGill volunteers. The goal of the workshops is to provide helpful information and practical tools for parents/guardians to support their children's development academically, personally and socially. Spaghetti Nights is also a safe, supportive community space for families to learn together and from each other.
How Spaghetti Nights work
Workshops are offered once a month on Thursday evenings (normally the first Thursday of the month) and begin with a free spaghetti dinner at 5:30 pm for families, volunteers and facilitators. Following the dinner, participants attend a workshop from 6:00  – 8:00 pm while childcare is provided by volunteers under the supervision of a daycare coordinator. 
What we offer to families
Hands-on workshops and discussions that send you and your children home with new ideas and concrete tools on how to succeed in school
Free spaghetti dinner
Free daycare
Free public transit tickets available upon request
Door prizes for parents and children at each workshop
Some past Spaghetti Nights Workshops
How to create a home environment for learning and school success
Parents'/guardians' tools for helping kids with their homework
Financial planning for secondary and post-secondary education
Want to get involved?
We are always looking for McGill students, staff and faculty to volunteer at the Spaghetti Nights Daycare (Thursdays, 6-8pm). Please email 

hz.sede

[at]

mcgill.ca

.
Want to be a Spaghetti Nights Workshop Facilitator? Read our 

guidelines 

and contact 

anurag.dhir

[at]

mcgill.ca

(Anurag Dhir)

.
All volunteers and facilitators get a free dinner and public transit tickets (upon request)