The people behind our projects
---
Meet our student ambassadors and mentors
Every semester, amazing students and recent graduates work with Branches as Student Ambassadors and Mentors. We have highlighted the exceptional students who go above and beyond to facilitate programming and provide mentorship and tutoring to our youth participants. Join us in thanking them for everything that they do to support positive youth development and access to education.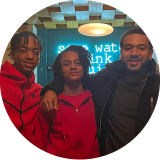 Elijah Aedo-Castillo
Hello, my name is Elijah Aedo-Castillo. I'm a second-year (U1) undergraduate student studying Honours History and Indigenous Studies, and I am the Black Student Ambassador/Coordinator at Branches McGill. My role is to interact with secondary students throughout Canada, providing them with positive reinforcement and pertinent information about navigating university life. A huge part of my job is guiding youth toward the self-awareness, compassion, and acceptance needed to actualize extraordinary academic aspirations, personal growth, and community uplift. Our team has provided prospective McGill students, ages 10-20, with numerous virtual and in-person "Get University Ready" workshops, open houses, campus tours, and panel discussions. My favourite part of my work is planting positive seeds in the minds of the youth, reaffirming their innate greatness, and constantly reminding them that they are more than capable of accomplishing anything they set their minds to. I often hear students expressing debilitating inhibitions and anxieties about their future, and it is a serious goal of mine to help them experience the liberating relief that results from defining one's own standards of success, cherishing the present moment, trusting in oneself, eclipsing paralyzing fear and stress and alleviating the burdens of others. Since I am only nineteen, I can directly relate to all the students I interact with. When I talk with students, many express how they are navigating the same dilemmas and tribulations I experienced (and continue to experience) in my teens. The students I work with come from diverse backgrounds but, unfortunately, do not see themselves represented in Canadian academic/professional realms. Therefore, offering a context for intellectual exchange between inquisitive young students and their highly accomplished/relatable elders enables students to broaden their horizons and re-evaluate adverse preconceived notions regarding their aptitudes and socio-economic prospects. Hearing feedback about how students enter our program feeling incompetent in certain regards and leave feeling lively and motivated is such an exhilarating and fulfilling experience. Working with Branches continues to play an integral role in my university experience and transition into adulthood. Branches Community Outreach Program allows me to travel throughout Montreal to speak with and encourage young students who have deep-seated doubts about their futures. Having the platform to speak with young individuals in an honest and enriching manner, spurring them towards unleashing their unbounded creativity, is such a privilege, and I implore everyone to reach out, collaborate and get involved. I know that many of my fellow McGill students are inclined to participate in community engagement and share their university experiences. Volunteering or working with Branches is undoubtedly the best way, as a McGill student, you can have a lasting and invaluable positive impact on the trajectory of our youth!
Jessana Akehurst
Hello! My name is Jessana Akehurst. I am a 3rd year (U2) McGill student studying Political Science and Gender, Sexuality, & Feminist Studies. I am the Program Assistant for the Branches Tutoring Program. Working on the pilot cycle of the Branches Tutoring Program I got to see the program come to life.
It was incredible to work with each of the tutors and tutees. I love seeing the bonds that form between tutors and tutees. I the program unfolds it is rewarding to see their progress and growth happen in real-time. My favourite experience I've had working with Branches was at our end-of-year dinner with our tutors, where I got to hear each of them talk about their experiences with their students and how much it meant to them. Working with Branches I get to learn while working alongside others who care so much about the work they do. I definitely encourage other students to get involved with Branches, especially with the Branches tutoring Program as it expands ;)
Emilee Bews
Hello, my name is Emilee Bews (she/her); I'm Anishinaabe from Batchewana First Nations. I graduated from the University of Calgary with a BA in English ('22) and am pursuing my MA in Education & Society at McGill University as a McCall MacBain Scholar. I work as the Program Assistant for 'Pick-Your-Path Indigenous,' helping lead a program which supports Indigenous CEGEP students with mapping and achieving their educational goals. I hope that, in weaving Indigenous knowledges and values throughout our programming, we can create an environment for Indigenous students to thrive as learners and leaders.
Drake D'Souza
Hello, my name is Drake, I'm a third-year marketing student working as a program assistant for the Indigenous initiative IMPRESS. I've also served as a coordinator at the High School level of the Homework Zone program for the past 4 years. The Branches Program has created an opportunity for me to grow and develop my involvement as I progress in my studies, transitioning from Homework Zone to IMPRESS. My favourite part of Branches is how it connects students from at all stages of life and their educational journal, working with students from elementary to grad school. Personally, it is especially fulfilling when I'm able to work with the youth in my home community of Kahnawake and reflect on how these programs are having a positive impact. It is extremely rewarding to create a community and relationships with other students that span across borders and last long after the programs end.
Gemma Else
Gemma is dedicated to facilitating internal and external communications that support the success of Branches' programming and events. Gemma collaborates with all members of the Branches Team to create program communications, material, and publicity to reach target audiences effectively and with clear messaging. You can find Gemma at Branches' events, camera in hand, documenting the day and engaging with participants and facilitators. In her free time, Gemma maintains an art studio in Tiohtià:ke and is active in the local arts scene. Connect with Gemma for communication-related inquiries or support.
Micheala Fleming
Micheala joins the Branches team as a Program Assistant for the youth in care population. She started her journey with youth ageing out of care at C.A.R.E jeunesse, where she volunteered to provide services and resource navigation to youth leaving the child welfare system. She then went on to work in group home settings, providing immediate support to youth in care. Through her work at Branches, she aims to make higher education an accessible goal for youth in and from the system, as they benefit from tutoring and PYP services to gain autonomy and confidence in their potential as learners. She is currently completing her Bachelor in Social Work at McGill University, and she intends to continue working in the youth and family sector as a proponent of trauma-informed care.
Gregory Gooding
Hi everyone! My name is Gregory I am currently completing my Master's Degree in Experimental Medicine. As a Black Community Program assistant, I participating in developing, revising and organising the path program. Participating in this program allows me to merges two of my passions which are helping people and science. During my free time you can find me trying to organize a camping trip, listening to soca and dancehall, or trying a new recipe.
Dane Malenfant
Hi everyone, my name is Dane Malenfant. I am a citizen of the Métis Nation — Saskatchewan from Treaty 6 and 4 and have recently graduated from McGill University with a degree in Computer Science and a minor in Psychology. I am an Assistant Program Coordinator with the Branches Pick Your Path, Undergraduate program and Indigenous Student Ambassador. I find the challenge of not only developing EDI programs within a set time frame but also executing them effectively very rewarding. When developing Pick Your Path, Undergraduate, the Program Advisor wanted to weave in Indigenous cultural concepts. I proposed the traditional Indigenous learning concept "Kiskinaumatowin," or "teaching each other," which draws on Cree concepts. It reduces the western hierarchical teacher-student learning environment in favour of a more equitable environment that encourages shared knowledge transfer. It was rewarding to see how the workshop facilitators changed their presentations to be more interactive and see more discussion happen. Branches has amazing people with diverse skill sets. It is very rewarding to learn from my coworkers and meet other amazing people throughout McGill, Montréal and the world. Branches offers a lot of opportunities to develop important skills in and out of academia by improving relations and opportunities for communities.
Ana Paula Silva-Reyes
Hello! my name is Ana Paula Silva-Reyes, I am Peruvian and have lived in Montreal for most of my life. I recently completed my Bachelor's degree at McGill with a double major in History and Latin American & Caribbean Studies and a minor in Art History. As a program assistant at Branches, I organize EXPLORE McGill to offer on-campus activities to high school and CEGEP students. Because this event requires partnerships with internal and external, I connect with many initiatives on campus and facilitators who helps us offer engaging workshops. Staff from partnering schools share the interests of their students with us and overall what this experience would mean for them having done all of my education in Montreal, I am able to relate to the reality of the students we welcome. It allows me to organize the event with a great understanding of where they are in their educational careers. Working with Branches has provided me with the opportunity to learn from my coworkers who each have a different set of skills and a different background. Through the mutual discussions of education issues within certain communities, I have been able to better connect with my job. I want the students to be able to learn from their experience at McGill and feel connected to what we offer them, and not provide them with an event catered to a general public that loses the focus of their needs and interests. Explore McGill allows me to interact with both students and teachers throughout the day of the event and get in-person feedback. I encourage people to volunteer in outreach initiatives and community work as it helps expose us to a new set of skills and helps strengthen and proving more opportunities to the communities we work with. Branches have a great number of programs with great initiatives whose goal is to better and help adapt education to all.
Maia Sinkins
Hello! my name is Maia Sinkins. I am a coordinator for the Homework Zone program. I am also a third-year (U2) student at McGill studying Microbiology and Immunology. Working with Homework Zone forces you to improve your communication skills. You really have to practice being able to explain a concept in many different ways, and to students with a range of ages and abilities. It's a bit of a mental challenge but it's a super important ability. My favourite feeling is always when a student decides that they want to finish their work without me having to encourage them. It shows me that they're confident with their skills and also that they see Homework Zone as a valuable space rather than a chore. Working with Branches as a Homework Zone coordinator has offered me the opportunity to grow my own skills while working in the community. It has been super exciting to watch how the Branches program has grown over the past ten years. Branches now has connections to so many communities, and those connections will keep getting stronger in the coming years. If you are a student looking to get involved with outreach to the wider Montreal community Explore McGill is a really good way to be introduced to what we do at Branches. If you enjoy this, Pick Your Path, IMPRESS, and Homework Zone are great ways to continue to volunteer with Branches.
Eddy Taguedong
Hi everyone! My name is Eddy, and I am in my fourth year studying Honours Anatomy and Cell Biology. As a Black Community Outreach Student Ambassador, I help organize our pick your path program. This mentoring program partners black youth with black students at McGill in hopes of helping to improve representation and dismantle barriers that prevent black youth from reaching their full potential. As someone passionate about advocating for underserved communities, I am excited to be a part of the team and to help implement lasting change. During my free time, you can find me in the lab, studying at a café, or training alongside my teammates on the rowing team!
Connect with us
Need more information about our programs, activities or events? Want to get involved? Have a suggestion or comment you'd like to share with us? We want to hear from you!