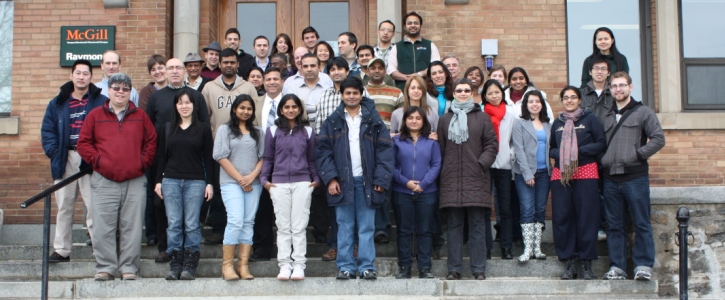 Overview
The Bioresource Engineering program is a Major program and upon graduation you will obtain a Bachelor of Engineering degree (B.Eng.).
In Québec, the university years are called U0, U1, U2, and U3 (known elsewhere as the Freshman, Sophomore, Junior and Senior Years, respectively). Students who come to McGill directly from high schools outside of the province of Québec (for example, other Canadian provinces, the US, or overseas), typically enter the university in their Freshman Year (U0). Such students, as well as those who transfer from another degree program, or university, will often need to take some introductory science and math (freshman) courses. If you are unsure of your status, please discuss your situation and degree requirements with your academic advisor and/or the Freshman Advisor, who will be happy to assist.
Entrance Levels
You can enter the Bioresource Engineering program at several levels. The requirements for admission depend on your educational background.
U0 Level – Freshman Year:
Students coming from Canadian provinces outside Québec or other countries may enter the program at this level, and complete a 30-credit "freshman year" before proceeding with their U1 (Undergraduate) courses. Freshman Year information can be found here: McGill University Macdonald Campus Freshman Program
U1 Level – University Year 1:
Most students will enter at this level after completing a CEGEP 2-year DEC in Quebec, after finishing Grade 11 in high school.
Advanced Standing:
Students may wish to enter our program with advanced standing because they have courses from another engineering program, either at McGill, another university, or equivalent educational institution. These students can then enter either at the U0, U1, U2, or even the U3 level.
Completion of B.Eng
U0 Level – Freshman Year: 143 credits in four years and a half years
If you come from outside Québec you may be admitted on the basis of a high school diploma or equivalent education. In that case you can apply for and register for the B.Eng. (Bioresource) degree but start the engineering program at the U0 level or "Freshman Year". Depending on the details of your educational background you may be given advanced standing for work done at other universities. Your total credit requirement will then be 113+30=143 credits (two years of Québec CEGEP are accorded the equivalent of 30 credits at the university level).
U1 Level – University Year 1: 113 credits in three and a half years
This is based on the student entering the program with a Québec DEC in Science with all the appropriate science and mathematics courses. If you enter the program with another type of Quebec DEC from, for instance, a technical college special conditions apply, but you can often enter the program with advanced standing.
Advanced Standing
If you come from outside Québec, and have qualifications in addition to high school (e.g., International Baccalaureate, French Baccalaureate, or results from Advanced Placement Tests), you may be granted admission to the Freshman program with advanced standing, or admission to the Bioresource Engineering program, perhaps with some entrance requirements outstanding. These details are resolved by the Admissions office after you apply to McGill.
Accreditation
Our program is accredited by:
The Canadian Engineering Accreditation Board (CEAB): graduates from the Bioresource Engineering program automatically qualify for membership in the Ordre des Ingénieurs du Québec (OIQ), after meeting various conditions such as passing the French language test, paying some appropriate fees, etc. This corresponds directly to "Professional Engineer" status in other Canadian provinces and territories, and most American states.
The Ordre des Agronomes du Québec (OAQ): graduates who select the Professional Agronomy option of the Bioresource Engineering program qualify to register as Professional Agronomists with the OAQ, in addition to being eligible to register with the Ordre des Ingénieurs du Québec as Professional Engineers. Professional Agronomists have expertise in the science and technology of producing and using plants for food, fuel, fiber, and reclamation.
5 Optional Career Streams of Concentration
The undergraduate program is designed to give you a balanced education, allowing the student to move, as a professional, into a number of different sub-disciplines, without being over-stretched. Thus, in the program the student can concentrate on a particular career area of focus.

1-BioEnvironmental Engineering
2-Soil and Water Engineering
3-Ecological Engineering
4-Food and Bioprocess Engineering
5-Agricultural Engineering

In each stream the main set of courses is devoted to the engineering sciences, design, and applications. They are combined with mathematics, and science courses that are specifically oriented to the stream. As well, the student follows a number of courses in the humanities/ management/ social sciences fields. For all streams a typical engineering approach is followed: there is heavy emphasis on the relationship between decision-making and option evaluation during the design stage, and the resultant performance of the unit or effect of the decision once implemented. This approach is followed whether the subject of discussion is a simple cultivation tool or an entire ecosystem.

Please note: A student is not required to choose from one of the five optional career streams. All students following the Bioresource Engineering degree will graduate with a BEng. Bioresource upon successful completion of all required courses.
Bioresource Engineering Minors
While you are working to obtain your (B.Eng.) Major degree, you can also complete a Bioreource Engineering Minor Program. This usually adds about one term to your total studies at McGill. However, it will increase your expertise substantially in that specific area, such as Environmental Engineering.