Event
Speaker Series | Mathias Danbolt "Landscapes of Ignorance: Colonial Imaginaries in Danish and Norwegian Art and Visual Culture"
Thursday,
March
21,
2019
16:00
to
18:00
Arts Building
W-215, 853 rue Sherbrooke Ouest, Montreal, QC, H3A 0G5, CA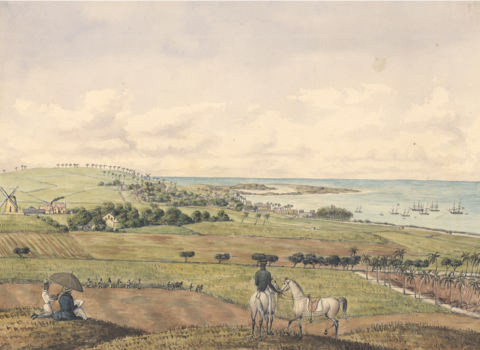 Landscapes of Ignorance: Colonial Imaginaries in Danish and Norwegian Art and Visual Culture
Mathias Danbolt
Associate Professor, Department of Arts and Cultural Studies, University of Copenhagen, Denmark
Abstract:
The year of 2017 marked the centennial of Denmark's divestment of its former Caribbean colony, the Danish West Indies, to the US in 1917. After almost 250 years under Danish rule, the islands of St. Thomas, St. John, and St. Croix became the US Virgin Islands in 1917. The centennial became the site of new critical interest in Denmark's colonial history and participation in the transatlantic enslavement trade – a chapter that for long have been severely selectively remembered in Danish public culture. Over the last two years, numerous exhibitions, publications, seminars and performances have sought to create contexts for new critical discussions of the effects and affects of Denmark's colonial history and participation in the enslavement trade. These events have opened up important and difficult conversations on the colonial legacies of Danish archives, museums, and educational institutions, and the need for engaging in processes of decolonization and reparation.
This new engagement with colonial history and the coloniality of the present is the backdrop for this lecture that centers on a series of watercolors from the Danish West Indies from the early 1800s located in the archives of the Danish Maritime Museum. The Danish navy officer, customs inspector and amateur artist Frederik von Scholten's watercolors of the plantations and great houses on St. Croix have gained an almost ubiquitous presence in books and exhibitions on the Danish Caribbean. The paintings clearly draw on the conventions of the genre of the "plantation picturesque", where topographical conventions are enfolded in a picturesque aesthetics that domesticates the tropical landscape and keep the realities of enslavement at arm's length (Nelson 2016; Bohls 2014). But unlike similar images by artists such as James Hakewill's paintings from Jamaica, von Scholten's watercolors never made it to print during his lifetime. They started to circulate more than a century later, often framed uncritically as "windows" to the past in Danish history books on colonialism.
If prints of plantation picturesque, such as Hakewill's, can be said to have functioned as "documents of denial" (to borrow J.M. Vlach's suggestive term) in debates on slavery and abolition in Great Britain in the 1820s, I want to suggest that von Scholten's images perform a similar task in regards to discussions of the memory politics of colonialism and slavery in Denmark today. Analyzing the present-day use and circulation of von Scholten's images, I argue that the enduring popularity of the plantation picturesque speak to the political after-effects of colonial visualities and highlight how these so-called "quaint" images continue to contribute to the domestication of the colonial – and historical – landscape to this day.
Bio: Mathias Danbolt is a Danish-Norwegian art historian who has a special focus on queer, feminist, and decolonial perspectives on art and visual culture. Danbolt is currently leading the collective research project "The Art of Nordic Colonialism: Writing Transcultural Art Histories" (2019-2021), supported by Carlsberg Foundation, which examines the effects and affects of Nordic colonialism within the field of art. He is the curator of the visual culture exhibition Blind Spots. Images of the Danish West Indies Colony (2017-18), co-curated with Mette Kia Krabbe Meyer and Sarah Giersing at the Royal Danish Library, and has contributed to numerous journals and books, including collections such as Otherwise: Imagining Queer Feminist Art Histories (Manchester UP, 2016), Racialization, Racism, and Anti-Racism in the Nordic Countries (Palgrave, 2018), and Curatorial Challenges (Routledge, 2019). Danbolt is an Associate Professor of Art History at University of Copenhagen, Denmark, and member of The Young Academy, under The Royal Danish Academy of Science and Letters.
Sponsors: 
Prof. Charmaine A. Nelson, Art History and Communication Studies, McGill University
Media@McGill