Event
Magic: Between Embodiment and Ontology | An Emerging Scholars and Faculty Symposium
Friday,
February
19,
2016
09:00
to
Saturday,
February
20,
2016
17:00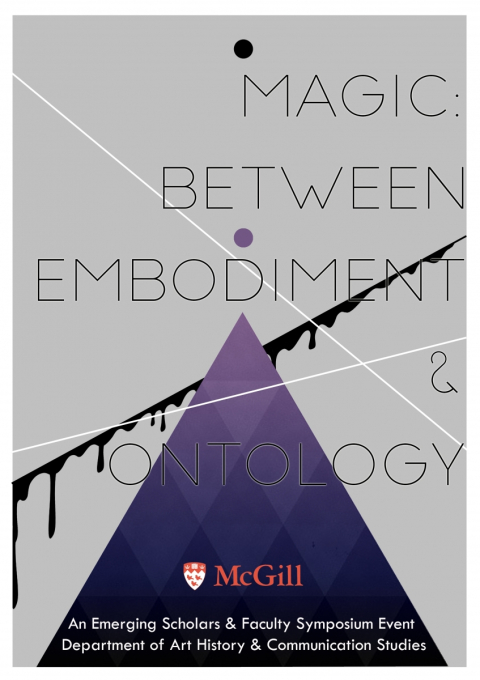 2016 Emerging Scholars and Faculty Symposium
The Department of Art History and Communication Studies at McGill University is pleased to announce this year's Faculty and Emerging Scholars symposium, "Magic: Between Embodiment and Ontology." The two-day interdisciplinary symposium will be held at McGill University on February 19th-20th, 2016. The conference seeks to engage and support graduate scholarship from Canada and abroad.
Keynote Speakers include Liliana Leopardi and Aliza Shvarts. In addition there will be a discussion with Tanya Tagaq on Sunday afternoon at La Sala Rosa held in partnership with the IPLAI and IGSF centers.
The aim of this symposium is to examine the ways in which magic, in any incarnation, is used as both a transformative element to inspire civil action as well a communicative channel for intersubjective relations. The symposium seeks to trace magic's communicative capacities through material culture
The scope in which magic interacts and/or informs scholarship is broad and we hope for the conference to capture a snapshot of the ways in which magic affects material culture. The symposium will examine the roles in which magic or the mystic has played and generate a productive dialogue around such topics as alchemy, the occult, esoteric, rituals, science, early technology, spiritualism, etc.

Friday
Panels 1-2 (9:00-3:30 PM) 
Location: Thompson House Ballroom
3650 Rue McTavish, Montréal, Québec
Keynote Address: Aliza Shvarts (4:00-5:30 PM)
Location: Leacock 26 (Wheelchair accessible)
855 Rue Sherbrooke Ouest, Montréal, Québec
Saturday
Panels 3-5 (9:00-4:30 PM)
Location: Leacock 26
Keynote Address: Liliana Leopardi (5:00-6:30 PM)
Location: Leacock 26
Conference Reception: TBA
Sunday
Discussion with Tanya Tagaq (TBA)
Hosted by IPLAI Center and the IGSF at McGill
Location: La Sala Rosa
4848 Boul St-Laurent, Montréal, Québec
 
For full conference schedule, presentation abstracts, adjunct events and updates, please visit our website: http://ahcspgss.wix.com/mcgill#!2016-symposium/e55d2
Join us on Facebook: http://facebook.com/events/1501236983527343/
Follow us on Twitter: @AHCSGSA
For more information and to RSVP, please contact: ahcs.pgss [at] mail.mcgill.ca
AHCS Conference Organizing Committee:
Ayanna Dozier (Communication Studies)---Conference Chair
Anastasia Howe Bukowski (Art History)
Sofia Misenheimer (Communication Studies)