Event
AHCS Department Career Panel
Friday,
March
29,
2019
11:00
to
14:00
Thomson House
Ballroom, 3650 rue McTavish, Montreal, QC, H3A 1Y2, CA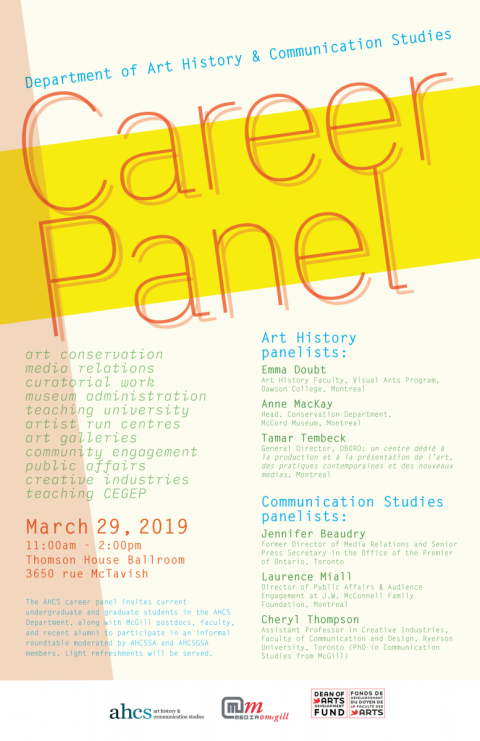 The AHCS career panel invites current undergraduate and graduate students in the AHCS Department, along with McGill postdocs, faculty, and recent alumni to participate in an informal roundtable moderated by AHCSSA and AHCSGSA members. Light refreshments will be served.
AHCS Department Career Panel
Friday March 29, 11am-2pm
Thomson House Ballroom,
3650 McTavish Street
---

Schedule
Morning session, 11am-12:15pm

Jennifer Beaudry
Former Director of Media Relations and Senior Press Secretary in the Office of the Premier of Ontario, Toronto

Tamar Tembeck
General Director, OBORO: a center dedicated to the production and presentation of art, contemporary practices, and new media, Montreal.

Stuart Macmillan
Creative Director at lg2, an Advertising and Marketing Agency, Montreal

Buffet lunch, 12:15-12:45pm

Afternoon session, 12:45pm-2pm

Anne MacKay
Head, Conservation Department, McCord Museum, Montreal
Laurence Miall
Director of Public Affairs & Audience Engagement at J.W. McConnell Family Foundation, Montreal

Gwen Baddeley
Art History Faculty and Art History Coordinator, Dawson College, and Researcher and Educator, Museum of Fine Arts, Montreal
This event is generously sponsored by the Dean of Arts Development Fund, the Department of Art History and Communication Studies, Media@McGill, and the Art History and Communication Studies Student Association.
Please RSVP to chriscinda.henry [at] mcgill.ca if you plan to attend.