Our teaching resources are made possible with funding from the PromoScience programme of NSERC.
---
Dino fact sheets
Click on the links below to view fact sheets on the main dinosaurs at the Redpath Museum.

          
Gorgosaurus                                   Dromaeosaurus
For a printable PDF version, download Dinosaurs of the Redpath Museum (PDF)
---
Sara: The Biography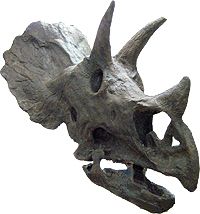 Sara, the teenage triceratops that lived 65 million years ago in Saskatchewan, was discovered by Redpath Museum palaeontologist Dr. Hans Larsson and his field team of students (collected under permit from the Royal Saskatchewan Museum).

a)Slides with audio commentary on Sara's discovery and anatomy. Open the PowerPoint or PDF and then click on the audio icon to hear the commentary for each slide.
      Triceratops commentary and slides (PPT)
      Triceratops commentary and slides (PDF)

b) Read about Sara's discovery and what we know about her life: Sara's Biography (PDF)
---
Feedback
If you use the resources here, please fill out our feedback form. We appreciate your comments!
---