Disposal service for biomedical waste is provided to users in McGill buildings by HWM, local 5066. Provided at no charge, the service includes provision of waste containers and regular pick-ups.
To protect all from unnecessary exposure to biohazardous agents, biomedical waste MUST NOT be disposed of with regular waste.
Disposal of biomedical waste is governed by the Regulation Respecting Biomedical Waste (Québec), and encompasses the following categories:
human anatomical waste (body parts or organs),
animal anatomical waste (carcasses, body parts, organs),
non-anatomical waste, which includes:

sharps which have contacted animal or human blood, biological fluids or tissues
tissue or microbial cultures, and material contaminated by such cultures
live vaccines
containers or materials saturated with blood products.
Disposal guidelines
Biomedical waste should be disposed of frequently to reduce accumulation of these materials in work areas. Waste boxes are to be filled by those who generate the waste, and must be packed and labelled as follows:
line boxes with the plastic bags
affix user identification to the outside
ensure that liquids are in leakproof unbreakable containers
place sharps in a plastic puncture-proof container prior to disposal in the biomedical waste box
Pipette tips and Pasteur pipettes need to be placed in a small cardboard box prior to disposal in the biomedical waste box
If working in a BSC, accumulate your waste in a small container inside the cabinet,  then seal it and transfer to the biomedical box
store the box at 4 C or lower in a locked refrigerator
use separate boxes for each category of waste, e.g., human anatomical should not be mixed with animal anatomical or non-anatomical waste.
Containers
The following containers must be used to pack biomedical wastes:
Biohazard fibre drum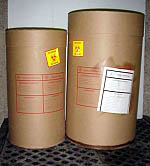 Use: Large anatomical parts
Maximum weight (small): 40 lbs or 18 kgs
Maximum weight (large): 80 lbs or 36 kgs
Supplied with: Bags & Labels
Biohazard boxes
Use: Biohard solids & cell culture.
Maximum weight (small): 30 lbs or 14 kg
Maximum weight (large): 30 lbs or 14 kg
Supplied with (small): Bags & Labels
Supplied with (large): Liner, Bags & Labels