The Department of Epidemiology, Biostatistics and Occupational Health offers separate graduate training programs in each of its three broadly defined disciplines. Please refer to the Graduate Studies page for more information on the prerequisites and training requirements for the degrees specific to each discipline.
The Department of Epidemiology and Biostatistics is a joint department with Occupational Health. 
---
EBOH 50th Anniversary Conference
What is the Role of Schools of Public Health in the 21st Century? A Panel of Deans
Question & Answer Session - Watch now!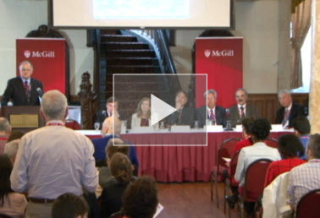 ---
EBOH Employment Opportunities
Position as Assistant Professor of Biostatistics [Tenure Track]  Posting EN  -  FR
---
News & Announcements
Please note that during summer Fridays (June 26-August 21, 2015), Purvis Hall will be accessible by card reader only with skeleton support staff on hand.
New Course - Fall 2015
PPHS 511 Fundamentals of Global Health - PDF
Kudos
EBOH Awards and Honours June 2015
EBOH Awards and Honours May 2015
EBOSS 2015 Teaching Award Winners
NEW! Environmental Epidemiology Research Group
Openings for MSc and PhD students.
Please visit our Website for more information.
---
PhD Oral Defenses
 
Tuesday, 4 August 2015 - 2:15 pm
Room 24, Purvis Hall
Ethan Gough
Title: Linear growth faltering in infants in low- and middle-income countries: the intestinal microbiota, the role of antibiotics, and the timing of linear growth
failure. Brochure
---
Seminar Announcements
---
Epidemiology Seminars
Biostatistics Seminars