On this page: Aliki Thomas, PhD '11 | Robert Saggers, PhD '09 | Andrew Chiarella, PhD '09 | Nancy Lavigne, PhD '00
---
Aliki Thomas, PhD '11
Assistant Professor and Associate Director of Occupational Therapy Program, School of Physical and Occupational Therapy, McGill University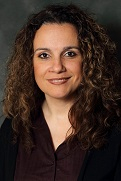 Aliki Thomas' research focus is in the areas of rehabilitation sciences education and knowledge translation. Dr. Thomas is interested in the development and assessment of advanced clinical competencies including evidence-based practice, clinical reasoning, decision-making and the development of professional expertise. Dr. Thomas' work spans three major areas of occupational therapy education and practice, from admissions, to professional education (including curriculum design and assessment), and clinical practice. In addition to her research in education, she is interested how to bridge the evidence-to-practice gap;  she uses an educational psychology perspective to examine the use of theory in the design, delivery and evaluation of effective knowledge translation interventions.
How did the program help prepare you?
I received state-of-the art education in the learning sciences from expert faculty. My program of study consisted of several courses which provided me with a strong foundation in the learning sciences. Currenlty, in my role as Associate Director of our Occupational Therapy program, I draw from this knowledge to support the design and evaluation of our [occupational therapy] curriculum and help lead our program and curriculum evaluation. My research in [occupational therapy] education and knowledge translation is informed by and grounded in the theoretical foundations of the learning sciences.

What was good about the training and education you received in the program?
The expert faculty, the flexibility of the program and the access to several courses. I particularly enjoyed the format of the comprehensive examination which is now completed over a period of 3 months.
Robert Saggers, PhD '09
President, Robert Saggers & Associates, Learning-Leadership Consultants Inc.
Robert Saggers is the head of his own consulting practice dedicated to helping organizations improve their performance through enhancing their capacity to learn to change by tapping into and developing the leadership potential of their people. This entails leardership developemnt, teambuilding, change management, coaching mentoring and trainer development. Dr. Saggers has also been associated with McGill for over 25 years as a graduate studies instructor in the School of Continuing Studies, and as a collaborator on a joint venture basis to develop and deliver coporate training programs and puclic workshops.
Dr. Saggers believes the Instructional Psychology stream in Educational Psychology (currenlty the Learning Sciences concentration) helped prepare him by providing a comprehensive theoretical foundation to complement his practical experience.
Andrew Chiarella, PhD '09
Assistant Professor in Educational Psychology, Centre for Social Sciences, Athabasca University
Andrew Chiarella's research interests focus on the study of social annotation systems. He has designed and programmed a software application which aggregates the annotations of a community of readers and then adds text signals to the text based on this community consensus. Principles and characteristics of complex, self-organizing systems were used to design this software. His research examines how those signals develop over time, their quality, and their effects on readers.
Dr. Chiarella was recently awarded tenure at Athabasca University.
Andrew believes the training and education he received in the Learning Sciences concentration in Educational Psychology (formerly known as the minor in Instructional Psychology) provided a strong focus on research design and analysis (statistical and discourse/semantic). He was provided with opportunities to teach at the post-secondary level, as well as collaborate on, and assist with various research projects with students from different backgrounds, programs, and disciplines.
Nancy Lavigne, PhD '00
Associate Professor, School of Education, University of Delaware
Nancy Lavigne's research interests lie in the broad areas of teaching and learning with a focus on cognition. Her goal is to create discipline-based learning environments that are effective in fostering students' understanding and reasoning in the context of problem solving. Thus, Dr. Lavigne's program has two strands of research where she investigates: (a) the nature of the knowledge and reasoning that are elicited in different problem solving contexts and (b) how instructional methods facilitate students' thinking and learning, some of which are technology-based.
The Educational Psychology program provided a solid grounding in a range of cognitive theories, methodologies, and instructional methods, including the pivotal role that technology can play in learning content area disciplines (e.g., mathematics and science). In addition, active involvement in ongoing research projects, writing manuscripts for publication, and presenting at key conferences were a critical part of the training in the Educational Psychology program. These experiences provided the basis for obtaining funding during the Ph.D. (SSRHC and FCAR), developing relationships with other scholars in the field, and securing a Postdoc position upon graduation at the Learning, Research, and Development Center (LRDC) at the University of Pittsburgh, followed by an academic position as a faculty member at the University of Delaware (UD). Thus, the Educational Psychology program prepares its graduates well for academic and research-focused jobs.

Aside from the educational and training benefits, a key aspect of my experience as a graduate student in the Educational Psychology program that I valued was the relationships I developed with faculty and peers who were uniformally supportive and provided a safe environment for personal and professional growth.
Jump back to main Learning Sciences program page.