2020
Sarah Clairmont is a PhD candidate in the Department of Philosophy at McGill University, working in the philosophy of medicine. Her research examines the intersections of population health science and health inequity in Canada. Population health science is an emerging, interdisciplinary field that aims to promote health equity across social groups. Such research requires a clear understanding of how health inequity is created and sustained. Health disparities between more- and less- advantaged social groups have been extensively documented in the US and Canada—and these disparities continue to exist despite contemporary efforts to reduce them. The persistence of health disparities among social groups indicates an urgent need for social, educational, and healthcare reforms, but Sarah's research points to deeper, structural barriers to achieving health equity that stem from the distribution of knowledge and ignorance across communities. Building on recent work in social epistemology and feminist race-critical philosophy, Sarah's dissertation explains how health inequity can be understood as an effect of ignorance in Western medical science. Theorizing ignorance is not only about fine-tuning our belief-forming practices to fill certain gaps in our knowledge: epistemologies of ignorance critically examine the intersections of social identities, structural privilege, and cognitive norms. After defending her dissertation, Sarah plans to pursue the practical applications of her research and to work closely with population health scientists and policymakers. She holds a B.A. in Arts and Contemporary Studies (Ryerson University) and an M.A. in Philosophy (The New School).
Urvi Desai is a doctoral student and Cundill Fellow with the department of history, McGill University. She completed her BA in history and political science at the University of Mumbai, India. She completed her MA in international history from the Graduate Institute of International and Development Studies (IHEID), Geneva. She studied public policy at the Hertie School of Governance, Berlin. She worked at the reputed journal Economic and Political Weekly (EPW) in Bombay. Her doctoral research focuses on the history of birth control in colonial and post-colonial Bombay (1930 - 60s). Moving away from institutional histories and dominant voices of the birth control movement, this research engages with a range of vernacular sources in Gujarati, Hindi and Marathi. It examines modern birth control technologies, namely, "family hygiene" or sexual health products, that emerged in the Indian markets from the 1930s onwards. New medical technologies such as condoms, diaphragms, tonics, birth control pills, foam powder, jellies and chemical contraceptives flooded the markets. However, these birth control products reflect an unusual tension - on the one hand modern birth control allowed women to reduce chances of pregnancy, if they so desired; and on the other hand, birth control technologies had questionable efficacy, they were uncomfortable at best, and painful or corrosive at worst, to the female body. In sum, this research engages with products of sexual health as both public and private, liberal and illiberal, disruptors and conformists – in the same moment.
Lluís Ferrer is a PhD Candidate in the Department of Anthropology at McGill University. His PhD dissertation studies how environmental conservation programs seen as technopolitics are transforming pastoralism, common lands and farmer's livelihoods in the Ariège Pyrenees, France. Based on fifteen months of fieldwork in the Biros valley, he delves into the major environmental engineering intervention in the Pyrenees —the reintroduction of the brown bear— and the broad range of ensuing transformations it has brought about in this French district. The goal of this rewilding project was to establish a permanent bear population along the range through the introduction of species from Slovenia who belong to the same Pyrenean subspecies. His dissertation examines the ways in which the bear reintroduction, the monitorization of bear population, and the aversive conditioning methods applied to reduce livestock depredation are producing a hybrid, a designed species through a complex technoscientific process governed by environmental technicians and legitimated by scientific knowledge. Besides, the bear program has implied not only natural but also fundamental transformations for the farming sector: a stronger presence of the state through subsidies and prevention policies, a process of bureaucratization, a larger farmers' economic and institutional dependence and the ensuing sense of dispossession and loss of governance. Therefore, the reintroduction of the brown bear poses the critical question of what and, for whom, Pyrenean landscapes and territories are. Before joining McGill University, Lluís received a MA in Anthropology from University of Barcelona, a BA in Anthropology and a BA in Economics from Autonomous University of Barcelona. In addition to the Wolfe Fellowship, his doctoral research is supported by the Fonds de Recherche du Québec - Société et Culture (FRQSC).
Michel Fournier-Simard is a PhD candidate in the Department of Political Science at McGill University specialized in the social impact of Artificial Intelligence. His dissertation looks at police policy making in the era of AI. As the police enacts the State monopoly of legitimate violence over a given territory, the way it engages with technological innovations to enhance this power - or not -, and how society responds, are crucial dynamics illustrative of the challenges AI poses for policy makers. When integrating police AI technological innovations, services must identify which products or services provide the best balance between optimized technical capacities and cost efficiency, while developing use policies addressing privacy, inequality and unaccountability concerns. Michel dives into the decision-making process of police policy leaders, arguing they make sense of complex AI technologies through a simplification process centred on the impact of technologies on traditional policing, the type of surveillance capacities they enhance, and the perceive maturity of each technology. In addition to his PhD research, Michel is a dedicated educator in the Faculty of Political Science at Dawson College. He holds an M.D in Comparative Political Sociology (Sciences Po), and a B.S. in Political Science & History (University of Ottawa – summa cum laude). His doctoral research is supported by a Wolfe 2020 Graduate Fellowship, as well as the Social Sciences and Humanities Research Council of Canada.
Yasmin Haddad is a PhD candidate in the Department of Philosophy at McGill University working in the Philosophy of Biology. Her work focuses on the concept of downward causation as a model to understand biological complexity. Research in the field of Philosophy of Biology addresses a combination of epistemological and ethical issues, especially when it comes to assessing the growing use of technology in research. One example is the use of large-scale databases in model organism research. Changes in the way the traditional scientific method is being transformed are accompanied by vast opportunities for the advancement of biological research. However, with such changes ethical questions also arise, such as: to what extent are technological advances benefitting biological research? How have rules of extrapolation changed from model organisms to target systems (e.g. human beings in biomedical research)? How is inference-making changing in light of the availability of large data sets? In her dissertation, Yasmin addresses these issues from the perspective of the epistemology of evolutionary-developmental biology. One of the key outcomes of her research is to assess the proposal of an extension of standard evolutionary theory (the Extended Evolutionary Synthesis) in light of the most recent technological advances in the biological sciences.
Naim Jeanbart is a PhD candidate in Anthropology. He comes from a BA in cultural studies and philosophy at McGill, a Masters' of Social Science degree from the School of Social Science in Paris, France (EHESS), as well as a diploma in television and film from Sheridan College, Ontario. Naïm is interested in the role that networks and communication technologies have played in the development of contemporary forms of Sufism. Naïm looks at the various ways in which the legacy of a recently deceased Turkish-Cypriot Sufi master, Sheikh Nazim el Haqqani, is nowadays preserved, used, and circulated, irrigating the communities that he has either left behind or that were created in his name, across countries worldwide, through his engagement with the followers' own use of social media. He looks for contemporary forms of the followers' search for their Master's spiritual presence, offline and online, whether through the person of Sheikh Nazim himself, or through his successors, as well as their understandings of what it means to « connect. He tries to tie this fundamental principle to the general consolidation of the communities of sympathizers into a single movement, paying attention to both their networking practices and their spiritual rituals. Naïm argues that the movement's media practices are such that they have come to take a spiritual value in their own right. Naïm hopes that a close study of such contemporary evolutions of Sufism can help, by the same token, shed some light on our common condition and constitution as hyper-connected selves.
Kariuki Kirigia is a PhD Candidate in the Department of Anthropology at McGill University. His doctoral research examines the processes and politics of establishing a system of individualized land tenure in a shift from pastoral commons, and the establishment of community wildlife conservancies, in the Maasai rangelands of southern Kenya. Kariuki primarily focuses on the pastoral commons on the Olderkesi group ranch in Narok County, southern Kenya and interviews with conservation NGOs, land surveyors, wildlife conservancy administrators, and state officials within Kenya. The Olderkesi community is in the process of dismantling the pastoral commons by subdividing the group ranch, apportioning small plots of land and title deeds to individuals. The title of Kariuki's dissertation, "Privatization and Conservation in the Postcolony: Contradictions in Dismantling while Preserving the Pastoral Commons," reflects the two key processes underway in Olderkesi. Evident in his doctoral research is the extent to which, during the process of subdividing the commons, formalization of tenure has entailed rendering land an object of technological control, assessment, and manipulation through the production of maps by land surveyors, assessing land potential by identifying key natural resources, and contesting boundaries through administrative processes. Born and raised in Kenya, Kariuki pursued a liberal arts undergraduate degree at the University College of Utrecht and an MSc in Sustainable Development at Utrecht University in the Netherlands.
Jorge Alonso Gamarra Is a PhD candidate in Anthropology Department at McGill University. His research focuses on the relationship between food and belonging in contemporary Peru, where a recent history of totalitarian rule (1990-2000) and internal armed conflict (1980-2000) structured a pivotal moment in the country's neoliberalization. Today, Peru's post-conflict political-economic model is continuously called into question by grassroots organizations, unions and communities affected by emergent modes of precarity and environmental damage. In different ways, food is at the centre of how contemporary forms structural vulnerability are both experienced and imagined. Over the past fifteen years, gastronomic associations, celebrity restauranteurs, TV shows and print media have assembled celebratory discourses and pictures of Peruvian cuisine, which juxtapose a conflict-ridden past with a harmonious present where environmental stewardship, small-scale agriculture, and social and economic justice have become national priorities. Beyond this optic, agricultural communities confronting extractive projects and social movements politicizing hunger and food security are increasingly met with militarized repression and criminalization. Such glaring contradictions shore up an important question: what is the role of food across different ways of rendering and responding to the systemic forms of harm that constitute Peru's current political-economic regime? This research investigates what forms of community and political life become possible as the global crisis of neoliberal economic models brings about struggles for resources, disentrancement, and suitable living conditions. Framing "belonging" in terms of practices that enable people to participate in the ongoing construction of their ordinary worlds enables Gamarra to approach a political-economic system by foregrounding its effects on in the rhythms and attachments that constitute situated scenes of everyday life. In particular, his research with farmers, market workers and activists living near two mega mining projects in the region of Arequipa (Peru) focuses on the role of food-related practices in collective attempts at maintaining local forms of existence— attempts, which often challenge neat distinctions between politics, pedagogy and repair. In this context, the Wolfe Fellowship will allow Gamarra to investigate grassroots responses to the environmental damage produced by a large-scale dam, which over decades has affected the composition of the water and the soil downriver— where community is currently also destabilized by a mining conflict. By attending to the experimental farming methods that valley residents use to leech arsenic and boric acid from their land, Gamarra offers another way of understanding the relationship between food and belonging in neoliberal Peru— in this case, as a part of an emergent an agri-social infrastructure, which sustains household economies and communal relations in a complex struggle to repair existing environmental damage, and refuse a mega mining project deemed essential for the country's economic growth.
2019
Manuel Cárdenas is a doctoral candidate and course lecturer in the Department of English studying early modern English poetry and epistemology. His SSHRC-funded dissertation focuses on Milton and knowledge, taking seriously the interrelated logics, discourses, and practices of science and literature as enterprises concerned with making knowledge. The poet's engagement with the philosophical and scientific milieu of the seventeenth-century is well-established. Less documented are Milton's fundamental assumptions about how knowledge is made—whether it is acquired subjectively or objectively, in solitude or collaboration. These are major preoccupations not only for philosopher-scientists like Descartes and Hobbes and the English exponents of what would become modern science, but also for Milton, whose life work culminates in Paradise Lost, a poem about the gaining and losing of knowledge. The dissertation considers singular and communal epistemology at precisely this juncture, challenging the enduring caricature of Milton as a prototype of the modern subject who knows the world in solitude and by virtue of his self-sufficiency. Questions about the bounds of knowledge, the mode of its acquisition, and its ideal expression—all held in inchoate tension in Milton's early writing—manifest themselves in his late major poetry, refracting through his curtailed confidence in self-sufficiency. In coming to see the limits of the self, Milton accepts the impossibility and undesirability of knowledge without bounds, and he moves towards a communal epistemology wherein the fullness of knowledge is found only collectively by virtue of the mutual self-constitution of subject and object. In so doing, the poet both attenuates his own individualistic impulse and revises the assumptions of the ascendant new science and philosophy.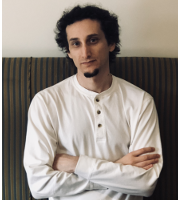 Daniel Harris is a PhD candidate in the Department of Philosophy at McGill University working in the philosophy of artificial intelligence (AI). His work focuses on the mitigation of the potential risks which could emerge from current and future advanced AI systems. Research in the field of AI is developing at a rapid pace. As this technology continues to mature it is likely to embed itself more and more in the social structures that shape our lives. With these changes come tremendous opportunities for human advancement; equally, though, such changes also pose a substantial danger. In his dissertation he poses the question: what sorts of prediction can we make regarding human-AI interaction and, of those predictions, can we identify certain scenarios that represent a serious threat to humanity? Using game theory, Daniel takes a step towards answering this question through an analysis of risk related issues pertaining to the design of ethical AI, the AI arms race, and human-AI coexistence more generally. He holds a MPhil Studies in Philosophy (King's College London), a M.A. in Theory, Culture & Politics (Trent University), and a B.A. in Philosophy & Information Systems (Trent University). In addition to theWolfe Fellowship, his doctoral research is supported by the Social Sciences and Humanities Research Council of Canada.
Dahye Kim is a PhD candidate in the East Asian Studies Department at McGill University. She holds a B.A. and an M.A. in Korean Literature from Yonsei University, where she also completed PhD coursework in Korean Literature prior to joining McGill. Dahye's research focuses on the techno-cultural historicity of national literature and digital writing practices, especially in relation to global media circulation and local Korean development of media technologies. She is now writing her dissertation under the working title, Technofiction: the Cultural Techniques of South Korean SF Fandom. This project connects early online science fiction fan culture, the developmental history of hangul (the Korean alphabet) digital input technology, and cultural techniques of typing, coding, and writing in the 1980s and 1990s South Korea. The term technofiction emphasizes the new social condition under which the modern distinction between the semi-autonomous cultural realm and a distinct technological realm is increasingly blurred and transcended, and her project fully incorporates the analysis of technological issues in her study of literary texts and fan culture. Focusing on the generation of fans who grew up reading the heated techno-cultural debates surrounding the thorny problem with national language code and keyboard development in popular computer magazines, this study will explain how an understanding of the development of these writing technologies, as well as the embodied cultural techniques of writing and typing, are crucial to understand the literary pieces produced by them, while at the same time exploring the complicated junctures between neoliberal reformation since 1980, the development of information infrastructure in South Korea, globalization, techno-nationalism, and related subject formation. For example, the technologies of Korean digital language input appropriated by the sf fan-writers were a byproduct of the neoliberal government's partnership with "global" conglomerates like Samsung and LG on a project of informatization, while also a product of the linguistic and technological nationalist discourse of anti-American leftist. Accordingly, the tension between such competing forces is one of major thematic concerns of technofiction. Dahye received a Korea Foundation Graduate Studies Fellowship for three full award years and was a Visiting Graduate Researcher in Korean Studies at UCLA.
Ferran Pons Raga is a PhD candidate in the Department of Anthropology at McGill University. His research inquires about the recent land and landscape transformations undergone in the Catalan High Pyrenees, northeastern Spain. By taking political ecology and anthropology of infrastructure literatures as the main theoretical framework, his approach aims at understanding how the (in)compatible interplays among alpine skiing, environmental conservation programs, and extensive farming have resulted in crucial changes on land value and landscape valuations. Coinciding with the staggering decline of the farming sector during the 1980s, both the most famous ski station in Spain—Baqueira Beret— and conservation politics steadily began to redesign the landscapes in line with the tertiarization process undertook by this region. A set of technological performances not only has shaped current landscapes, but they also claimed to improve them. Economic development and moral progress intersect by setting a new linkage between land value and landscape valuations. These peripheral mountainous rural territories are thus framed within an urban-centered chromatic idiom: greening. Strikingly enough, greening presents itself as the common goal shared by the ski station, environmental conservation programs, and even by the farming sector. However, greening requires complex engineering processes in which apparent compatibilities may jeopardize the actual power relations among these three domains. This study coins the neologism 'greeneering' to bring together both the greening and the engineering sides of these land(scape) changes in order to tease out the political economy relations that underpin them. Ferran holds a MA and BA in anthropology from University of Barcelona, as well as a BS in Biology from Pompeu Fabra University.
Cynthia L. Tang is a PhD candidate in the Departments of Social Studies of Medicine, and History & Classical Studies at McGill University. She has a BSc. in toxicology from the University of Toronto and an MSc. in immunology from the University of Waterloo. Her dissertation, "Technological Change in 'Ordinary Medicine': The Emergence of Minimally Invasive Gallbladder Surgery, 1970-2000" uses the case of laparoscopic cholecystectomy to analyze the economic, social, and technical conditions in which technological change in medicine occurs. The adoption of laparoscopic cholecystectomy for the treatment of symptomatic gallstones in the early 1990s is often referred to as the beginning of the "laparoscopic revolution." This description alludes both to the effect that the laparoscopic technique had on surgical practice, as well as to the rapid pace at which it supplanted open cholecystectomy as the "gold standard" treatment for symptomatic gallstones. At least 80% of gallbladder removals in Canada and the US were already being performed laparoscopically just four years after its introduction to the surgical community. This is an incredible rate of adoption considering that it required practicing surgeons to be trained in a technique that drastically changed the very basic motions of surgery, as well as the development and production of new surgical instrumentation. Cynthia's research examines the different stages in the rise of laparoscopic cholecystectomy (i.e. motivation, development, spread, and acceptance) to understand the factors that allowed this major transformation in modern surgical practice to occur so quickly. Cynthia holds a SSHRC doctoral fellowship and is co-investigator on a CIHR Project Grant for "Medical Innovation and the Patient Consumer." The Wolfe Fellowship will allow her to spend Fall 2019 as a Visiting Student in the Department of History and Philosophy of Science at the University of Cambridge.
Sophie Toupin is a Joseph-Armand Bombardier scholar and PhD candidate in the Department of Art History and Communication Studies at McGill University. She has a Bachelor of Commerce (B.Com) with a speciality in information technology, and a Master of Social Science in Development and International Relations. Her dissertation research examines the relationship between communication technologies and revolutionary movements in the context of liberation struggles. More specifically, her object of study is an encrypted communication system that was developed and used by the South African liberation movement. In the 1980s, anti-apartheid freedom fighters built an encrypted communication system that allowed activists on the ground in South Africa to communicate secretly and transnationally with the senior leadership of the African National Congress (ANC) based in Lusaka, Zambia via London, UK. Under the working title "Revolutionary Communications: Encrypted Communication and the South African Liberation Movement," Toupin investigates this system through the history of media and communication, the politics of infrastructure and hacking. The primary research conducted for this dissertation was carried out in South Africa, the Netherlands, Canada and Great Britain. It involved archival work and semi-structured interviews with those who developed, operated or supported the encrypted system. It was funded by a Michael Smith Foreign Study Supplement and a Mobility Grant from the Graduate and Postgraduate Studies at McGill University.
Samantha Walker
is a PhD candidate in the Department of Anthropology. Her PhD project combines archaeological and oral-historical research with earth sciences to explore place-making and settlement strategies among Tuniit (i.e. Paleo-Inuit) groups in the Igloolik area of Foxe Basin, Nunavut. 3000 years ago, Tuniit populated key areas in Northern Foxe Basin which continue to endure as important cultural places among modern Inuit. Samantha's work questions how the deep connections that people share with places might have historically shaped Tuniit settlement strategies during the Paleo-Inuit Period (1700 BCE-1000 CE). As the first large-scale analysis of Tuniit settlement strategies, her project extends our knowledge of human-land relationships in the Canadian Arctic beyond recent encounters between Inuit and European colonists. Her research design takes an inclusive, community-oriented approach to archaeology by emphasizing the social and cultural continuity of Inuit Owned Lands, and by including Iglulingmiut Inuit as advisors and colleagues. Related to her community-oriented approach, Samantha is the Executive Director of the Walker Education and Research Foundation (
www.walkerfoundation.ca
), an organization dedicated to improving education and capacity-building opportunities within remote Indigenous communities in Canada.