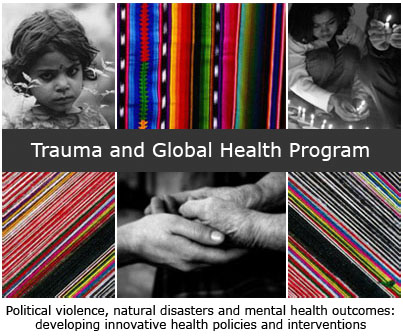 The Trauma and Global Health Program stems from a partnership between the Douglas Institute - McGill University and research teams based in Guatemala City (Guatemala), Khatmandu (Nepal), Lima (Peru), and Colombo (Sri Lanka). Two additional teams, based in Gaza (Palestine), and Bujunbura (Burundi), have also expressed their interest to become members of this global health research initiative. Our TGH program is funded by the Global Health Research Initiative - Teasdale-Corti Team Grants Program and supported by the Douglas Mental Health University Institute and McGill University.
Although psychological trauma has been a central concern for medical practitioners working with veterans and refugees, less attention has been paid to the mental health of civilian populations which have been confronted with extreme adversities and organized violence, such as armed conflict, wars and political upheaval, including natural disasters. Government programs, humanitarian organizations and international agencies engaged in relief operations and post conflict stabilization, have adopted models of clinical and psychosocial intervention developed in western settings that are assumed to be widely applicable, but remain of limited social and cultural relevance and uncertain therapeutic efficacy.
The global program will enable country teams to conduct a research and action program of advanced studies, continuing education, and knowledge transfer in the social and cultural dimensions of mental health. The ultimate objective of the program is to reduce the mental health burden of civilian populations exposed to protracted and endemic political violence and episodic natural disasters, foster the process of healing, psychosocial rehabilitation and recovery, and generate improved mental health policies and services in the participating countries.
Presentations from 5th Annual TGH Management Committee Meeting
The following resources are outcomes of the Trauma and Global Health 5th Management Committee Meeting in Montreal Canada (October 24-26, 2011).
Read more...
Photo Story on the Aftermath of the Sri Lankan Civil War
Jeremy Suyker, a freelance journalist, reports from the field on the life of citizens in Jaffna, one of the main cities affected by the civil war in Sri Lanka.
Read more...
Nepal's Maoist Party Hands Over Army
Soon after the UN's departure from Nepal's peace process, the opposition Maoist party handed over the second division of its People's Liberation Army to the government. The handover marks an important and new stage in Nepal's peace progress.
Read more...
Guatemala Continues to Fight Corruption
Drug trafficking, gang wars and a corrupt government continues to infiltrate Guatemala, further destabilizing a country already riddled with violence and corruption.
Read more...
Violence, Trauma & Recovery workshop
As part of the 2011 Summer Program in
Social and Cultural Psychiatry
, this workshop presents a critical introduction to current issues in psychological trauma aimed at reviewing research advances and reassessing clinical and public health interventions in response to organized violence, massive traumatic experiences and environmental adversities.
Read more...
Global Mental Health Research
As part of the 2011 Summer Program in
Social and Cultural Psychiatry
this seminar and workshop will provide an introduction to key issues in global mental health research in low and middle income countries (LMIC). Current health system responses to mental health needs will be presented, using WHO Atlas data, regional summaries, and more detailed narratives of case studies from sub-Saharan Africa, Asia, and Latin America..
Read more...