Promoting fertility preservation for cancer patients before they begin treatment
A cancer diagnosis is a stressful life event. In learning about their diagnosis and treatment, many cancer patients don't have the time to consider that surgery, radiation and chemotherapy may in fact impact their fertility. Often when they do consider this factor, it's too late to do anything about it.
Thanks to a grant from the Rossy Cancer Network (RCN), a team led by Dr William Buckett, director of the McGill University Health Centre (MUHC) Reproductive Centre and Belén Herrero, Ph. D., a research scientist at the MUHC, hopes to get the message out to both cancer patients and healthcare providers that fertility can be preserved, but it needs to be planned ahead.
"We want to build bridges between oncologists, healthcare professionals and fertility specialists by raising awareness that fertility is an issue to be brought up when the patient first sees the oncologist," says Dr. Herrero.
The first phase of the project, which was directed specifically at male cancer patients, included a patient survey to find out how much information was previously being offered to these patients about fertility preservation. "Eighty percent of the men surveyed said no information was given," says Dr. Herrero.
To address this gap in access to care, the team established a three-step protocol for all adult cancer patients at the McGill University Health Centre, the Jewish General Hospital and St. Mary`s Hospital Center.
First, the patient should be informed of their options early in their cancer journey and offered a referral to a fertility specialist if they are interested. Second, they should freeze their sperm or eggs before their cancer treatment. And third, once they have overcome the cancer and are ready, they should consult their fertility specialist to assess their fertility, and if necessary find out how to proceed.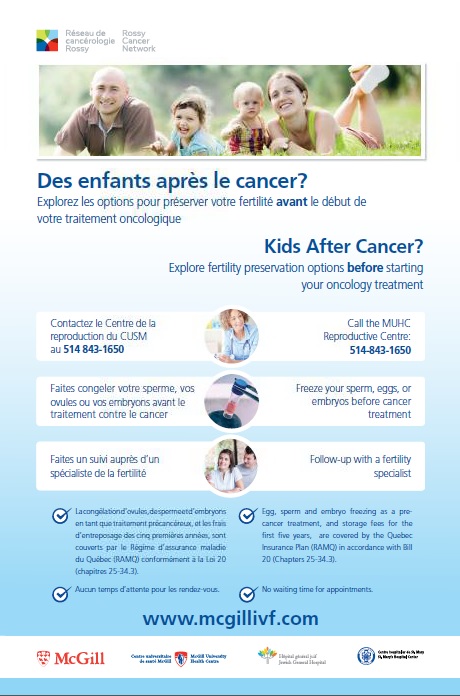 Team members from the MUHC Reproductive Centre also held a series of education sessions with healthcare providers at each partner hospital to get the message out. The first round of these led to a 70% change in healthcare providers' awareness of fertility preservation options.
The multi-pronged project also includes developing a standardized referral system to help channel patients from the three RCN partner hospitals to the MUHC Reproductive Centre.
In addition, the project team developed separate brochures and videos aimed at male and female patients to clarify how fertility preservation works. These are displayed in hospital waiting rooms and shown during patient education sessions (These are available at mcgill.ca/rcr-rcn/patient-resources and muhc.ca/reproductivecentre).
As part of a recently completed phase of the project, patients at the MUHC who use the radiation oncology patient portal, OPAL, will be prompted to view online educational resources about fertility preservation early in their trajectory of care, when appropriate to their cancer stage.
Last year, only 6% of newly diagnosed male cancer patients between the ages of 14 and 60 at the three RCN hospitals, visited the MUHC Reproductive Centre to preserve their fertility. The number of female patients is still being assessed. However, given that having children is a major part of many people's life goals, every cancer patient should be given the option to consider preserving their fertility before beginning their treatment.
For more information, contact Silvana Loffredo at silvana.loffredo [at] muhc.mcgill.ca.