Research areas:
Environment & development in Latin America
Peasant economy
Livelihoods
Conservation
Tropical forests
Current research:
I work on issues related to environment and development in tropical forests and forest communities of Latin America, including peasant livelihoods, forest resource use, the forest-poverty nexus, land cover change, adaptation to environmental change, and agrobiodiversity. At the moment, I have three research projects underway.
Peruvian Amazon Rural Livelihoods and Poverty (PARLAP) project
The Peruvian Amazon Rural Livelihoods and Poverty (PARLAP) Project is an international collaboration led by myself, Dr. Yoshito Takasaki at the University of Tokyo and Dr. Christian Abizaid (U. of Toronto) which examines the linkages between linkages between the environment, rural livelihoods, and poverty and their implications for conservation and development. We draw on the most extensive rural community and household survey as yet undertaken in Amazonia and complement these data with information derived from remote sensing and GIS analyses of natural resource availability. Findings from this research promise to provide policy-relevant insights for conservation and poverty alleviation, and among some of the most vulnerable peoples in Amazonia. For more information, see: https://parlap.geog.mcgill.ca/
Peasant Responses to Environmental Change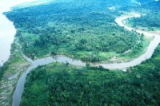 For the past 30 years, I have been following an unusual case of abrupt environmental change associated with the capture of a long reach of a blackwater (nutrient poor) river by a whitewater (nutrient rich) river in the Peruvian Amazon. My focus in this long-term study is on how peasants respond to new resource use and livelihood opportunities by changes in the hydrological and edaphic conditions along the floodplain.
Floodplain Agriculture in the Peruvian Amazon: Potential and Prospects
As the pressure on Amazonian forests builds, the search for more sustainable agricultural development pathways has intensified. The floodplain of the Amazon River and its Andean tributaries has considerable potential for agricultural development but remains sparsely used and studied. Moreover, we have found that access to floodplain soils can reduce pressure on upland forests and prevent them being cleared for agriculture. In this project we are assessing the potential of the floodplains in the northeastern Peruvian Amazon for agricultural production to provide information needed to develop risk mitigation tools for farmers.