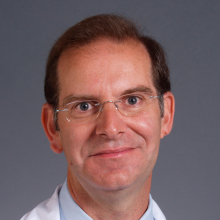 Areas of interest:
Simulation education, PoCUS (Point of Care Ultrasound); disaster preparedness, patient safety
Biography:
Errol Stern, MDCM, FRCPC, FACEP, CHSE is an Associate Professor of Emergency Medicine at McGill University and an Associate Member of the Institute of Health Sciences Education. He is an attending physician in the Emergency Department at the Jewish General Hospital and Director of the JGH Emergency Medicine Simulation Program. In 2015, he was recognized by the Society for Simulation in Healthcare as a Certified Healthcare Simulation Educator (CHSE) and in 2020 was acknowledged as CHSE-A (Advanced) joining 75 other individuals worldwide. Dr. Stern was a former Director of the Royal College Emergency Medicine Residency Program at McGill University.
Dr. Stern's educational interest includes using simulation-based learning (SBL) as an adjunct to real patient encounters where clinical and communication skills can be enhanced through experiential learning. By replicating clinical scenarios, he supplies opportunities for physicians, nurses and respiratory therapists to interact and learn with action and reflection.
Awards, honours, and fellowships:
Dr. Stern was awarded Teacher of the Year in 2017 by the Department of Internal Medicine at the Jewish General Hospital for his simulation education activities.
Current research:
Simulation education, multidisciplinary team training, observer learners
Selected publications:
Chaplin, T., Thoma, B., Petrosoniak, A., Caners, K., McColl, T., Forristal, C., Stern E., ...Hall, A. Simulation-based research in emergency medicine in Canada: Priorities and perspectives. Canadian Journal of Emergency Medicine, 22(1), 103-111, Jan, 2020
Afilalo M, Stern E, Oughton M. Evaluation and management of seasonal influenza in the emergency department. Emergency Medicine Clinics of North America 2012;30:271-305.
Rhinosinusitis, Stern E, in Evidence-based Emergency Medicine, Senior Editor: Rowe B, Wiley-Blackwell, 2009 (ISBN: 978-1-4051-6143-5)