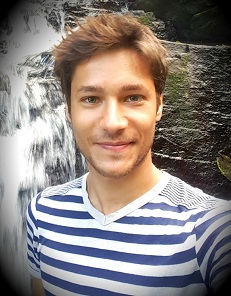 Yassen Tcholakov (MD, MIH, CCFP) is Chief Public Health Resident at McGill University and is pursuing further training at the London School of Hygiene and Tropical Medicine. He has completed medical training at the University of Montreal and he holds a Masters of International Health from the University of Copenhagen. He is the Socio-Medical Affairs Officer of the Junior Doctors' Network of the World Medical Association (WMA) and the co-chair of the Residents' Council of the Public Health Physicians of Canada (PHPC). Yassen has varied advocacy experience in global health representing various organizations in front of the UN including the WHO, the WMA, and the IFMSA. He has worked on topics such as global health, sustainable development, and climate change. His areas of interest include education, civic engagement, environmental protection, and diplomacy. As part of his residency training, under the supervision of Dr. Andermann, Yassen and colleagues conducted a multi-phase mixed methods research project exploring the health care needs and access to care of hidden homeless and vulnerably housed persons living in the Cote des Neiges neighborhood of Montreal, the main catchment area for the St Mary's Hospital Family Medicine Centre. This important research contributed to the future development of a community outreach clinic based at a local food bank to provide patients living with social vulnerability access to a long-term patient medical home.
Contact: yassen.tcholakov [at] mail.mcgill.ca
Publications
Tcholakov Y, Ji C, Munn K, Bois G, Andermann A. Caring for homeless and vulnerably housed  persons in an ethnically diverse inner-city neighborhood in Montreal, Canada: A multi-phase mixed methods study. In preparation.
Conference presentations
Ji C, Munn K, Bois G, Tcholakov Y, Penicaud S, Grar K, Andermann A. Exploring barriers in accessing primary health care services by local homeless and vulnerably housed populations. North American Primary Care Research Group (NAPCRG) Conference. Montreal, Canada: November 2017.
---
Sebastian Mott is a first-year medical student, as well as a former social worker, tree planter, and homelessness researcher. Prior to completing his Masters in Social Work (MSW) at McGill, he had frontline work experience at homeless shelters, group homes, and programs for people living with disabilities and mental illness. During and after his MSW, he spent two years conducting research in conjunction with the Old Brewery Mission (OBM) and McGill University. This effort helped the OBM better understand their clients and how they used the shelter services. He often met with the board, the staff, and management to translate research to inform program changes. Subsequent to his role in this research project, he returned to frontline service as a Youth Protection Worker at Batshaw in Montreal. There, he was on a team focused on Indigenous families, working to maintain or reunite indigenous children with their families when possible, and finding them culturally appropriate foster homes when not. In 2017, he began medical school. In collaboration with Dr. Andermann, he is currently a technical lead on a multi-center effort to develop the Canadian clinical guidelines for physicians caring for patients who are homeless or vulnerably housed, with a specific focus on women and youth. Until completing his MSW, he spent ten summers planting trees and chasing bears in British Columbia's northern interior.
Contact:sebastian.mott [at] mail.mcgill.ca
Publications
Shoemaker E, Kendall C, Mathew C, Crispo S, Welch V, Andermann A, Mott S, Lalonde C, Bloch G, Mayhew A, Aubrey T, Tugwell P, Stergiopoulos V, Pottie K. Evidence-based guidelines to improve the health of homeless and vulnerably housed women, youth and men: modified Delphi consensus. Submitted.
---
Safina Adatia is a first-year medical student at McGill University. She completed her Bachelor's in Arts and Science, majoring in Cognitive Science at McGill in 2013, and a Master's in Family Medicine in 2015. Her Master's thesis, supervised by Dr. Susan Law and Prof. Jeannie Haggerty, evaluated noise and interruptions on the maternity ward at St. Mary's Hospital. She also evaluated the implementation of a daily quiet time that provided new mothers time to rest, recuperate and bond with their babies. Her project received media attention from various news outlets such as the CBC and Radio-Canada. Following the completion of her degrees, she worked for CIHR's Institutes of Genetics and Gender and Health as a Project Officer. Her role within Dr. Andermann's team is to work with Dr. Courville Le Bouyonnec to evaluate resident knowledge on the social determinants as well as their empathy and interest in caring for patients facing social challenges, following clinical exposure to a community outreach clinic, where residents are directly involved in providing care and ongoing clinical follow-up for marginalized and vulnerably housed patients.   
Contact: safina.adatia [at] mail.mcgill.ca
---