News
Alanna Watt awarded Leo Yaffe Award for Excellence in Teaching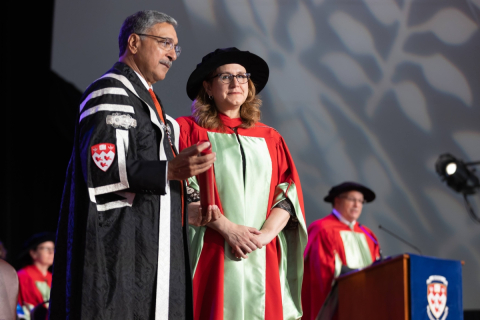 Congratulations to Alanna Watt, Department of Biology, for being awarded the 2023 Leo Yaffe Award for Excellence in Teaching! 
The Leo Yaffe Award for Excellence in Teaching is given each year to recognize a faculty member for superior teaching at the undergraduate level in the Faculty of Science. "Professor Alanna Watt in the Department of Biology is such a professor," said Bruce Lennox, Dean of Science. " Professor Watt has influenced many hundreds of students by sharing her insights into the complex world of neurobiology. She is an outstanding teacher: student evaluations of her performance are uniformly excellent. She teaches at all levels and students consistently rate her as being one of the best professors they've ever known. She's perfected a style of teaching that generates intense interest and makes complex mechanisms relatively easy to understand. In doing so, students have also greatly benefitted from, using their own words, Professor Watt's intelligence, flexibility, communications skills, and her genuine care for their well-being."
The award was bestowed during the Science "A" Convocation ceremony held June 5. Watch the presentation of the award, including Dean Lennox's full speech, here. 
Read below the citation for the announcement of the award, as shared on May 23.
The Leo Yaffe Award is given each year to recognize a faculty member for superior teaching at the undergraduate level in the Faculty of Science, and the recipient for 2023 is Dr. Alanna Watt from the Department of Biology. Students consistently emphasize her intelligence, flexibility, communication skills and her genuine care for their wellbeing.

Professor Watt engages her classes through a combination of relevant content plus superb lecture delivery. She teaches at all levels, and the importance of research is consistently emphasized. In her first-year course she assigns students into teams where they collaborate to create videos explaining how basic science has led to an applied science discovery. In advanced courses she has the students write grant proposals to develop skills in writing and communication as they expand their depth of scientific reasoning. Her goal is to change how students think so they will appreciate the importance of rigorous methods to collect and evaluate data before coming to conclusions and, in her words: gain "an appreciation of the benefits that science has produced and how important it will be in addressing current and future problems."

In addition to classroom teaching, Alanna intensively promotes undergraduate research and has already trained over 70 students in her lab. Many of these trainees become co- authors on publications, and most continue to subsequent degrees. To encourage shy and hesitant students, she has developed a document called "Welcome to the Watt Lab", that is a superb resource to make everyone feel at ease knowing what to expect and realizing they will be joining a friendly and supportive environment.

Recognizing the diverse backgrounds of our student body she has also fostered a sense of belonging as founder and Chair of the Biology EDI committee and the special program for underrepresented Black, Indigenous, and People of Color students.

Her impact as a teacher is captured in a brief collage of quotes from some of her former students: " Dr. Watt's appreciation for the beauty of nature and for scientific discovery has kept me in love with science. I told my roommate about almost every one of Professor Watt's lectures, they were really cool! She cares about her students and is committed to helping them. I love Professor Watt, she showed such enthusiasm during her lectures and explained the material in an amazing manner, she gives me motivation for the whole semester."

In summary, Alanna's impact is appreciatively captured by a former student who states: "Dr. Watt has been an incredible mentor, teacher and role model allowing me to flourish as a student and achieve my dreams." It is a pleasure to announce Alanna Watt as the 2023 recipient of the Leo Yaffe Award.