As high school buddies in Massachusetts, Tristan Zeman and Jonnie Lawson both had a keen interest in sustainability and an entrepreneurial bent. So when they found themselves in the same program as management undergrads at McGill, they began looking for ways to create a business that would solve an environmental problem.
The result: a "vertical farming" start-up, using hydroponic irrigation and a novel, energy-efficient growing system that they are testing out in a repurposed industrial building in east-end Montreal.
Their company, Interius Farms, aims to make sustainably grown fresh produce accessible to Canadians year-round, by growing locally indoors. The fledgling business, which is already producing lettuce, basil, cilantro, kale and parsley, won first place in the Small & Medium Enterprise category of the annual McGill Dobson Cup start-up competition in late July.
"As consumer behaviors are evolving, Interius Farms is a disruptive technology uniquely positioned to address the increasing uncertainties faced by farmers around the world - by problem-solving and mitigating risks within the traditional value chain between farmers and consumers," says Marie-Josée Lamothe, Professor of Practice in the Desautels Faculty of Management and Academic Director at the Dobson Centre for Entrepreneurship.
Zeman and Lawson are focusing initially on the Montreal market, for two reasons. Electricity is less expensive than elsewhere in North America, thanks to Quebec's abundant and clean hydro-power; and the short outdoor growing season means grocers must import fresh produce for about seven months a year.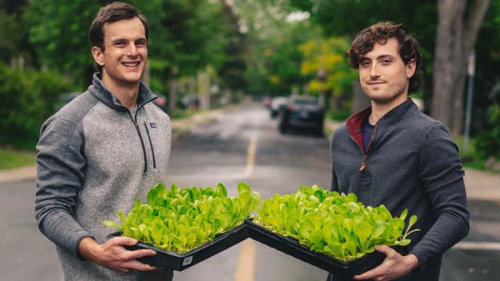 The heavy reliance on distant, water-strained growing regions such as California, Arizona and Mexico, can make for volatile prices. Such long-distance supply chains are unstable, and "may not be there in 20 years," Lawson says. "We'll be able to offer a fresher, better product that hasn't traveled all those miles."
Like most promising business ideas, it took a while and some bumps in the road for this one to get rolling.
A first foray
As undergrads, Zeman and Lawson made their first foray into entrepreneurship, building a part-time business making beef jerky and selling it as a snack to offices and bars in Montreal. (Zeman had learned how to make the dried-meat product while working summers as a butcher's apprentice during high school.) But juggling the operation with sports (they were also varsity football teammates) and studies was a struggle. "We'd stay up to 5 a.m. finishing a batch of jerky, then get up at 9 a.m. to go to an internship, football practice and classes," Zeman says.
Besides, "it's not super-environmentally friendly to take a beef product and dry it out," Lawson notes wryly.
When Zeman, who was two years ahead of him at McGill, graduated in 2017 and moved to Chicago to take a job, the jerky business fell by the wayside. Still, the pair stayed in touch, and continued to cast about for a business idea that would align with their sustainability goals.
Vertical farming
"I remember getting a phone call one night from Jonnie," Zeman recalls. "He was like: 'Have you heard of this vertical-farming stuff?' The idea clicked. We started reading everything we could get our hands on."
There was plenty to read. To feed the world's fast-growing population, some researchers have been exploring indoor agriculture in controlled environments as a more sustainable way to produce crops for future generations. Over the past decade, a number of companies have sprung up, using vertical growing technologies – stacking plants in converted warehouses with artificial lighting, for example – and water-saving hydroponic techniques.
To Lawson and Zeman, the approach seemed well-suited to Quebec. By early 2018, they began to actively pursue the idea as a business. Last year, they entered the McGill Dobson Cup competition and made it to the finals – but no further.
In January of this year, Zeman moved back to Montreal, renting a cramped apartment with Lawson. They also rented a 150-square-foot room in a "weird, mixed-use space in Montreal West," where they began experimenting with their indoor system, growing crops on vertical racks instead of stacked horizontal surfaces.
Early yields were sometimes discouraging. "We were grinding every day, and doing everything we could to make it work – with few tangible results to show for it," Zeman says.
Still, they re-entered the Dobson Cup and again made the finals. But two weeks before they were slated to pitch to the judges, the COVID-19 pandemic struck. With the city largely shut down, the competition was postponed.
Meanwhile. the Dobson Centre announced it would go ahead with a virtual version of the McGill X-1 Accelerator – an intensive summer program designed to prepare promising start-ups to attract investors.
"Everything (in the Accelerator) this year was over Zoom," Zeman says. "But we ended up getting a lot out of it. The quality of the speakers, the quality of discussion throughout the 10-week program really helped drive us forward and get us ready on the business and investment side that we're heading into now."
Making an impact
McGill's Dobson Centre for Entrepreneurship in numbers:
450 active start-ups
6,000 jobs created
Close to $800 million raised by start-ups
10 McGill faculties
40% of start-ups founded/co-founded by women
To hone their idea, the pair has also sought advice from researchers at the Faculty of Agricultural and Environmental Sciences, including Professor Mark Lefsrud, a leading expert in urban agriculture technology. One key element of Interius Farms' technology: a proprietary growing system that requires 30% to 60% less lighting than other vertical farms.
"It is always exciting to see students enjoy and excel on a project that started while in university," Lefsrud says. "Their passion and open-mindedness is allowing the company to develop a novel growing system that is focused on maximizing the production and nutritional content of the plants."
Faculty members at the Desautels Faculty of Management, for their part, helped size up the business case. In particular, Dr. Brian Smith helped work through datasets and build pricing data, says Lawson, who attended Desautels on a Peter Brodje entrepreneurship scholarship and completed his BCom degree last year.
Cool moment
In June, Interius delivered its first crop from its tiny experimental location to Meet the Need Montreal, a McGill medical student initiative to help food banks and shelters meet demand for their services during the pandemic. "We had a couple of friends in med school, and we asked what we could do to help," Lawson says. "It was a cool moment to deliver that."
The pandemic has also prompted calls within Quebec – including from provincial leaders – to promote more local sources of fresh produce. The growing appetite for local food products "has encouraged us to double down and stay the course," Zeman says.
Interius, now operating out of a larger space in east-end Montreal, is finalizing an initial round of funding from a group of angel investors that will help it complete the design of its growing racks and further develop its technology. It has also been in discussions with grocers and meal-delivery companies for potential distribution agreements. Meanwhile, the company is working on arrangements for consumers to order products through its website, for drop-off at select locations in Montreal.
The two founders will soon participate in the annual McGill Startup Tour sponsored by the Dobson Centre for Entrepreneurship, giving them a chance to pitch to equity investors from alumni communities in New York, Boston and Toronto. The roadshow – which will take place virtually – could help raise a fuller round of financing needed to ramp up commercial operations next year.
"With the support from Dobson and the McGill ecosystem in the last several months, we're definitely starting to see returns on the efforts we're putting in," Zeman says. "That's a very good feeling."