How did a philosophy major wind up starting a student financial club?
Like many undergrads, Vanessa Richardson wasn't particularly interested in investing. But her brother kept advising her to open a tax-free savings account. So she started exploring personal finance information on the web, and soon realized how little she—and most other students—knew about the topic.
"One day, I thought to myself: why hadn't I learned about this?" says the third-year McGill student. "Learning to manage personal finances is critical to one's quality of life." Yet most students arrive at university with little or no formal education in the subject.
Richardson also felt that "we have to recognize there is an unspoken gap in financial literacy between those who have traditionally been expected to generate wealth and those who have not," including women and visible minorities. "I think that is a gap we need to bridge" in order to create opportunities not only for entrepreneurs, but for others who may benefit from the creation of new businesses.
So she decided to found a club aimed at promoting both financial literacy among Black students and the growth of Black businesses in the McGill and greater Montreal communities.
The result: the McGill Black Students' Financial Society (BSFS), which has launched operations this semester and set ambitious goals for its first year.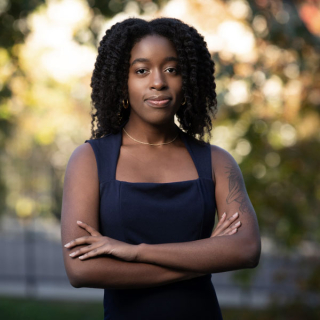 Although her honours program in philosophy is in the Faculty of Arts, Richardson figured the new club's mission would fit well in the SEDI portfolio of the Desautels Faculty of Management's student association. She approached the Management Undergraduate Society with her idea, and pitched her proposal to its board of directors in June. The board unanimously approved the BSFS as an interim club.
Getting going
Vanessa set things in motion for the new club as soon as the fall semester started. A six-person executive team was recruited and in place by early October. It includes students from the Faculties of Arts, Science and Management: Etsub Yifru, Vice-President; Taylor Nelson, Director of Promotions and Media; Hamza Farooq , Director of Finance and Sponsorships; Imane Enette, Director of Events; and Dorine Garbe, Event Volunteer.
The club kicked off its activities on Oct. 22, with the virtual screening of Legacy Lives On, a documentary film about three Black women facing different financial circumstances in Tulsa, Atlanta and Detroit. Director Raafi Rivero attended the screening via Zoom and fielded questions from the students.
Next up on the club's event calendar was a networking event with Black professionals in late November.
For a flagship annual event, the club aims to establish a competition for aspiring entrepreneurs, starting this coming winter. After learning about the McGill Dobson Cup competition, which has helped many emerging McGill entrepreneurs get start-ups off the ground, Vanessa came up with the idea of creating a version for Black students. "It would be amazing," she says, "particularly if we could invite students from other universities, as well, to make it a large event."
The Black Students' Financial Society has also begun to explore the possibility of developing a financial-literacy outreach program pairing Black mentors with Black students in CEGEPs and high schools.
In the short term, Vanessa's goal is to earn permanent status for the new club. She hopes it will be able eventually to establish chapters in other Canadian universities.
Work-study experience
Over the past two years, Vanessa has worked part-time with McGill's Teaching and Learning Services, accumulating experiences that have helped prepare her to organize and run a club.
After starting at TLS in a clerical role through the work-study program, she went on to help develop introductory workshops on the themes of anti-oppression, anti-racism, and fostering inclusive communities. Those are part of TLS's "Our Shared Spaces" education workshop series, designed to empower students to foster inclusive and equitable living and learning environments on campus. This past summer, Vanessa also co-developed a sexuality 101 workshop for TLS, where she now holds the role of equity education assistant.
Vanessa also helped facilitate a new workshop series last year called BeingBlack@McGill. The five-part series, designed to create a safe environment where Black students at McGill can discuss their experience of race and how the institution impacts them, began running a second time this October.
"When I first met Vanessa, it was hard to believe that she hadn't written or facilitated workshops before," says Charlene Lewis-Sutherland, Senior Advisor: Equity and Anti-Racism Teaching and Learning, at TLS. "She has the openness, vulnerability, and wisdom of someone beyond her years. As time progressed, I was really pleased to see Vanessa bringing an intentional and astute lens to her work. I feel quite privileged to get to know her and have her on my team."
Pre-Law
Vanessa is doing an honours degree in Philosophy, with a minor in Cognitive Science, and aims to go to Law School after completing her undergrad degree.
She is a member of the McGill Pre-Law Students' Society, which sponsors a range of activities for undergrads. Through that club's mentorship program, she was mentored by a McGill alumna who earned her law degree at Université de Montréal and now works for a major Canadian law firm.
Vanessa also recently joined the Pre-Law club's mock trial team. "I did mock trials in grades 11 and 12" at her high school in Oakville, Ont. "I had a lot of fun and it really solidified my choice to become a lawyer."
Back to campus
Vanessa is "100%" happy to be back on campus this fall after 18 months of studying from home in Ontario. "When everything was online, it was really challenging being separated and blocked off from everybody," she says. Among other things, she's enjoying singing again with the Tonal Ecstasy A Capella group, a longtime fixture on the McGill and Montreal music scene.
Her advice to new McGill students? "Making the move from high school or CEGEP to university can be really daunting. My biggest piece of advice would be to get involved as soon as you can" in extracurricular activities. "So many networking opportunities come out of clubs."
"The reason I love McGill is because of all the projects I'm working on and the people I've met along the way," she adds. "Even if it's just a few extracurriculars, you never know where that will take you."