Adapting the delivery of field courses during a pandemic can be challenging. Daviken Studnicki-Gizbert, an Associate Professor in the Department of History and Classical Studies and Associate Member of the Bieler School of Environment, experienced this firsthand when the Panama Field Studies Semester that he coordinates was abruptly cancelled due to the Omicron wave this past winter.
Since 2010, Studnicki-Gizbert has been a member of the teaching staff for McGill's semester-long program in Panama. But it was his parallel work with the Conseil de la Nation Atikamekw (CNA) in Québec on the development of their high school history curriculum that provided a path forward.
Determined to provide students with field experience, Studnicki-Gizbert reached out to his colleague Christian Coocoo. Along with the CNA, Mr. Coocoo's family has been working to establish a protected territory called Masko Cimakanic Aski, near Wemotaci, Nitaskinan (St. Maurice Valley), Quebec, about six hours' drive from Montreal.
Wemotaci was a centre of Quebec's timber extraction industry in the late 19th century. Today, the Atikamekw are keen to secure tools, such as training for Indigenous cartographers and access to mapping software, to facilitate the stewardship of their ancestral land.
Community and collaboration: cornerstones of field work
In early March, Studnicki-Gizbert and his students in ENVR 480, a course offered through the Bieler School of Environment, traveled north for a week in Wemotaci. The class reciprocated hosting duties the following week, when members of the Conseil de la Nation Atikamekw and its Bureau de gestion du territoire came to Montreal, where they were able to explore technological resources provided by McGill's Geographic Information Centre (GIC). As with the field course in Panama, the experience was an opportunity for students to work alongside local groups.
"The class is based on teaching and learning in the field," says Studnicki-Gizbert. "[The students] are doing work with community organizations, doing actual research that those organizations are asking for."
For Sakik Kistabich Coocoo, a territory consultant for the Bureau de gestion du territoire, being able to map out changes to the territory is an important tool for the Atikamekw community to ascertain if the flora and fauna on their land is being properly maintained.
Hugues Ottawa, a territory consultant working for the Conseil des Atikamekw de Wemotaci, says the opportunity to work with drones and software technology proved to be a great complement to the skills and knowledge he had acquired while working in the forestry industry.
David Boivin, who also works as a consultant for the Conseil des Atikamekws de Wemotaci, found that the time spent at the GIC was formative. " With contemporary technology and software, I was able to further enhance my skills," he says.
Multilingual setting
Field study programs can serve as a great opportunity for students to conduct research in multilingual settings.
For Molly French, a U3 student in the Bieler School of Environment, the language barrier posed a challenge.
"I am from Chicago, Illinois," Molly says. "We went to the Atikamekw territory for an entire week and I'm the only one on the team who can't speak French." Even so, "it's amazing how much you can gain just by observing body language and the pacing of a conversation. I can understand what's going on even when I don't understand the language."
As the team's resident mapper, Molly took the lead on mapping out the cycles of timber extraction on the Coocoo family's territories. Her minor in Geographic Information Systems (modern day cartography), has enabled her to recreate parts of the Wemotaci landscape by using information from historical documents, archived maps, and satellite imagery.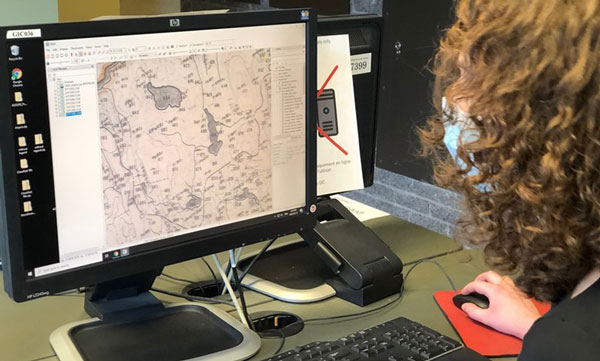 Throughout her studies, Molly has worked as a research assistant. Her recent tasks of leading and coordinating the team of students in Montreal and Wemotaci gave her a glimpse of research leadership out in the field.
University-based research and land-based knowledge: a powerful combination
The students' work on mapping out how the landscape has changed over time is a valuable asset for the Atikamekw families who have lived on the lands for generations. As Studnicki-Gizbert explains, combining university-based research and land-based knowledge (the generational knowledge passed on within the Atikamekw community) can be very powerful.
"We see the same piece of land in all these different ways," says Studnicki-Gizbert. "You start with the Coocoo family and their understanding of the territory; they have multiple generations who have lived on this land, and they pass this information down to one another; they have a fine-tuned, sharp, really precise knowledge of their land."
Magalie Petiquay, a consultant and cartographer in-training for the Conseil de la nation Atikamekw, has witnessed the positive impact welcoming students and researchers has had for the community's projects.
"We like welcoming researchers and cartographers who work with old maps and the archeology of the territory," she says. "There are so many stories to discover. Everything that we see on our land, we're happy to share it with you."
Gérald Ottawa, co-researcher and interpreter at the Secrétariat au territoire du conseil de la nation Atikamekw, sees the growing potential in this collaboration. "This experience has had a great impact," he says. "I think it's important for our youth, that there be a place, a door open for them."
Eléonore Vareille, a U3 student in the Bieler School of Environment, worked on the ecological team, researching and documenting the Coocoo territory's flora.
"I was really yearning for a hands-on experience in the field and this research course gave me the perfect opportunity to fulfill that," Eléonore says. Hearing the oral history of the land from the Atikamekw elders showed students how valuable land-based knowledge is to better understand the technical research they were undertaking. "It's been just a very enriching experience. I'm just very grateful to be a part of this project."
Professor Studnicki-Gizbert would like to thank the CICADA Research Centre and its director, Coin Scott, who provided exceptional and generous funding both to the course and to the CNA's work on the Masko Cimakanic Aski protected area.
To learn more:
History of conservation project in Wemotaci
Panama Field Study Semester information
Geographic Centre – Home of Geospatial DataScience at McGill
Geographic Information Systems (GIS) and Remote Sensing -- can be taken as a minor by McGill undergraduate students in either the Faculty of Arts or the Faculty of Science.