McGill Biology Research Themes
Our researchers study the remarkable and often surprising ways that life emerges, grows, and changes across a diversity of microbes, plants, and animals, including humans. We offer courses in each of these areas, highlighting the breadth and depth of expertise of our faculty. Understanding Biology helps us to understand the past, present, and future of the natural world that surrounds us, and better appreciate our own place within it.
---
McGill researchers tackle rare disease first identified in Quebec
Autosomal recessive spastic ataxia of Charlevoix-Saguenay (ARSACS) is a genetic condition that affects coordination and balance from early childhood. Most ARSACS patients require a wheelchair by the time they reach their 30s or 40s. There is no cure and current treatments provide only limited symptomatic relief. Results published in Frontiers in Cellular Neuroscience, the McGill research team, led by biology professor Alanna Watt and pharmacology and therapeutics professor Anne McKinney, made a surprising discovery: not all zebrin-negative cells behave the same. The new research, conducted over a 12-month period in a mouse model of ARSACS, shows that some cells are more vulnerable than others, depending on their location within the cerebellum.
 
Des chercheurs à l'écoute du chant des oiseaux (Québec Science, 2021)
Profs. Jon Sakata and Sarah Woolley were featured in the July issue of Quebec Science. The issue of the magazine is devoted to birds and all their glory, and the full article features tidbits about how birds learn their songs and how females pick which males to mate with. 
Protecting Diversity and Ecosystem Services
There is consensus among conservation scientists that protected areas should be expanded to safeguard biodiversity and ecosystem services, but it is often difficult to prioritize areas for protection. Considering factors that motivate conservation across Europe, an analysis includes the value of species, represented by distribution of >800 vertebrate species; the cultural value of landscapes, represented by activities such as nature tourism; and the value of ecosystem services such as carbon sequestration and flood protection. Although these three main features often do not coincide in the landscape, the authors found that a focus on biodiversity in spatial conservation planning is the most effective means of capturing a range of nature's values. Read about Dr. Laura Pollock's collaboration in this article published in Science.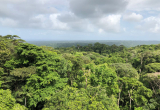 Freshwater ecosystems at risk due to glyphosate use
In a recent study in PLOS ONE, researchers from 6 different countries, including Camilo Alejo and Catherine Potvin of the Department of Biology at McGill University, examined the importance of Indigenous Territories in climate change mitigation across Panama and the Amazon Basin. They found that Indigenous Territories represent effective natural solutions to meet the Paris Agreement by protecting forests and storing carbon. Given the role they play, the researchers say that Indigenous peoples should benefit from payments countries receive for avoided greenhouse emissions.
 
Which animals will survive climate change?
Climate change is exacerbating problems like habitat loss and temperatures swings that have already pushed many animal species to the brink. But can scientists predict which animals will be able to adapt and survive? Using genome sequencing, researchers from McGill University show that some fish, like the threespine stickleback, can adapt very rapidly to extreme seasonal changes. Their findings could help scientists forecast the evolutionary future of these populations