Download our App!!

The McGill Office for Science and Society's nifty and sometimes quirky science is now available at your fingertips. The App is free and can be downloaded on Apple, Android, and Windows (8.0, 8.1).




 
Mark your calendars: The Lorne Trottier Public Science Symposium:
September 28-29, 2015: A Question of Evidence: Vaccines, GMOs, and Cell Phones
Visit the Symposium homepage for more details.


When Science meets Comedy....Check out Dr. Joe on Hound Tall, the podcast hosted by comedian, Moshe Kasher, recorded at the Just for Laughs Festival.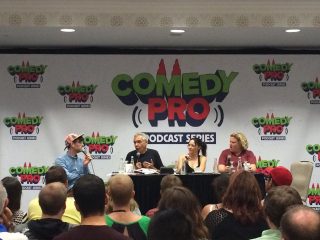 "Monkeys, Myths, and Molecules", Dr. Joe's 15th book is now on bookshelves! Why the curious title? Click on the book to find out.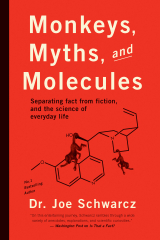 ---
Latest from the OSS:
You Asked: Is it True That People Who Drink Tea Live Longer Longer ?
Drink tea to live longer? Newspaper headlines may have said that, but, that is not exactly what the study they were referring to said. Nevertheless it is an interesting study, published in the American Journal of Clinical Nutrition, a highly respected peer-reviewed publication. The study evaluated intake of flavonoids in an elderly Australian female population through food frequency questionnaires. Read More.
Could the Food Babe for once be on the right track?
Even a clock that doesn't work is right twice a day. A blind squirrel sometimes finds an acorn. And the Food Babe sometimes flirts with the truth. She has organized ridiculous petitions against azodicarbonamide in Subway rolls and caramel coloring in beverages. Read More.
Catching some rays could help your heart
Life comes down to a struggle between risk and benefit. Although not always consciously, we evaluate our diet, our cosmetics, our medications, household chemicals and activity levels on the basis of whether they are good or bad for us. Mention sun exposure, and the conflict comes down to the "bad," namely skin cancer, and the "good," usually ascribed to the enhanced production of vitamin D. Skin cancer is bad, but why is vitamin D good? Read More.


A Tale of Two Bracelets
This is a tale of two bracelets. One brandishes flagrant nonsense, the other flirts with some clever science. We begin with a perplexing question I was asked while wandering through a mall in Phoenix. "How would you like to experience the benefits of nature captured in holographic frequencies?" Read More.

You Asked: Is it true that dogs are being poisoned by propylene glycol in some dogfoods?
Numerous Internet posts attempt to scare dog owners with questions like "Is It a Dog Food Aide or Automotive Antifreeze?" The reference is to propylene glycol, a chemical added to some dog foods to help retain moisture. Of course being an antifreeze component and serving as a food additive are not mutually exclusive. Read More.
 
---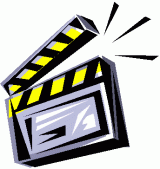 Don't forget to check out:
---
Did You Know?
Lipstick: a behind-the-scenes look
Lipsticks, (the waxy kind that come in the traditiontal tube), contain a variety of natural waxes, such as beeswax, caranuba wax, ozokerite, ceresin, or microcrystalline wax, which are all derived from petroleum. These waxes are softened with mineral or vegetable oils, or with petroleum jelly. And in order to get the colour spread evenly over the lips and remain there for more than 30 minutes, film formers are added. Colorants and preservatives too. And because there is such a high concentration of waxes and oils, antioxidants are frequently added as well. Some lipstick wearers are far too aware that there are products out there that dry up the lips, which is why some products add moisturizers such as lanolin, PEG derivatives or silicone derivativesto keep the lips moist. Who would've known??
 
For more interesting facts, please make sure to check out our
"Did You Know?"
section.