Download our App!!

The McGill Office for Science and Society's nifty and sometimes quirky science is now available at your fingertips. The App is free and can be downloaded here:
Apple
Android 
Windows phone (8.0, 8.1)
Check out Dr. Joe's appearance on CTV's The Social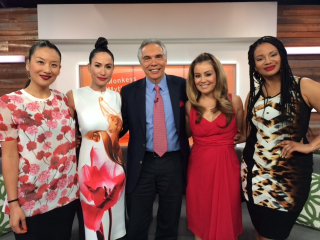 Dr. Joe and Bev Thomson chat about "Monkeys, Myths, and Molecules" on CTV's Canada AM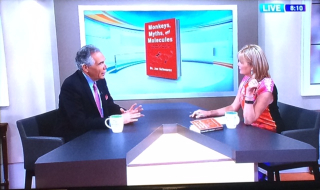 "Monkeys, Myths, and Molecules", Dr. Joe's 15th book is now on bookshelves! Why the curious title? Click on the book to find out.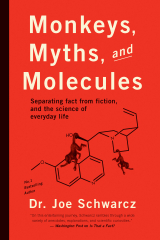 ---
Latest from the OSS:
But it's natural
The first British settlement in North America was established in 1607 and was named Jamestown, after King James I. Read More.

You Asked: Can the much advertised Lipozene lead to weight loss?
The "active" ingredient in Lipozene is glucomannan, a form of dietary fiber that is extracted from the root of the konjac plant. Fiber, by definition, is any type of food component that cannot be digested and consequently makes its way to the large intestine or colon, where bacteria may break it down into smaller compounds. Read More.

You Asked: Is it true that some baloney is made with ground-up earthworms?
Absolutely not. But here is the question I got: "A friend told me that that ground up earthworms are being used as fillers in many meat products like wieners and bologna. The name on the package is sodium erythorbate. Read More.
Leave the donkey milk to donkeys
Cleopatra supposedly took a daily bath in milk supplied by a herd of some 700 lactating donkeys. How she hit upon this idea isn't known, but the legendary beauty may have been familiar Hippocrates' recommendation that donkey milk was an effective treatment for fever, liver problems, joint pain and poisoning. Read More.
The death of smallpox
Edward Jenner, an English country doctor is usually credited with introducing the idea of vaccination because of his landmark publication in 1798 in which he described inoculating 23 people with pus from smallpox postules. Normally they would have been expected to come down with the disease. But none did!  Why? Read More
---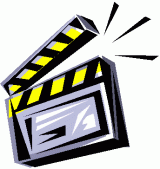 Don't forget to check out:
---
Did You Know?

Ice Cream & The War
During the Second World War, a psychiatrist concluded that ice cream were an effective treatment for combat fatigue.  Ice cream, he said, reminded soldiers of home.  In army camps it quickly became a staple at Sunday dinner and the Navy commissioned the first floating ice cream plant, a barge that produced 5100 gallons an hour.  But airmen had to improvise.  Some of these guys stationed in Britain placed ice cream mix in large cans in the tail gunner's compartment of bombers where the plane's vibrations and cold temperatures yielded a velvety product.  According to legend, one of these clever chaps was Irv Robbins.  And the rest, as they say, is history.
For more interesting facts, please make sure to check out our
"Did You Know?"
section.