Welcome to the Institute of Islamic Studies
In its academic programmes, the Institute of Islamic Studies focuses on the religion of Islam, on the history and civilization of the Islamic world, and on the dynamics of contemporary Muslim societies.
Founded in 1952, the Institute of Islamic Studies at McGill is a dynamic community devoted to research and teaching in a broad range of related fields and languages. Building on its origins as a place where Muslims and non-Muslims came together to study the multifaceted worlds of Islam and Muslim texts, peoples and cultures, the Institute has always maintained a mix of scholarly, community and other engagements in Montreal, Quebec, Canada and worldwide. Our diversity of perspectives and approaches to Islamic Studies, as well as our local commitments and global engagements, have made the IIS a unique institution in the world.
---
News and Events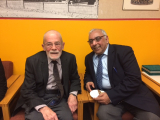 The Institute of Islamic Studies would like to congratulate Mr. Perwaiz Hayat's on his successful PhD oral defense on November 23, 2016, entitled The conversation between Dārā Shukōh and Lāl Dās: a Șūfī-Yogī dialogue of the 17th - century Indian subcontinent.
The Institute of Islamic Studies would like to congratulate Mr. Aun Ali's successful PhD oral defense on November 3, 2016, entitled The Beginnings of the School of Hillah: A Bio-Bibliographical Study of Twelver Shi'ism in the Late 'Abbasid and Early Ilkhanid Periods.
The Instit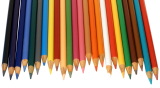 ute of Islamic Studies will award a prize to the two best designs for a new poster to celebrate and promote our undergraduate programme in World Islamic and Middle Eastern Studies. We are looking for a design and concept that will capture the spirit of the programme and catch the attention of students considering studying with us and encourage them to join the programme.
Who is eligible? All students enrolled in a WIMES major or minor programme, or considering joining the programme.
What is the prize? It's a cash prize! First Prize : $150, runner up:$50
How do I enter? All poster designs should be submitted in soft copy to katrin [dot] dinkel [at] mcgill [dot] ca (Katrin), cc-ed to michelle [dot] hartman [at] mcgill [dot] ca (Michelle )and malek [dot] abisaab [at] mcgill [dot] ca (Malek )with the words "WIMES poster submission" in the subject line. 
What is the deadline? All designs should be submitted by 22 November.
How will we find out who wins? Results announced at a Pizza Party, to which all WIMES and interested potential WIMES students are invited that will take place in early 2017.
What are the rules? The winning poster design must incorporate at a minimum the following information: name of the overall program, specific programs we offer within it, and our website address. Please also include the short blurb about the program.
Find out the details at: http://www.mcgill.ca/islamicstudies/undergraduate-studies
A lecture by Justine Landau, Assistant Professor of Near Eastern Languages and Civilizations Harvard University.
This paper explores the two, conflicting accounts of the origins of Persian poetry set forth in Šams-e Qeys Rāzī's Ketāb al-mo'jam, fī ma'āyīr aš'ār al-'ajam (Compendium on the Standards of the Poetry of the Persians). Completed in Shiraz around the year 1240, the classic reference of Persian literary theory offers two competing narratives for the birth of Persian poetry. The first credits Bahrām Gūr for composing the earliest Persian poems, after the semi-legendary Sasanian King received training among the Arabs. No sooner is Persian poetry invented, however, than the king falls silent, and with him poetry: it is the story of an aborted beginning. The second narrative, on the other hand, tells the success story of the Persian quatrain (robā'ī), improvised unknowing by an attractive juggler at a marketplace, and its subsequent fortune among the poets and the public. How is the reader to make sense of Šams-e Qeys' contradictory accounts? Beyond the recreational function of his tales, what is the author's message on the goals and nature of Persian poetry? As we track the claims embedded in the scholarly fictions, we should become able to unfold the hermeneutic power of these early fables of Persian literary identity.
Friday October 7, 2016, 3:30 pm
Room 328, Morrice Hall, 3485 McTavish Street
Congratulations to Professors Michelle Hartman and Malek Abisaab for winning this prestigious five year, Social Sciences and Humanities Research Council (SSHRC) Insight Grant.
The project titled, "Women's War Stories: Building an archive of women and the Lebanese Civil War" will also involve collaborative work with scholars, writers, artists and activists in Lebanon, including Professor Yasmine Nachabe Taan, Lena Merhej and Iman Humaydan. The multi-year project seeks to document and think about the ways in which women in Lebanon experienced, expressed and continue to express their own "war stories." In addition to working to document the stories of Lebanese and Palestinian women militants and activists in the war, it also will analyze and work with these stories in multiple ways to further the conversations in Lebanon and around the world about the war. Literary texts, oral narratives,  comics, visual storytelling and other visual art will also be analyzed, used and created to further these conversations." for more information or to get involved, contact michelle [dot] hartman [at] mcgill [dot] ca (Michelle Hartman) or malek [dot] abisaab [at] mcgill [dot] ca (Malek Abisaab).
Congratulations to IIS faculty member Prof. Michelle Hartman on her latest translation: The Weight of Paradise.
Iman Humaydan's Weight of Paradise narrates the story of two women set against the post-war backdrop of 1990s Beirut. While making a documentary film about the reconstruction of downtown Beirut, Maya Amer stumbles upon a battered leather suitcase that will change her life forever. Inside it she finds letters, photographs, a diary, and an envelope labeled: Letters from Istanbul.
The Weight of Paradise is both the story of Maya and her discovery, and also the story of the owner of these papers, Noura Abu Sawwan. A journalist, Noura fled Syria just before the Lebanese civil war to find greater freedom of expression. But as we learn from her diaries, her flight was also precipitated by her family's denial of her sister's suicide after she fell pregnant by a mukhabarat officer. The diaries lead us through the turmoil of Noura's life first in Syria and then in Beirut: her family's resistance to political repression in her childhood and adolescence, the passionate love story she lived with Kemal Firat, her Turkish soul mate and the author of the Letters from Istanbul and her commitment to writing against injustice, including publishing her sister's tragic story.
A multi-voiced, multi-genre narration, The Weight of Paradise interweaves the stories of these two women and the people who surround them within the fabric of Beirut in the civil war and its immediate aftermath. A love story as well as a story of women's liberation and political freedom, the novel is also the tale of a city and country torn apart by repression, occupation, and war. Beirut, Damascus, and Istanbul are shown as vibrant locations where people resist state violence trying to live and thrive together across linguistic, ethnic, religious, and communitarian differences.
For more information and to purchase the book, please visit: http://www.interlinkbooks.com/product_info.php?products_id=3383
Congratulations to IIS faculty member Prof. Laila Parsons (also History and Classical Studies) on the recent publication of The Commander: Fawzi al-Qawuqji and the Fight for Arab Independence, 1914-1948 (New York: Farrar Straus and Giroux/Hill & Wang, 2016). The book focuses on the life of Fawzi al-Qawuqji, the Arab nationalist and soldier who served as an officer in the Ottoman army during World War I; fought against the French in Syria during the rebellion of 1925-1927; fought against the British in Palestine during the Palestinian Revolt of 1936-39, and again in Iraq during the Rashid 'Ali Coup of 1941; lived in exile in Nazi Germany during World War II; and led the Arab Salvation Army (Jaysh al-inqâdh) against the Haganah/IDF during the 1948 Arab-Israeli War. Using Qawuqji's own archive to construct a detailed and carefully contextualized narrative of the journey that he made through certain moments, Parsons offers a glimpse of the complexity and contingency of the historical worlds he inhabited. The book has already been reviewed in Publisher's Weekly (starred review), Kirkus, Booklist, and the New Yorker. It will also come out in the UK in January with Saqi Books.
For more information please visit http://us.macmillan.com/thecommander/lailaparsons
Congratulations to IIS faculty member Prof. Robert Wisnovsky and his McGill colleague Faith Wallis (History and Classical Studies/Social Studies of Medicine) on the recent publication of Medieval Textual Cultures: Agents of Transmission, Translation and Transformation (Berlin: De Gruyter, 2016). Understanding how medieval textual cultures engaged with the heritage of antiquity (transmission and translation) depends on recognizing that reception is a creative cultural act (transformation). The essays in this volume focus on the people, societies and institutions who were doing the transmitting, translating, and transforming -- the "agents". The subject matter ranges from medicine to astronomy, literature to magic, while the cultural context encompasses Islamic and Jewish societies, as well as Byzantium and the Latin West. What unites these studies is their attention to the methodological and conceptual challenges of thinking about agency. Not every agent acted with an agenda, and agenda were sometimes driven by immediate needs or religious considerations that while compelling to the actors, are more opaque to us. What does it mean to say that a text becomes "available" for transmission or translation? And why do some texts, once transmitted, fail to thrive in their new milieu? This collection thus points toward a more sophisticated "ecology" of transmission, where not only individuals and teams of individuals, but also social spaces and local cultures, act as the agents of cultural creativity.
 
For more information please visit: https://www.degruyter.com/view/product/468491
Congratulations to IIS Associate Member Prof. Armando Salvatore (Religious Studies) on the recent publication of The Sociology of Islam: Knowledge, Power and Civility (Chichester, West Sussex, UK; Malden, MA: Wiley Blackwell, 2016). The Sociology of Islam provides an accessible introduction to this emerging field of inquiry, teaching and debate. The study is located at the crucial intersection between a variety of disciplines in the social sciences and the humanities. It discusses the long-term dynamics of Islam as both a religion and as a social, political and cultural force. The volume focuses on ideas of knowledge, power and civility to provide students and readers with analytic and critical thinking frameworks for understanding the complex social facets of Islamic traditions and institutions. The study of the sociology of Islam improves the understanding of Islam as a diverse force that drives a variety of social and political arrangements. Delving into both conceptual questions and historical interpretations, The Sociology of Islam is a transdisciplinary, comparative resource for students, scholars, and policy makers seeking to understand Islam's complex changes throughout history and its impact on the modern world.
For more information please visit: http://ca.wiley.com/WileyCDA/WileyTitle/productCd-1118662644.html
It is a great pleasure to announce that James McGill Professor of Islamic Philosophy Robert Wisnovsky has been appointed as Director of the Institute of Islamic Studies for a two-year term, effective June 1, 2016. Professor Wisnovsky came to the Institute in 2004 and also served as Director of the Institute from 2005-2008.
The staff and students of the Institute extend our warmest congratulations to Prashant Keshavmurthy, who was recently promoted to Associate Professor with tenure.  Professor Keshavmurthy began his career at the Institute of Islamic Studies in 2009, as Assistant Professor of Persian Literature and Culture.
A workshop with:
Mohammed Bamyeh, University of Pittsburgh
Benoit Challand, New School for Social Research, New York
Setrag Manoukian, McGill University
Armando Salvatore, McGill University
Introductory words by Rula Abisaab, McGill University (Director of the Institute of Islamic Studies)
Chair: Daniel Cere, McGill University (Dean of the Faculty of Religious Studies)
Wednesday April 27, 2016, 14h30
Arts Building, Room 160, 853 Sherbrooke Street West
Congratulations to PhD Student Hasan Umut for receiving the Public History fellowship, a joint fellowship program established by McGill University and the Canada Science and Technology Museums Corporation. Read more here.
A lecture by Diana Dimitrova, Associate Professor of Hinduism and South Asian Religions, Université de Montréal.
Diana Dimitrova is associate professor of Hinduism and South Asian religions in the Faculty of Theology and Religious Studies at the Université de Montréal. She obtained her Ph.D. in Modern and Classical South Asian Studies at the South Asia Institute of the University of Heidelberg in Germany in 2000. Before joining the University of Montreal in 2012, she was a visiting scholar at McGill University, and a professor at the University of Frankfurt (Germany), as well as Emory University, Loyola University Chicago and Michigan State University (USA). She is the author of Western Tradition and Naturalistic Hindi Theatre (New York: Peter Lang, 2004); Gender, Religion and Modern Hindi Drama (Montreal: McGill-Queens University Press, 2008); and Hinduism and Hindi Theatre (New York: Palgrave Macmillan, forthcoming May 2016). She is also the editor of Religion, Literature and Film in South Asia (New York: Palgrave Macmillan, 2010); The Other in South Asian Religion, Literature and Film: Perspectives on Otherism and Otherness (London and New York: Routledge, 2014); and Imagining Indianness: Cultural Identity and Literature co-edited with Thomas de Bruijn (New York: Palgrave Macmillan, forthcoming November 2016).
Tuesday February 9, 2016, 17h30
TNC Theatre Room 017, Morrice Hall, 3485 McTavish Street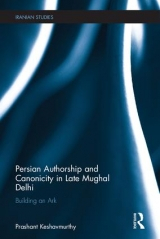 The Institute of Islamic Studies congratulates  Professor Prashant Keshavmurthy on the publication of his book Persian Authorship and Canonicity in Late Mughal Delhi.
Persian Authorship and Canonicity in Late Mughal Delhi situates the diverse textual projects of 'Abd al-Qadir "Bidil" and his students within the context of politically threatened but poetically prestigious Delhi, exploring the writers' use of the Perso-Arabic and Hindavi literary canons to fashion their authorship. Breaking with the tendency to categorize and characterize Persian literature according to the dynasty in power, this book argues for the indirectness and complexity of the relations between poetics and politics. Among its original contributions is an interpretation of Bidil's Sufi adaptation of a Braj-Avadhi tale of utopian Hindu kingship, a novel hypothesis on the historicism of Siraj al-Din 'Ali Khan "Arzu"s oeuvre and a study of how Bindraban Das "Khvushgu" entwined the contrasting models of authorship in Bidil and Arzu to formulate his voice as a Sufi historian of the Persian poetic tradition.
The first book-length work in English on 'Abd al-Qadir "Bidil" and his circle of Persian literati, this is a valuable resource for students and scholars of both South Asian and Iranian studies, as well as Persian literature and Sufism.
For more information and to purchase the book, click here.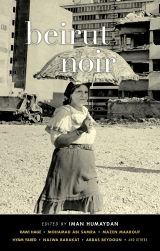 The Institute of Islamic Studies congratulates  Professor Michelle Hartman on the publication of her book Beirut Noir. 
Her translation is an exciting collection of short stories published by Akashic. Akashic Books continues its groundbreaking series of original noir anthologies, launched in 2004 with Brooklyn Noir. Each story is set in a distinct neighborhood or location within the city of the book.
Featuring brand-new stories by: Rawi Hage, Muhammad Abi Samra, Leila Eid, Hala Kawtharani, Marie Tawk, Bana Baydoun, Hyam Yared, Najwa Barakat, Alawiyeh Sobh, Mazen Zahreddine, Abbas Beydoun, Bachir Hilal, Zena El Khalil, Mazen Maarouf, and Tarek Abi Samra.
Most of the writers in this volume are still living in Beirut, so this is an important contribution to Middle East literature—not the "outsider's perspective" that often characterizes contemporary literature set in the region.
From the review in Qantara : "The fifteen new stories of Beirut Noir were assembled by Lebanese novelist Iman Humaydan and deftly translated by Michelle Hartman. They were written in all of Lebanon′s three main languages—Arabic, English, and French—and they approach the noir genre in markedly different ways. But they are united by loss: their characters have been left behind after so many countrymen have fled for the Lebanese countryside, Canada, the Gulf, the United States, South America, and Europe."
For more information and to purchase the book, click here.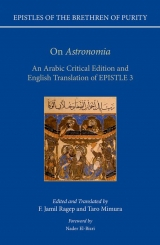 The Institute of Islamic Studies congratulates Professor F. Jamil Ragep on the publication of On 'Astronomia' An Arabic Critical Edition and English Translation of Epistle 3, which he co-edited and translated with Dr. Taro Mimura.  Dr. Mimura was a member of the Rational Sciences in Islam team from 2009-12; he is currently a researcher at the University of Manchester, UK.
This book is an annotated edition and translation of Epistle 3 of the encyclopedic Epistles of the Brethren of Purity, which was composed in 10th-century Iraq by a society of adepts with Platonic, Pythagorean, and Shi'i tendencies. This particular epistle deals with astronomical and astrological knowledge as understood by the Brethren.
For more information and to purchase the book, click here.
Congratulations to Mr. Kazumi Hoshino-Macdonald, student in our World Islamic and Middle East Studies program, for being McGill's 139th Rhodes Scholar. Professor Ahmed Fekry Ibrahim, with whom he studied and worked as a Research Assistant, extends his congratulations to Mr. Hoshino-Macdonald, as well.
A lecture by Souleymane Bachir Diagne, Professor of French and Philosophy Columbia University.
Souleymane Bachir Diagne received his academic training in France. An alumnus of the École Normale Supérieure, he holds an agrégation in Philosophy (1978) and he took his Doctorat d'État in philosophy at the Sorbonne (1988) where he also took his BA (1977). Before joining Columbia University in 2008 he taught philosophy for many years at Cheikh Anta Diop University, Dakar (Senegal) and at Northwestern University. His field of research includes history of logic, history of philosophy, Islamic philosophy, African philosophy and literature. His book Bergson postcolonial. L'élan vital dans la pensée de Senghor et de Mohamed Iqbal, (Paris, Editions du CNRS, 2011) was awarded the Dagnan-Bouveret prize by the French Academy of Moral and Political Sciences for 2011 and on that same year he received the Edouard Glissant Prize for his work. Souleymane Bachir Diagne's current teaching interests include history of early modern philosophy, philosophy and Sufism in the Islamic world, African philosophy and literature, twentieth century French philosophy.
Thursday October 1, 2015, 17h00
TNC Theatre Room 017, Morrice Hall, 3485 McTavish Street
This event will bring together a group of professors and theatre artists from the recently established Tahweel Ensemble Theatre, Lebanese American University (LAU) and American University of Beirut (AUB). 
The evening will include film clips and commentary on the contemporary Beirut theatre scene. In addition to viewing and analyzing scenes from "The Dictator," by Lebanese writer 'Issam Mahfouz, which the group just staged in New York, they will  show and discuss original work and their recent Beirut productions of plays by Sa'dallah Wannous.
Thursday September 17, 2015, 16h00
TNC Theatre Room 017, Morrice Hall, 3485 McTavish Street
This event is co-sponsored by Le Cénacle culturel Liban-Quebec
Congratulations to Professor F. Jamil Ragep, Canada Research Chair in the History of Science in Islamic Studies and Professor Anila Asghar,  Associate Professor, Faculty of Education on being awarded a Partnership Development Grant from the Social Sciences and Humanities Research Council (SSHRC) for their project titled "Science teaching in pre-modern and modern Islamic societies: pedagogical approaches in religious, institutional, and geographical contexts".
Professor Rula Jurdi Abisaab has been appointed Director of the Institute of Islamic Studies effective June 1, 2015 for a one-year term.
The Institute of Islamic studies would like to congratulate Ms. Dima Ayoub on her successful PhD Oral defense on June 19, 2015, entitled Translatability in Contemporary Arab Women's Literature.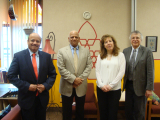 On June 11, 2015 the Institute welcomed a visiting delegation from the Embassy of the State of Kuwait to Canada. His Excellency Ambassador Ali Al-Sammak and Dr. Fahad AlNaser, Cultural Attaché were greeted by Prof. Rula J. Abisaab, Director of the Institute and Prof. F. Jamil Ragep, past Director of the Institute during a meeting at the Institute.
Congratulations to PhD graduates, Dr. Sally Ragep and Dr. Alberto Tiburcio Urquiola, and to MA graduates, Mr. Jonathan Dubé  and Mr. Elliot Montpellier who convocated on June 1, 2015.
The Institute of Islamic Studies congratulates Professor Michelle Hartman on the publication of her translation Ali and His Russian Mother.
Alexandra Chreiteh's Ali and his Russian Mother is at once an ordinary and extraordinary story of two young people in Lebanon. At the outbreak of the July War in 2006, the novel's unnamed young protagonist reconnects with her childhood friend and develops a little crush on him, as they flee the bombs unleashed upon their country by Israel. Displaced, along with a million others across the country, she and her Russian mother have joined an evacuation for Russian citizens, when she again meets up with Ali, her former schoolmate from the South, who also has a Russian (Ukrainian) mother.
For more information and to purchase the book, please see here.
The Institute of Islamic Studies congratulates Professor Ahmed Fekry Ibrahim on the publication of his book Pragmatism in Islamic Law.
In Pragmatism in Islamic Law, Ibrahim presents a detailed history of Sunni legal pluralism and the ways in which it was employed to accommodate the changing needs of society. Since the formative period of Islamic law, jurists have debated whether it is acceptable for a law to be selected based on its utility, rather than weighing conflicting articulations of the law to determine the most likely expression of the divine will.
For more information and to purchase the book, please see here.
The Institute of Islamic Studies congratulates Dr. Pouneh Shabani-Jadidi on the publication of her coursebook What the Persian Media Says.
What the Persian Media Says: A Coursebook is a comprehensive and stimulating course for intermediate to advanced students of Persian. Presenting many exercises based on authentic Persian newspaper texts, the course thoroughly introduces students to the language of the news in Iran. Real cultural content is featured throughout and there is a strong focus on enabling students to gain familiarity with day-to-day modern Persian discourse.
For more information here.