Public Statement: January 29, 2018
On this one year anniversary of the murderous attack on worshippers at the Islamic Cultural Centre of Quebec, the Institute of Islamic Studies renews its position of support to the families of victims, and all others still affected by it. We continue to stand in solidarity with Muslim Quebecers and reaffirm our ongoing condemnation of Islamophobia in all its forms.
Déclaration publique : 29 janvier 2018
À l'occasion de l'anniversaire de l'attaque meutrière contre des croyants au Centre Culturel Islamique de Québec il y a un an, l'Institut d'Études Islamiques réitère son soutien aux familles des victimes et à toutes les personnes encore affectées par l'attaque. Nous restons solidaires des musulmans québécois et réaffirmons que nous condamnons l'islamophobie sous toutes ses formes.
---
Welcome to the Institute of Islamic Studies
In its academic programmes, the Institute of Islamic Studies focuses on the religion of Islam, on the history and civilization of the Islamic world, and on the dynamics of contemporary Muslim societies.
Founded in 1952, the Institute of Islamic Studies at McGill is a dynamic community devoted to research and teaching in a broad range of related fields and languages. Building on its origins as a place where Muslims and non-Muslims came together to study the multifaceted worlds of Islam and Muslim texts, peoples and cultures, the Institute has always maintained a mix of scholarly, community and other engagements in Montreal, Quebec, Canada and worldwide. Our diversity of perspectives and approaches to Islamic Studies, as well as our local commitments and global engagements, have made the IIS a unique institution in the world.
---
News and Events
New book edited by Professor Michelle Hartman
The Institute of Islamic Studies congratulates Professor Michelle Hartman on the publication of her new book Teaching Modern Arabic Literature in Translation.
Teaching Modern Arabic Literature in Translation
Edited by Michelle Hartman
Understanding the complexities of Arab politics, history, and culture has never been more important for North American readers. Yet even as Arabic literature is increasingly being translated into English, the modern Arabic literary tradition is still often treated as other—controversial, dangerous, difficult, esoteric, or exotic. This volume examines modern Arabic literature in context and introduces creative teaching methods that reveal the literature's richness, relevance, and power to anglophone students.
Addressing the complications of translation head on, the volume interweaves such important issues such as gender, the Palestinian-Israeli conflict, and the status of Arabic literature in world literature. Essays cover writers from the recent past, like Emile Habiby and Tayeb Salih; contemporary Palestinian, Egyptian, and Syrian literatures; and the literature of the nineteenth-century Nahda.
Not only is the Institute of Islamic Studies pleased to announce Professor Hartman's book but also congratulations are in order for her article Teaching Scandals: Gender and Translation in the Arabic Literature Classroom  and Professor Rula Jurdi Abisaab's article Arabic Poetics through a Canonical Translation: Teaching Tayeb Salih's Season of Migration to the North.  List of contributors also include:
Allen Hibbard
Rebecca C. Johnson
Maya Kesrouany
Anne-Marie McManus
Philip Metres
Mara Naaman
M. Lynx Qualey
Ken Seigneurie
Caroline Seymour-Jorn
Stephen Sheehi
Heartfelt dedications to Islamic Studies PhD students Katy Kalemkerian, Shirin Radjavi and Islamic Studies alumni, Dima Ayoub.
For more information and to purchase the book, please click here.
---
Congratulations to Pouneh Shabani-Jadidi
The Institute of Islamic Studies congratulates Dr. Pouneh Shabani-Jadidi and Professor Emeritus Patricia J. Higgins on their publication The Thousand Families coming out early April 2018.
The Thousand Families by Ali Shabani, former court journalist and writer under Mohammad Reza Shah, is a lively and entertaining anecdotal history of the Qajar family, who ruled Iran from 1796 to 1925, as well as a number of their associates. Using memoirs, diaries, government documents, and nineteenth century histories, the author paints a vivid picture of the strengths and weaknesses, character and habits, and family backgrounds and familial legacies of the leading figures of the day.
For more information and to purchase the book, please click here.
---
Lecture:  The poetry of anomie: Reading Forugh Farrukhzad and Qaysar Amin'pur's world-vision
A lecture in Persian by Farshid Sadatsharifi
This talk employs the methodology and concepts of sociology and existentialism to propose a novel approach to the study of contemporary Persian poetry. It explores the formation and transformations of "individualism" and its relation to the experience of loneliness by taking into account how world-visions changed in Iran in the wake of the constitutional period at the beginning of the twentieth century.
Through an interdisciplinary analysis of pre-modern world-visions and codes of existential introspection, I argue for the importance of considering the notion of anomie to have a deeper insight into contemporary Persian poetry. Such endogenous patterns of modernity, along with their shifting psycho-socio-political balances, can be contrasted with the model of the European anomic experiences that Durkheim analyzed in his study Suicide.
Farshid Sadatsharifi received his Ph.D. in the field of Persian Language and Literature from Shiraz University. He worked on the existential dimensions of contemporary Persian poetry in his Ph.D. dissertation. He has taught in eight universities and higher education institutions at his home city Shiraz and altogether, he had spent ten years celebrating literary theories, the meaning of life, existentialism, and other subjects related to studying and teaching Persian Language and Literature in a multidisciplinary and applied approach. All of these attempts were in tandem with studying medieval part of Persian Language and literature as the nature of official programs/credits in departments of Persian Language and literature in Iran.
Tuesday, March 13, 2018
Morrice Hall - Room 328
3485 McTavish Street
18h00
---
Congratulations to Professors Michelle Hartman and Setrag Manoukian
The Institute of Islamic Studies congratulates Professors Michelle Hartman and Setrag Manoukian for essays published in Manifestos for World Thought
Manifestos for World Thought
Edited by Lucian Stone and Jason Bahbak Mohaghegh
What are the still-unknown horizons of world thought?
This book brings together prominent scholars from varying disciplines to speculate on this obscure question and the many crossroads that face intellectuals in our contemporary era and its aftermath. The result is a collection of "manifestos" that contemplate a potential global future for thinking itself, venturing across some of the most marginalized sectors of East and West (with particular emphasis on the Middle Eastern and Islamicate) in order to dissect crucial issues of culture, society, philosophy, literature, art, religion, and politics. The book explores themes such as as universality, translation, modernity, language, history, identity, resistance, ecology, catastrophe, memory, and the body, offering a groundbreaking alignment of texts and ideas with far-reaching implications for our time and beyond.
For more information click here.
---
Lecture: The Historical Record of the Civil War in Lebanon: The Perspective of Marie Kosseifi
Students, colleagues, and members of the Montreal community were delighted to attend Dr. Omar Nashabe's lecture: The Historical Record of the Civil War in Lebanon: The Perspective of Marie Kosseifi on Thursday March 1, 2018.  This event was sponsored by the Women's War Stories Project, Institute of Islamic Studies as well as the Canadian Druze Society in Quebec and Le Centre Culturel Libanais.
Lecture was held on:
Thursday, March 1, 2018
Leacock Building  - Room 232
855 Sherbrooke West
10:05 a.m.
---
Lecture: Writing the Anthology and the Search for Canadian-Arab Poets and Literary Figures
A Lecture in Arabic by Latifa Halim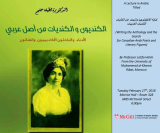 Professor Halim from University of Muhammad al-Kharnis Rihat, Morocco will discuss her Anthology on Canadian Arab Poets
Tuesday, February 27, 2018
Morrice Hall - Room 328
3485 McTavish Street
18h00
---
Lecture:Fathieh Saudi: A Journey to Finding Her Voice
A lecture by Alia' Afif Kawalit
London is a city known as a cold alienating place. John Clement Ball writes in his book Imagining London (2004) that "many who travel to London perceive it as a place for struggle against overwhelming obstacles: marginalization, segregation, and solitude; an alien climate and built environment, racism, poverty and cultural conflict" (Ball 6). However, this does not define London for the poet I will be discussing. For the Jordanian poet Fathieh Saudi who moved to England in 2001, the multi-faceted character of London mirrors life in its diverse meaning. It is also a place to rise above the limits previous places and experiences instilled in her. In my talk, I will be looking at Saudi's literary experience in England and how writing in a second language, i.e. English, provided her with a better understanding of herself and her surroundings.
Alia' Afif Kawalit completed her Ph.D. in Creative Writing from the University of Kent where she also taught poetry and languages. She has her work published in different anthologies such as Beached Here At Random By Mysterious Forces, 2015. Currently, she is teaching at the University of Ottawa. Also, she is a co-editor in the multi-lingual magazine Mïtra.
Monday, February 19, 2018
Morrice Hall - Room 328
3485 McTavish Street
16h30
---
Film Screening:  ENGLAND TIMES PALESTINE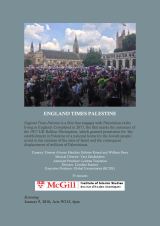 by Director Caroline Rooney
England Times Palestine is a film that engages with Palestinian exiles living in England. Completed in 2017, the film marks the centenary of the 1917 UK Balfour Declaration, which granted permission for 'the establishment in Palestine of a national home for the Jewish people', as led to the creation of the state of Israel and the consequent displacement of millions of Palestinians.
Camera: Ximena Alvarez Maschio, Bahriye Kemal and William Parry
Musical Director: Yara Salahiddeen
Associate Producer: Loubna Turjuman
Director: Caroline Rooney
Executive Producer: Global Uncertainties (RCUK)
Tuesday, January 9, 2018
Arts  -  W215
853 Sherbrooke Street West
18h00
---
Lecture: Embodiment and the Representation of Time in Islamic Materials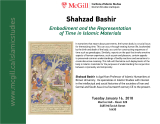 A lecture by Shahzad Bashir
In narratives that report about past events, the human body is a crucial locus for thematizing time. This can occur through treating human life, bookended by the birth and death of the body, as a unit for constructing sequences of time such as genealogies. Similarly, reports on the past that invoke emotive aspects of human experience, such as pain and pleasure, contain appeals to presumed common understandings of bodily reactions and sensations to create discursive meaning. This talk will thematize such deployments of the body in Islamic materials for the purposes of understanding the conjunction between corporeality and temporality.
Shahzad Bashir is Aga Khan Professor of Islamic Humanities at Brown University.  He specializes in Islamic Studies with interest in the intellectual and social histories of the societies of Iran and Central and South Asia circa fourteenth century CE to the present.
Tuesday, January 16, 2018
Morrice Hall - Room 328
3485 McTavish Street
16h30
---
Laila Parsons wins 2017 Palestine Book Award
The Institute of Islamic Studies congratulates Professor Laila Parsons, whose book The Commander: Fawzi al-Qawuqji and the Fight for Arab Liberation, 1914-1948, has won the 2017 Palestine Book Award (Academic category).
For more information on the award, please go to: https://www.middleeastmonitor.com/20171127-palestine-book-awards-2017-celebrates-another-year-of-literary-excellence/
---
PAST EVENTS
A lecture by Nahid Mozaffari
Rabindranath Tagore, the great Indian poet and philosopher embarked on a trip to Iran and Iraq in April 1932 as a guest of the Iranian and Iraqi states. The Pahlavi regime in Iran attempted to use this trip to strengthen its new discourse of nationalism through situating Iran in the realm of an Indo-Iranian civilization rather than an Islamicate one. However, Tagore met with many members of the educated elite who were dissatisfied with the dominant political narratives.   What were the exchanges between Tagore and his Iranian interlocutors regarding the meaning(s) of modernity, and nationalism and the role of religion and tolerance in the construction of new Asian (national) identities?  What do these discussions tell us about the emerging discourses in early 20th century Asia regarding visions of modernities which sought to limit or remove colonial manipulations and hegemony?
Nahid Mozaffari is currently a Senior Research Fellow (Kolleg-Forschergruppe "Multiple Secularities") at the Humanities Center for Advanced Studies at Leipzig University. She has taught at the Department of Middle Eastern and Islamic Studies at New York University, New York University Paris, and at the New School for Social Research. She received her PhD in history and Middle Eastern Studies at Harvard.
Tuesday, November 7, 2017
Morrice Hall - Room 328
3485 McTavish Street
16h30
The Institute of Islamic Studies congratulates Professor Laila Parsons, whose book The Commander: Fawzi al-Qawuqji and the Fight for Arab Liberation, 1914-1948, has been shortlisted for the Mavis Gallant Prize for Non-Fiction, sponsored by the Quebec Writers Federation.
For more information, please go to http://www.qwf.org/images/awards/19th-annual-qwf-awards-gala-2017_hi-res.jpg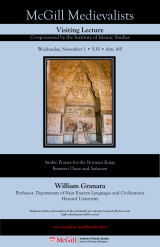 Lecture: Arabic Praises for the Norman Kings: Between Chaos and Seduction
On Wednesday 1 November at 5:30 p.m. in Arts 160, McGill Medievalists and the Institute of Islamic Studies will host a guest lecture by Prof. William Granara of the Dept. of Near eastern Languages and Civilizations, Harvard University, entitled "Arabic Praises for the Norman Kings: Between Chaos and Seduction". All are invited to attend, and as is the "custom of the castle", refreshments will follow!
A lecture by Arzoo Osanloo
Iran's criminal justice system affords families of victims a right of retribution, but the laws also encourage them to forgo that right and to reconcile with perpetrators. However, the state does not provide guidance on how parties should arrive at reconciliation. Focusing on murder cases, this talk will explore the work of mediators, individuals and groups, that work towards cultivating "a feeling of forgiveness" in victims' families by touching upon the aesthetic and emotional sources of their faith.
Arzoo Osanloo is an Associate Professor in the Department of Law, Societies, and Justice and the Director of the University of Washington's Middle East Center
Tuesday, October 24,  2017
Morrice Hall - Room 017
3485 McTavish Street
16h30
The Institute of Islamic Studies congratulates Prof. Laila Parsons, who is this year's winner of the Principal's Prize for Excellence in Teaching (Associate Professor category). The prize will be formally presented at the Fall Convocation on 31 October in Place des Arts.  Laila was also the 2014 winner of the H. Noel Fieldhouse Award for Teaching in the Faculty of Arts.
The Institute of Islamic Studies congratulates Professor Laila Parsons whose book The Commander: Fawzi al-Qawuqji and the Fight for Arab Liberation, 1914-1948, has been shortlisted for the Palestine Book Award.
For more information, please go to https://www.palestinebookawards.com/news/item/palestine-book-awards-2017-shortlist-announced
The Institute of Islamic Studies congratulates Professors F. Jamil Ragep and Rivka Feldhay on their publication of Before Copernicus: The Cultures and Contexts of Scientific Learning in the Fifteenth Century.  Montreal: McGill-Queen's University Press, 2017.
In this edited volume comprising an introductory essay and 8 papers, contributors explore the multi-cultural, multi-religious, and multi-lingual context of learning on the eve of the Copernican revolution, shedding light on the relationship between Copernicus and his predecessors. Highlighting the often-neglected intercultural exchange between Islam and early modern Europe, Before Copernicus reimagines the scientific revolution in a global context.
For more information, please go to https://www.rasi.mcgill.ca/Before_Copernicus.pdf

A beautiful reception was held on April 11, 2017 with guest of honour Issa Boullata and guest lecturer Roger Allen.  Please enjoy some photos of the event with Professors Michelle Hartman, Jamil Ragep and Institute of Islamic Studies Alumna student Nadia Wardeh who was the last student of Prof. Boullata.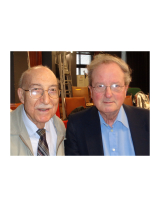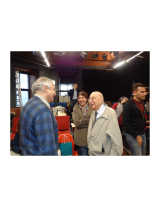 The Institute of Islamic Studies congratulates Prof. Pasha M. Khan for winning the AUS (Arts Undergraduate Society of McGill) Teaching Award for 2017. Prof. Khan is an Assistant Professor and Chair in Urdu Language and Culture. He thanks the AUS and his students for this humbling recognition.
 
Please join us in celebrating the career of Professor Emeritus Issa Boullata with guest lecturer Roger M.A. Allen.
Roger M.A. Allen  Sascha Jane Patterson Harvie Professor Emeritus of Social Thought and Comparative Ethics, School of Arts & Sciences;
Professor Emeritus of Arabic & Comparative Literature. University of Pennsylvania.
Department of Near Eastern Languages and Civilizations
Lecture followed by reception on:
Tuesday April 11, 2017
Morrice Hall - Room 017
3485 McTavish Street
15h00
lecture by: Armando Salvatore
 This talk employs methodologies of historical sociology, while it also aims to critique and reconstruct categories of Western social theory. It explores developments spanning the Later Middle Periods and early modernity, particularly through the formation and transformations of Timurid and Ottoman rule and court cultures. In the process, combinations of saintly charisma and codes of civility were appropriated by religious scholars and state administrators for supporting the political legitimacy of ever more centralizing states. Such endogenous patterns of precolonial modernity, along with their shifting religio-political balances, can be contrasted with the model of the European Leviathan.
Armando Salvatore is a sociologist who has taught and held professorial positions at Humboldt University of Berlin, University of Naples "L'Orientale," McGill University, and Australian National University. He is the author of The Sociology of Islam: Knowledge, Power and Civility (Wiley-Blackwell, 2016) and the chief editor of The Wiley-Blackwell History of Islam (forthcoming). He is presently working on a manuscript tentatively titled The Impossible Leviathan, the Possible State: Narrativity, Normativity and Sovereignty Within Islamicate Modernity.
Wednesday April 12, 2017
Morrice Hall - Room 017
3485 McTavish Street
16h30
The Institute of Islamic Studies would like to congratulate Ms. Fadia Bahgat on her successful PhD oral defense on March 28, 2017, entitled Gender, labour, and the modem nation-state in Egypt: lower-class working women and the law from 1919-1952.
Followed by discussion with film-maker Shahin Parhami,
In conversation with Diana Allan (McGill, Anthropology), Farbod Honarpisheh (Columbia U. Film Studies) and Setrag Manoukian (McGill, Islamic Studies and Anthropology)
Shahrzaad's Tale is a story of a lost era and a forgotten star of pre-revolutionary Iranian cinema, a tale of a working class woman who against all the odds struggled and succeeded to become an icon in the mainstream popular culture of the 1960s-70s Iran. Trailer https://vimeo.com/147125019
Shahin Parhami
Born in Shiraz, Iran, accomplished author Shahin Parhami has directed award-winning short and feature films which have been screened in major international festivals and won numerous awards. Besides the trilogy: Nasoot (1997), Lahoot (1998), and Jabaroot (2003), his 2007 film Faces, an experimental documentary premiered at the Montreal World Film Festival and won the best feature film award at the flEXiff 2007 (Sydney, Australia). The creative documentary, Amin, won awards at Yamagata International Documentary Film Festival(Japan), Taiwan International Documentary Festival and Dubai International Film Festival and was also nominated for best feature documentary at Asian Pacific Screen Awards 2011. His latest film Shahrzaad's Tale, premiered at Montreal's World Film Festival in 2016, and was officially selected at Busan, Freiburg, Jihlava, and Eurasia Film Festivals and for the Asian Pacific Screen Awards in 2016.
Tuesday March 28, 2017
Arts Building  W-215
16h00- 19h30
Film screening and discussion with filmmaker Arab Lutfy.
Seven women who took part in the military fight of the Palestine people back in the sixties and seventies. Through their tales, we understand what made these women the symbols of their people's fight.
Wednesday March 22, 2017
Otto Maass 10
801 Sherbrooke Street West
18h00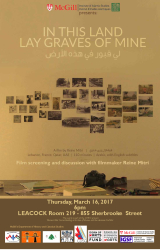 Film screening and discussion with filmmaker Reine Mitri
Reine Mitri (born Lebanon) worked as a cine-club programmer and the organizer of the Docudays film festival in Beirut for over five years. Since 2001, she has written and directed five films, including VULNERABLE (2009), which was broadcast in the "Lucarne" slot on ARTE. She has also worked as projects coordinator at the Fondation Liban Cinéma.
THURSDAY March 16, 2017
LEACOCK BUILDING – Room 219
855 Sherbrooke Street
18h00
The Institute of Islamic Studies congratulates Dr. Sally P. Ragep on the publication of her book Jaghmīnī's Mulakhkhaṣ: An Islamic Introduction to Ptolemaic Astronomy (New York: Springer-Verlag, 2016).
This book provides the only critical edition and English translation of Maḥmūd al-Jaghmīnī's al-Mulakhkhaṣ fī al-hayʾa al-basīṭa, the most widely circulated Arabic treatise on Ptolemaic astronomy ever written. Composed in the early 13th century, this introductory textbook played a crucial role in the teaching, dissemination, and institutional instruction of Islamic astronomy well into the 19th century (and beyond). Establishing the base text is a fundamental prerequisite for gaining insights into what was considered an elementary astronomical textbook in Islam and also for understanding the extensive commentary tradition that built upon it. 
Within this volume, the Mulakhkhaṣ is situated within the broader context of the genre of literature termed ʿilm al-hayʾa, which has become the subject of intensive research over the past 25 years. In so doing, it provides a survey of summary accounts of theoretical astronomy of Jaghmīnī's predecessors, both Ancient and Islamic, which could have served as potential sources for the Mulakhkhaṣ. Jaghmīnī's dates (which until now remained unsettled) are established, and it is definitively shown that he composed not only the Mulakhkhaṣ but also other scientific treatises, including the popular medical treatise al-Qānūnča, during a period that has been deemed one of scientific decline and stagnation in Islamic lands. The book will be of particular interest to scholars engaged in the study of Islamic theoretical astronomy, but is accessible to a general readership interested in learning what constituted an introduction to Ptolemaic astronomy in Islamic lands. 
For more information, it can be accessed at SpringerLink or Springer.com
lecture by Charles Burnett, Warburg Institute, University of London
Abu Ma'shar Ja'far ibn Muhammad al-Balkhi (787-886 AD), known as Albumasar in the West, was the eminent Arabic astrologer of the Middle Ages. Throughout his Great Introduction to Astrology, which was translated twice into Latin in the twelfth century, is an integrated worldview, embracing not only prognostication, but also cosmology, astronomy, physics, geography, medicine and ethics. This lecture addresses Abu Ma'shar's ideas of the position of man within his world and how they were subtly changed in the process of transmission from Arabic into Latin. 
Charles Burnett, MA, PhD, LGSM is Professor of the History of Arabic/Islamic Influences in Europe at the Warburg Institute, University of London, and Co-Director of the Centre for the History of Arabic Studies in Europe.
Tuesday March 7, 2017
Morrice Hall – Room 017
3485 McTavish Street
17h00
The Institute of Islamic Studies congratulates Professor Michelle Hartman on the publication of her translation: The Ninety-Ninth Floor.
At times as cold and hard-edged as the skyscrapers in its backdrop, The Ninety-Ninth Floor follows the struggles and triumphs of Majed as he manages to make it in Manhattan at the turn of the century, after surviving the devastating 1982 massacre at the Sabra and Shatila refugee camp. A Palestinian born and raised in Lebanon, Majed has never seen Palestine but is told by his father that his mother and never-born baby, both slaughtered in the massacre, are waiting for him there. Injured and scarred by the war, he makes a new life for himself in the glittery world of New York City's computer games industry. He never feels more satisfied with himself than when he is staring out of the window of his sleek, modern office on the ninety-ninth floor
For more information and to purchase the book, please click here
Professor Khalid Medani along with the McGill African Students' Society members (left to right) Selome Gizaw,Michelle Rugamba, Trixie Birikundavyi, Shona Musimbe and Keynote speaker, Nnedi Okorafor.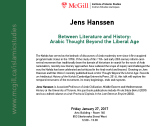 A lecture by Jens Hanssen, Associate Professor of Arab Civilization, Middle Eastern and Mediterranean History at the University of Toronto.
The Nahda has served as the bedrock of discourses of Arab modernity ever since it first acquired programmatic status in the 1890s. If the study of this 19th- and early 20th century reform-and-revival movement has traditionally been the domain of historians in search for the roots of Arab nationalism, recently new literary approaches have widened the scope of inquiry and challenged the way the Nahda has been celebrated and criticized in the Arab world and beyond. Drawing on Jens Hanssen and Max Weiss's recently published book Arabic Thought Beyond the Liberal Age: Towards an Intellectual History of the Nahda (Cambridge University Press, 2016), this talk will explore the temporal structures of the movement, its many beginnings, ends and ruptures.
Jens Hanssen is Associate Professor of Arab Civilization, Middle Eastern and Mediterranean History at the University of Toronto. His past book publications include Fin de Siècle Beirut (2005) and a co-edited volume on Arab Provincial Capitals in the Late Ottoman Empire (2002).