Elizabeth Elbourne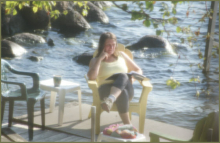 Specialization by Geographical Area:
North America
Europe
Africa
Specialization by Time Period:
1450 - 1800
1800 - 1900
1900 - Today
Office Hours:
Winter 2015: Monday 10-11 and Wednesday 13:30-14:30
Graduate Supervision:
18-19th century Britain, 19th century South Africa, the British empire. Research interests include religion, women and colonialism, comparative aboriginal history
Selected Publications:
Book
Blood Ground: Colonialism, Missions and the Contest for Christianity in the Cape Colony and Britain, 1799-1853. Montreal and Kingston: McGill-Queen's University Press, 2002. edition 2008.
Articles, book chapters and contributions to collective scholarly resources
"Gender, Colonialism and Faith", Journal of Women's History, vol. 25 (1), Spring 2013 (forthcoming)
"The Bannisters and Their Colonial World: Family Networks and Colonialism in the Early Nineteenth Century", in Karen Dubinsky, Adele Perry and Henry Yu (eds.), Within and Without the Nation: Canadian History as Transnational History (Toronto: University of Toronto Press, forthcoming)
"Orality and Literacy on the New York Frontier: Evidence from the Draper Papers", in Kirsty Reid and Fiona Paisley (eds.), Critical Perspectives on Colonialism: Writing the Empire from Below (New York and London: Routledge, forthcoming 2013)
"Broken alliance: Debating Six Nations land claims in 1822", Cultural and Social History, special issue on indigenous modernity (2012)
"Christian soldiers, Christian allies: Coercion and Conversion in Southern Africa and Northeastern America at the turn of the nineteenth century", in David Lindenfeld and Miles Richardson (eds.), Beyond Syncretism and Conversion: Indigenous Encounters with Mission Christianity, 1800-2000 (New York: Berghahn Books, 2012), pp. 79-109
"Sara Baartman and Andries Stoffels: Violence, Law and the Politics of Spectacle in London and the Eastern Cape, 1810-1836", Canadian Journal of African Studies (vol. 45(2), 2011)
"Mother's Milk: Gender, Power and Anxiety on a South African Mission Station, 1839-1840", in Patricia Grimshaw and Andrew May (eds.), Missionaries, Indigenous Peoples and Cultural Exchange (Brighton, Portland and Toronto: Sussex University Press, 2010), pp. 10-23.
"Imperial politics in a family way: Gender, Biography and the 1835-36 Select Committee on Aborigines", in Bain Attwood and Tom Griffiths (eds.), Frontier, Race, Nation: Henry Reynolds and Australian History (Melbourne: Australian Scholarly Publishing, 2009), pp. 111-135.
"Between Van Diemen's Land and the Cape Colony", in Anna Johnston and David Owen (ed.), Friendly Mission: Companion Essays.  Hobart, Australia: Quintus Publishing, 2008.
"Religion in the British Empire" in Sarah Stockwell (ed.), The British Empire:  Themes and Perspectives.  Oxford: Blackwells, 2007.
"Southern Africa: 1500-1900", in Bonnie G. Smith (ed.), The Oxford Encyclopaedia of Women in World History.  Oxford: Oxford University Press, 2007.
"Religion and Empire" (a scholarly essay with links to primary sources for university students) in Adam Matthews Co, Empire On-Line (2006)
"Indigenous peoples and imperial networks in the early nineteenth century: The politics of knowledge", in Philip Buckner and R. Douglas Francis (eds), Rediscovering the British World.  Calgary: University of Calgary Press, 2005
"Robert Moffat"; "Mary Moffat"; "James Read senior", New Dictionary of National Biography. Oxford: Oxford University Press, 2004.
"The Sin of the Settler: The 1835-36 Select Committee on Aborigines and Debates Over Virtue and Conquest in the Early Nineteenth-Century British White Settler Empire", Journal of Colonialism and Colonial History, vol. 4, no. 3, Winter 2003
"'The fact so often disputed by the Black man': Khoekhoe citizenship at the Cape in the early to mid nineteenth century" Citizenship Studies, vol. 7, no. 4, December 2003, pp. 379-400.
"Word Made Flesh: Christianity, Modernity, and Cultural Colonialism in the Work of Jean and John Comaroff", American Historical Review, 108(2), April 2003, pp. 435-59.
"Domesticity and Dispossession: British ideologies of 'home' and the primitive at work in the early nineteenth-century Cape", in Wendy Woodward, Patricia Hayes and Gary Minkley (eds.), Deep Histories: Gender and Colonialism in Southern Africa. Amsterdam: Rodopi, 2002, pp 27-54.
Heading and transcription, Kaatje Nieuwveldt, "Testimony", in M. J. Daymond, Dorothy Driver, Sheila Meintjes, Leloba Molema, Chiedza Musengezi, Margie Orford, and Nobantu Rasebotsa (eds.), Women Writing Africa, vol. 1: The Southern Region. New York: The Feminist Press, 2002, pp. 86-91.
"Idées de la nation, de l'identité communautaire et de l'exclusion dans l'Afrique du sud britannique, pendant les années 1820s-1850". Alizés: Revue angliciste de la Réunion, numéro spécial, "Le citoyen dans 'l'empire du milieu': Perspectives comparistes", March 2001, pp.293-315.
"Race, Warfare and Religion in Mid-nineteenth Century Southern Africa: The Khoikhoi Rebellion Against the Cape Colony and its uses, 1850-58". in Journal of African Cultural Studies 13(1), 2000, pp. 17-42.
"Whose gospel? Conflict in the London Missionary Society in the 1840s", in John de Gruchy (ed) Sent from London: Essays on the London Missionary Society in southern Africa. Cape Town: David Philip, 2000, pp. 132-155.
(with Robert Ross) "Combating Spiritual and Social Bondage: Early Missions in the Cape Colony" in Richard Elphick and Rodney Davenport (eds), Christianity in South Africa. Cape Town: Maskew Miller Longman and Berkeley: University of California at Los Angeles Press, 1997, pp. 31-50.
"Early Khoisan Uses of Mission Christianity" in Henry Bredekamp and Robert Ross (eds.), Missions in South African History.  Johannesburg: University of the Witswatersrand Press, 1995, pp. 66-95.
"Freedom at Issue: Vagrancy Legislation and the Meaning of Freedom in Britain and the Cape Colony, 1799-1842", Slavery and Abolition, special issue on Unfree Labour in the Development of the Atlantic World, vol.15, no.2, August 1994, pp. 114-150. Also published in Nicholas Rogers and Paul E. Lovejoy (eds.), Unfree Labour in the Development of the Atlantic World.  London: Frank Cass, 1995.
Review article on Jonathan Neil Gerstner's The Thousand Generation Covenant: Dutch Reformed Covenant Theology and Group Identity in Colonial South Africa, 1652-1814.  Method and Theory in the Study of Religion, vol.6, no.2, 1994, pp. 200-211.
"The Foundation of the Church Missionary Society, 1799:  The Anglican Missionary Impulse", in John Walsh, Stephen Taylor and Colin Haydon (eds.), The Church of England circa 1689 to circa 1833  From Toleration to Tractarianism.  Cambridge: Cambridge University Press, 1993, pp. 247-264.
"Early Khoisan Uses of Mission Christianity", Kronos: Journal of Cape History/Tydschrift vir Kaapslandse Gesiedenis, no.19, November 1992, pp. 3-27. Expanded and revised version published in Ross and Bredekamp (eds.), listed above.
"Concerning Missionaries: The Case of Dr. Van der Kemp", Journal of Southern African Studies, 17(1), March 1991, pp. 153-164.
Work under contract, currently under press review
Gwyn Campbell and Elizabeth Elbourne (eds.), Sex, Power and Slavery: The Dynamics of Carnal Relations under Enslavement 3 vols (Athens, Ohio: Ohio University Press, 2012 or 2013)
Book Images: