Founded in 1896, the School of Architecture at McGill University offers professional programs, including B.Sc. (Arch.) and M.Arch. (Professional), and post-professional research programs, including M.Arch. (Post-professional) and Ph.D.
VISION
To advance professional architectural education that flourishes through research, critical practice, and community engagement.
MISSION
The School of Architecture educates professionals who contribute to the global community through the design, construction, and interpretation of the built environment.  The School:
encourages a diverse environment for teaching, learning, and research, supported by both traditional and state-of-the-art digital resources.
develops professional and post-professional research-based Master's and Ph.D. programs that enable graduates to contribute responsibly to the profession, to research, and to careers in related fields.
enriches multi-disciplinary teaching and research within the University and in connection with other local and international universities.
engages citizens' groups, local, provincial, and national governments, the private sector, and the profession toward the improvement of the built environment.
---
mcgill_architecture
---
Trajectories: Networks of Architectural Education
We want to find out how our undergraduates use their education: What careers paths do they take? How has their education at McGill shaped their lives?
Complete the survey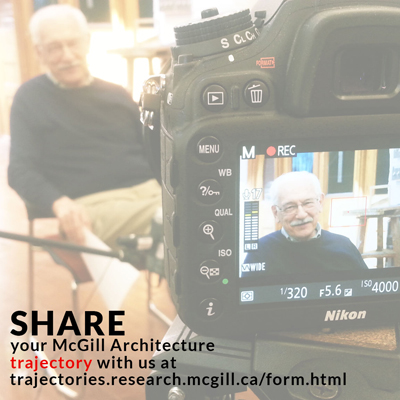 ---
Slideshow presentation of student work
YouTube: click here.
---