Infractions and fines
Unauthorized vehicles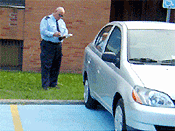 Vehicles parked on campus without a parking permit are considered unauthorized, and are subject to a parking ticket.
Vehicles in infraction will receive a City of Montreal parking ticket in accordance to by-law 510. As these are municipal tickets the fines are payable at City Hall in Ste-Anne-de-Bellevue. These Municipal parking tickets will cost $42.00. Anyone wishing to contest the ticket must do so at the municipality.
Permit holders
Illegally parked permit holders will be fined $20.00.
Improperly displayed permits
Cars parked on campus with an improperly displayed permit will be levied a $20.00 fine.
Parking in No Parking areas
Cars parked in No Parking areas, or in areas otherwise designated will pay a penalty of $20.00.
Blocking traffic
Cars parked in such a way as to block the free flow of traffic, or blocking emergency exits or access to fire hydrants - or non-operational cars left overnight will have the following penalty(ies). Cars will be towed away at the owner's expense and/or fined. Vehicles parked in Handicapped areas will receive a fine of $40.00.
Driving off roadways
Cars driven across lawns, playing fields, etc. The driver shall be reported and will be assessed damages and/or fined.
Dangerous driving
There is a fine of $75.00 and/or the loss of campus driving and parking privileges. Drivers may be prosecuted.
Failure to obey regulatory signs
Stop signs, one-way streets, speed limits etc. Penalty: Fine $40.00.
Repeat offenders
Drivers responsible for more than two violations of campus regulations may lose their campus driving and parking privileges.
Payment of fines
An additional penalty of $10.00 will be charged if tickets are not paid within 15 days. Unpaid Fines will Result in:
loss of parking privileges until the debt is paid.
loss of registration privileges for the subsequent semester until the debt is paid.
transcripts will not be forwarded, nor certificates issued until the debt is paid.