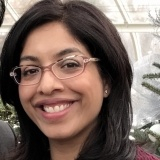 Shelly Sud, MDCM, FRCPC
Director of Student and Resident Professional Affairs - Campus Outaouais
Dr. Shelly Sud obtained her MDCM from McGill in 2003 and completed a Family Medicine residency at the Jewish General Hospital in 2005. After working in the community as a family physician and hospitalist, she returned to post-graduate training and completed an Internal Medicine residency with a fellowship in Medical Oncology from the University of Ottawa in 2014.
A full-time Medical Oncologist at the CISSSO since 2015, she has maintained an interest in clinical research and education. She serves as a local Principal Investigator for clinical trials in the Outaouais region, as a community representative at the Royal College and as a faculty lecturer.
Since beginning her tenure in April 2020 as a Director of Student Life at the Faculty of Medicine and Health Sciences, Dre. Sud is dedicated to enhancing the medical education experience for student and resident' learners from Outaouais.
Having pursued various training opportunities, at different stages of life, she strongly believes in the importance of cultivating resilience, embracing wellness and promoting professionalism throughout the medical education journey.
With her clinical experience in oncology, she relies on exemplary communication skills and a collaborative multidisciplinary approach to support learners. She hopes to bring her enthusiasm, experience and innovative spirit to contribute to the development of a dynamic and healthy community in the Outaouais.