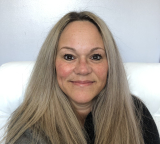 Chantal Cousineau
Administrative Coordinator

In 2022, Chantal joined the WELL Office team of the Faculty of Medicine and Health Sciences at McGill University in Outaouais as Administrative Coordinator. She has nearly 30 years of office experience, including 25 years as a sales assistant in the retail industry.
Health and well-being are among her priorities and she recently obtained a certificate of professional specialization in medical secretarial work. She is enthusiastic about providing support to her colleagues and responding confidentially to requests from the student community in an efficient manner. Positive and smiling, she will meet the new challenges associated with this role while supporting learners in their day-to-day needs.