4th Annual Trainee Research Day 2016
Thank you to all who participated to the Annual Trainee Day on June 3, 2016, it was a great success! It was held at the RI Auditorium at the Glen Site. 
The goal of the Research day was to showcase the vital contributions of the students and post-doctoral fellows with both poster and oral presentations. 
The focus was on Tuberculosis and other mycobacterial research and was open to all members of the Centre.
It is an opportunity to meet, mingle, share great research and enjoy some refreshments.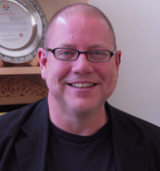 The Keynote Speaker was 
Clifton E Barry III, Phd.  Bibliography

Chief, Tuberculosis Research Section
Laboratory of Clinical Infectious Diseases
National Institute of Allergy and Infectious Diseases
In vivo imaging of Tuberculosis ​
This was followed by a Poster Presentation and an Oral Presentation by our graduate students and our postdoctoral students.

We'd like to especially congratulate our Winners:
Poster Presentation:
1st Place - Jason Zou from the Reed lab
2nd Place - Laura Mendonca from the Divangahi lab
3rd Place - Marwan Ghanem from the Behr lab
Oral Presentations:
1st Place - Vinicius Fava from the Schurr lab
2nd Place - Jean-Yves Dube from the Behr lab
 
ALFA Travel Award


Vinicius Fava
The Best Publications Awards by trainees in 2015 were also announced:
Vinicius Fava from the Schurr lab- Emil Skamene Prize for Best Paper in Biomedical Research by a Postdoctoral Fellow
Alain Pacis from the Barreiro lab - Emil Skamene Prize for Best Paper in Biomedical Research by a Graduate Student
Samuel Schumacher from the Pai group -  Jonathan  Meakins Prize for Best Paper in Clinical Research by a Graduate Student
Olivia Oxlade from the Schwartzman group - Margaret Becklake Prize for Best Paper in Health Outcomes Research by a Postdoctoral Fellow
Robyn S. Lee from the Behr lab - Margaret Becklake Prize for Best Paper in Health Outcomes Research by a Graduate Student
​
The 2015/2016 TB Centre Travel Awards:
Maxim Cormier (K. Schwartzman)
Vinicius Fava (E. Schurr)
Danielle Cazabon (M. Pai)
Jean-Yves Dube (M. Behr)
Marwan Ghanem (M. Behr)
Photo Gallery (courtesy of Dr. Jing Liu)
In partnership with: