The SPF has devised a simpler, faster application process for ad-hoc initiatives like workshops and events (usually less than $250) that contribute to a culture of sustainability at McGill. Learn more about the Tiny Stream and how to apply here. 
Here is the list of approved Tiny Stream projects:
---
Sustainable dishware for Death Cafes (SP0172)
Approved Fall 2017
A Death Cafe is a monthly group-directed discussion of death, with no agenda, objectives or themes. It is a discussion group rather than a grief support or counselling session. In these workshops, participants discuss death in a respectful and confidential space without fear of judgment. Death Café's do not have a spiritual or philosophical agenda and rather than aiming to give answers, they provide a forum for a candid discussion of a universally relevant subject often viewed as a taboo in our Western society. $75 of SPF funding will be used to purchase sustainable dishware for snacks and refreshments at the Death Café. 
---
Research and Sustainability Network Launch Speaker Series (SP0173)
Approved Fall 2017
The Research and Sustainability Network (RSN) is a new organization on campus which aims to create a platform where McGill students and professors can share their sustainability-related research projects. The launch event engaged the undergraduate student body with some of the outstanding McGill researchers working on sustainability-related research. This space aimed to facilitate cross-faculty collaborations and interdisciplinary discussions of sustainability related topics and projects, while allowing students to gain insight in how to pursue a research oriented career, integrate a sustainability mindset within their realm of studies, and develop the connections and network. $300 of SPF funding was used for room rental and catering. 
---
Wood @ Work Conference (SP0174)
Approved Fall 2017
Wood at Work is a community of practice that connects leaders in sustainable design and city planning, wood construction and forest conservation. The third annual conference: Wood at Work 2017: Elegant Strategies for Architecture, City-Building, and Forest Conservation, took place on October 26 and 27th. Events included a series of lectures by world experts in wood design and engineering, forest ecology, rural livelihoods, and forestry; hands-on activities (participants may find themselves judging a student bridge building competition, cooking on an open fire, or observing our wood mizer sawmill in action) and participant-led round-table discussions. $300 of SPF funding was used to purchase carbon offsets, dishware rental, and the video or professional services for on-campus events. 
---
Purchase of Reusable Dishware (SP0181)
Approved February 2018
This project aims to reduce waste and foster a culture of sustainability by spreading awareness of reusable dishware. In order to reduce waste associated with disposable dishware used in events planned by the Atmospheric and Oceanics (AOS) department and the Council of Atmospheric and Oceanic Sciences (CAOS), SPF funds will be used to purchase reusable dishware. This dishware will be used at various events organized by either AOS or CAOS including, but not limited to, weekly coffee times, Ph.D. defenses, welcome breakfasts, and CAOS general meetings. The graduate student lounge is equipped with a kitchenette that allows for easy cleaning of the dishware. To prevent loss or theft, the majority of dishware would be locked away in the AOS administrative office to be used for the above mentioned events, however, a small subset would be left in the kitchenette to allow for daily lunchtime use.There is a long-term economic incentive in that new disposable materials will not need to be purchased for every social event planned by AOS or CAOS. This initiative would directly benefit graduate students, faculty, staff, and visitors of the AOS department through the easy access of reusable dishware at organized events. Additionally, the dishware would be used at any interdepartmental events, thereby benefitting graduate students from other departments.
---
Recycling Bins on Wheels for the Redpath Museum (SP0182)
Approved February 2018
This project aims to increase the recycling capacity of Redpath Museum. Due to recent changes, the Redpath Museum now holds 5 of the 10 Biology Undergraduate labs courses in its Teaching Lab, Rm 106. SPF funding will be used to purchase two 50 gallon recycling bins on wheels to handle the waste generated from these teaching labs. As it stands the Redpath Museums only has 18 gallons blue recycling bins; one bin would be for paper, the other for glass, metal and plastic.  They would be located inside the lab during lab times and then set outside in a designated area in the hallway where they would be available to the rest of the floor/building. Facilities is supporting this initiative by putting this lab on their recycling collection route.
---
International Development Policy Case Competition (SP0183)
Approved February 2018, CANCELLED
The International Development Studies Students Association is hosting McGill's first International Development Policy Case Competition.  The theme of this year's competition is Food Security in Nigeria. This policy case competition will allow students the opportunity to transfer their classroom knowledge into tangible skills applicable to policy development and analysis.  Our event is composed of a development policy workshop and a two round competition. Funds from the SPF will be used to cover the difference between sustainable and non-sustainable catering options.
---
Reusable Water Bottles for School of Religious Studies (SP0198)
Approved October 2018
In an effort to achieve their Sustainable Workplace Certification, the McGill School of Religious Studies will be purchasing reusable stainless steel water bottles for faculty and staff members. This is being done to replace the single-use plastic water bottles that are currently in use. When professors and staff use the stainless steel bottles, they will be setting an example for students and others that work and take classes in the Birks Building to reduce their use of plastic water bottles in kind. Funds from the SPF will be used to purchase 20 stainless steel bottles from the McGill Bookstore. 
---
Elimination of Water Bottles at IGSF (SP0199)
Approved October 2018
In accordance with the Refill McGill mandate, IGSF are doing their part to see that water bottles are eliminated from the McGill campus. A lead and microbiological water test was performed on the kitchen sink and the office is satisfied with the results. The aim of this project is to eliminate the Labrador Water System, which the office has been using for drinking water, and the plastic water bottles that were used for our events. The Labrador Water System will be replaced by a large capacity Brita pitcher to be kept in the fridge.
---
Tree Awareness Campaign (SP0200)
Approved October 2018
On October 11th, 2018, the department of Building Services and Grounds held an Expo/Fair on the lower field of campus in order to inform the McGill community of the many services that are provided to them by the department. In this Expo/Fair, they showed several aspects of our work and had a hands-on display of the equipment. One of the aspects was stressed upon is the importance of trees, especially in context of McGill's carbon neutrality and sustainability goals, the part they play in our life and why it is important to plant them. In order to stress the importance of tree planting, they offered to the visitors, as a gift, a small tree plant in order to sensitize everyone of the importance trees have in our lives. Funds from the SPF will be used to purchase 100 small trees, cover delivery costs, and printing signage.
---
Go Green this Halloween (SP0201)
Approved October 2018
The Halloween party is a once a year event that the McGill Graduate Dentistry Students Society organizes every year where everyone from the Faculty of Dentistry professors, graduate and post-graduate students get together and socialize. This year the McGill Graduate Dentistry Students Society has decided to start a sustainability-focused halloween party with compostable party products. Funds from he SPF will be used to purchase compostable plates, spoons, napkins, and forks, and fund the compost pickup. Additionally, the SPF will subsidize sustainable food options.
---
Herbal Tea Garden (SP0202)
Approved October 2018
The Herbal Tea Garden project aims for every staff member at Building21 to have their favourite tea herb growing. Not only would it be a little "pet" for them to watch and care for, but it will reduce waste from individually wrapped teabags, add greenery to the space, and make healthy living a priority. This garden will be indoors in B21's kitchen so it will be maintained throughout the year to provide tea and other herbs no matter the season. Additionally, this simple action of planting, growing, drying, and drinking your tea herbs adds a magical and calming character to the workplace. This project will also contribute to making B21 a Bronze-Certified Sustainable Workplace.
---
Reusable Beaker Cups (SP0203)
Approved October 2018
Science Games is a 4-day event that takes place every year in January. It is a student-run event in which the departments within the Faculty of Science compete against one another. The events take place across the Montreal downtown region at various locations. This year, the organizing committee are trying to implement more sustainable and environmentally-friendly initiatives. As such, one of the major wastes in regards to the event are plastic cups; the amount of plastic cups used and wasted over these 4-days is immense. To increase the sustainability of this event, resources from the SPF will be used to purchase reusable beaker cups. These cups will be given to each participant upon registration with a carabiner that they can secure around their fanny pack. The participants will have to bring these cups with them to each event, using them to consume their beverage, and thus, reducing the plastic cups that are given out.
---
Veganism Starter Guide (SP0204)
Approved November 2018
The Veganism Starter Guide project aims to create a vegan starter guide to give for free to students on campus and at sustainability events. The guide will include sections on how to eat sustainably, grow your own produce in dorm-room situations, learn more about ethical fashion, address FAQs about veganism and sustainable eating, and include art by students on campus. In an effort to be as accessible as possible, and with the help of the Tiny Stream, the guide will be available to students at no cost. 
---
Reusable Dishware for Department of Family Medicine (SP0205)
Approved November 2018
This project will reduce the use of paper plates and cups and avoid the use of disposible plastic forks, knifes and plates in the McGill Department of Family Medicine. This project will contribute to a culture of sustainablity on McGill campus. Socially, it will engage more interactions in the kitchen, given that we have provided necessary utensils for people to eat and drink at the department. Environmentally, it will reduce the cost of buying disposible products, especially plates, forks and cups during each event that we host at the department. Those events include student events, departmental events, seminars or talks with invited speakers from national and international organizations, and meetings such as research committee meetings, focus group meetings, or thesis preparation meetings.
---
Clean It Up (SP0216)
Approved April 2019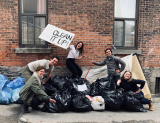 The Clean It Up project gathered approximately 60 volunteers to spend a day cleaning up the Milton-Parc community, where they collected more than 50 bags of trash and recycling. The project contributes to fostering a culture of sustainability at McGill by encouraging the students who live in the neighbourhood  to consider the waste they produce and where it goes, while also cleaning up the physical space. Resources from the SPF were used to purchase bags and gloves for the clean up.