QCST 336: Quebec Studies Summer Seminar (6 Credits)
Dates: Not offered in Summer 2018/ Cours non offert à l'été 2018.
---
Improve your French, discover Montreal and experience the Quebec way of life!
The Quebec Studies Summer Seminar offers an extraordinary opportunity to enhance your French communication skills and discover Quebec's vibrant culture in the largest French-speaking city in North America.

View the video below to see what students have to say about their experience:

Through a multidisciplinary historical approach, this 8-week intensive course brings together leading scholars in anthropology, history, political science and literary studies as well as cultural figures, opinion makers and public intellectuals for an integrated course in French language and Quebec history.
In order to create an ideal learning environment, only 25 students will be selected. Classes will be held Thursday to Friday from 9:30 a.m. to 5:30 p.m. Attendance is mandatory for all sessions.
Benefits
Discover important elements of Quebec history and culture by interacting with well-known scholars and public figures;
Improve your French oral and written communication skills;
Develop your critical mind by listening, reading, debating, and doing your academic assignments in French;
Take advantage of a small-class setting with the presence and expertise of two professors (one for the language component, one for the history component).
Requirements
Interested candidates must have an intermediate level of French corresponding to either: TFI: 2, Compétence de base en français Test de français international [PDF], or DELF 2 A5 - A6 (CIEP); B2, Autonomie (European Council), or equivalent.
The course is open to Special and Visiting students (including international students), and current McGill Students.
Admissions
Students should take note that this course may be cancelled due to unanticipated low enrolment, or other issues.
Summer Studies or Quebec Studies shall contact enrolled students as soon as possible to inform them about the situation
Admissions information is available here.
Fees
Fees for 2018 are available here.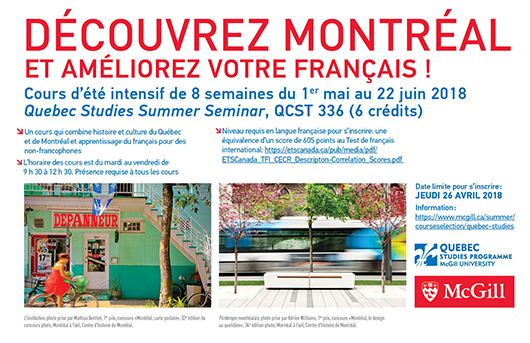 ---
Contact us
If you have questions regarding the program and its content, please contact Mr. Stephan Gervais:
Email: stephan.gervais [at] mcgill.ca
Telephone: (514) 398-3960