Congratulations to Professor Michael J. MacKenziel, newly appointed Professor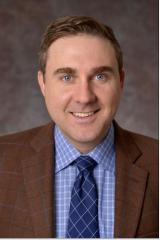 The McGill University School of Social Work is pleased to announce that Prof. Michael MacKenzie will be joining the faculty as Professor of Social Work as of July 1st 2018
"As a Canadian expatriate who has been south of the border for nearly two decades, I am excited about the opportunity to return home and join the leading team of child welfare scholars at the country's finest university. I am deeply indebted to the people of the United States and the universities that have nurtured my growth as a scholar, and I look forward to bringing those experiences back to my new colleagues in Montreal and to playing a part in using data to inform child welfare policy in Quebec and across Canada," says Prof. MacKenzie.
Prof. MacKenzie comes to McGill from Rutgers University in New Jersey, where he was Chancellor's Scholar for Child Well-Being and Associate Professor of Social Work and Pediatrics. At Rutgers, Prof. MacKenzie helped found and lead the Child Welfare and Well-Being Unit, which oversaw a partnership with the New Jersey Department of Children and Families. Prior to Rutgers, he was an Associate Professor at Columbia University in New York. Prof. MacKenzie completed a joint doctorate in Social Work and Developmental Psychology as well as his Master of Social Work and Master of Arts in Psychology from the University of Michigan in Ann Arbor. His earlier training included a Master of Science in Molecular Genetics from the Department of Zoology at the University of Western Ontario where he also completed his Bachelor's Degree in Biology.
Prof. MacKenzie is one of a very small number of social work researchers with graduate training in molecular genetics and endocrinology, allowing him to incorporate work on the stress hormone system and gene expression into his studies of early adversity and maltreatment. Prof. MacKenzie  is a prolific researcher in the area of dynamic processes in human development.  His  work focuses on the accumulation of stress and adversity in early parenting, the roots of harsh parenting, and the pathways of children into and through the child welfare system. He has worked extensively in the U.S. and Canada and in Jordan, where, with Columbia colleagues, he supported the development of their first foster care system and a juvenile diversion probation program. Prof. MacKenzie currently holds a William T. Grant Foundation Scholar Award, and his work has been funded by a variety of sources, including the U.S. Children's Bureau, UNICEF, Robert Wood Johnson, and the WK Kellogg Family Foundation. In 2017, Prof. MacKenzie was the recipient of Excellence in Research Award from the Society for Social Work and Research.
---
Relationships Matter for Youth 'Aging Out' of Care Project Video and Photo E-Book
Child welfare legislation in Canada requires youth in long-term government care to transition to adulthood and become self-sufficient at the age of majority - a phenomenon termed as 'aging out' of care. Due to this cut-off of services, youth exiting care tend to have limited support networks, and most of their connections during their time in care are formal, paid for and have an expiry date.
This past fall, Melanie Doucet, a PhD candidate at the McGill School of Social Work and a former youth in care, led a collaborative photovoice project alongside 8 former youth in care in the Greater Vancouver area between the ages of 19 and 29. The Relationships Matter for Youth 'Aging Out' of Care project aimed to take a closer look - through the power of images and accompanying captions - at supportive relationships in the lives of young people from care and how those relationships can be developed and nurtured over time. A photo exhibit open to the community was held at the end of the project, and was attended by several key government officials and community organization representatives. 
This project video is being released to raise awareness on the issue of relational permanency for youth in and from care, and to showcase the talents of young people from care in BC. You can view it here. 
You can also view the co-researchers' powerful photography work and accompanying captions in the Relationships Matter Photo E-Book:
---
Opinion: Waiting, with a broken bone, in a broken Quebec health system
Let's have some compassion for Emergency Room patients held hostage for hours, afraid to venture anywhere for fear of missing their turn.  
Susan Mintzberg, Special to Montreal Gazette
---
Our health minister may be pleased with how our health-care system is being managed, but when it takes 13 hours of wait time to put a cast on a simple fracture, you find yourself questioning what exactly is broken.
Although the people at the top may want us to believe that there are enough doctors to go around, we, who are left sitting in the hospital hallways and waiting rooms, know that this is an absurd truth.
But instead of arguing about when this might change (since that will not be anytime soon) how about focusing instead on humanity and how it is lacking in our broken system. To explain, I will share a story.
Recently, my 11-year-old boy hurts his thumb. To avoid overcrowding the ER with non-emergencies, we headed to a walk-in clinic, arriving at 9:30 a.m. By noon we had seen a doctor and completed X-rays (at another clinic), which confirmed a small fracture. We were then sent the Montreal Children's Hospital for a cast. We arrived at 1 p.m., doctor's note and X-ray in hand.
We were told to bypass triage and head for the waiting room. Three hours later, still in the waiting room, we are wondering why we had been sent to the ER and whether perhaps there was somewhere else to go. As we consider alternatives and who might provide us with information, the loudspeaker announces that the wait time for less urgent cases was five hours, then six hours, then eight hours, and that no questions about wait times would be answered.
We understood that we were now hostages of the system: no information, no one to ask, nowhere to go … just a broken bone in a broken system, waiting for a cast.
Seven hours later, a doctor came to inform us that the thumb was indeed broken and that it would need a cast. Not so helpful: that just confirmed the information that we had presented upon our arrival at the hospital. Another few hours went by and finally at 10:30 p.m., 13 hours after it all began, the cast was placed and the boy and his set thumb returned home.
In the end, we did find ourselves contributing to the unnecessary overcrowding of the ER, but ironically the system itself was responsible.
However, the real point of this story is not about the time it took, nor about the broken system, but about patients finding themselves in situations where they become hostages of a system that makes little effort to treat them with care. We are told to sit and wait, with no further information, and whether that means one hour or 13 hours makes no difference. Patients are stuck in limbo, afraid to venture anywhere on the chance that their name might be called at some random moment and they miss their turn in the queue.
Is this the best we can do? In a time where technology is so smart, might there not be simple ways to add some humanity to our broken system? How about providing information about alternative options when the ER is overloaded? Or integrating a system that sends automated texts to patients who are low priority informing them that their turn may be coming up shortly, thus allowing them to wander until there is an actual chance that they will be seen.
Emergency rooms and wait times are unpredictable, we know this. But we also know that some (if not most) emergencies will take time, so how about we treat this reality with honesty. Patients, families, doctors and staff are in this together, all doing their best to get to the end of the day as quickly and painlessly as possible.
Perhaps it is time to cast some compassion on a broken system that needs healing.
Susan Mintzberg is a PhD candidate in the School of Social Work at McGill University.
---
Professor Myriam Denov awarded the Faculty of Arts Award for Distinction in Research
Professor Myriam Denov, a Tier 1 Canada Research Chair and a Trudeau Fellow, has been awarded the 2018 McGill Faculty of Arts Award for Distinction in Research. 
This award recognizes Professor Denov's outstanding leadership and accomplishments in research, her productivity as a scholar (including 9 books and edited collections, and over 90 articles and chapters), her stellar international reputation, and her research contributions to improving the living conditions of war-affected children around the world.  
---
Social Work Spring Convocation – June 5th, 2018
The Convocation ceremony will be held Tuesday, June 5th, 2018 at 10:00 am. under the white tent on lower campus.
Following the Convocation ceremony, you are all invited to the reception being given by the School of Social Work in the Wendy Patrick Room, in honor of BSW, MSW, MScA and PhD graduating students.
A photographer is available at the reception for all picture taking which will be posted on the School's website.
---
School of Social Work Invited Lecture by Michael J. MacKenzie, PhD. , MSW on March 15th at 9:00 a.m., #326, Wilson Hall speaking about Exploring Transactions in Applied Domains: From harsh parenting to out-of-home care.
Dr. MacKenzie's presentation, Exploring Transactions in Applied Domains: From harsh parenting to out-­‐of-­‐ home care, will focus on his use of the transactional model of development to explore the dynamic processes across underlying the experience of early stress, maltreatment, and child welfare system-involvement.  Following an overview of his broad program of research, he will present more in depth key findings from some of his recent projects.  The presentation will conclude with an overview of future directions in his program of research and discussion of potential connections to current  opportunities at McGill in Social Work and across campus.
For full details, click here.
---
Jewish General Hospital, Child Psychiatry Department & Couple and Family Therapy Training Program in Collaboration with McGill School of Social Work.
Presents: Daniel Shaw, PhD Director of the Pitt Parents and Children Laboratory Distinguished Professor in the Department of Psychology at the University of Pittsburgh
THE FAMILY CHECK-UPAN INNOVATIVE ECOLOGICAL AND DEVELOPMENTALLY INFORMED (TAILORED) APPROACH FOR HIGHRISK FAMILIES
Wednesday, March 21, 2018, 8:20 a.m. to 3:30 p.m.
Institute of Community & Family Psychiatry, (Amphitheatre),
4333 Cote Ste-Catherine, Montreal (Quebec)
For further information, click here.
---
Have a Heart Day McGill is a reconciliation event in collaboration with the First Nations Child & Family Caring Society that brings together caring Canadians to help ensure Indigenous children have the services they need to grow up safely at home, get a good education, be healthy, and be proud of who they are.

On February 1st, 2018 the Canadian Human Rights Tribunal issued a fourth compliance order finding Canada's approach to First Nations child welfare to be unlawful and discriminatory. Have a Heart Day is a chance for everyone to get together, learn more about the injustices in our society, and get involved in the process of reconciliation. This event seeks to build on the momentum of the Human Rights Tribunal latest ruling in favour of First Nations kids.

At the core of the event will be a Valentine card writing campaign, where everyone is encouraged to send a message to Parliament in support of safe schools, clean water, and good healthcare for Indigenous children. Paper and pens will be provided for anyone who needs them and postage to Parliament is free!

The events at McGill will consist of presentations and a panel discussion with a number of prominent figures who have devoted themselves to promoting reconciliation and raising awareness about issues facing Indigenous people. We are honoured to have Dr. Cindy Blackstock, Alanis Obomsawin, Samir Shaheen-Hussain, and Stephen Agluvak Puskas.

Seating is first come first serve, and entry is free. There will be catering at the event for anyone who is rushing from class or work and is worried about not having time to eat!

Presenters:
Dr. Cindy Blackstock:
Dr. Blackstock is the Executive Director of the First Nations Child and Family Caring Society of Canada and began teaching at McGill's School of Social Work in January 2018. A member of the Gitksan First Nation, Cindy has 25 years of social work experience in child protection and Indigenous children's rights. Her promotion of culturally based equity for First Nations children and families and engaging children in reconciliation has been recognized be the Nobel's Women's Initiative, the Aboriginal Achievement Foundation, Frontline Defenders and many others. An author of over 50 publications and a widely sought after public speaker, Cindy recently completed a Master of Jurisprudence degree and currently serves as a Commissioner for the Pan American Health Organization Commission on Health Equity and Inequity.

Samir Shaheen-Hussain:
Samir Shaheen-Hussain got involved in social-justice movements in 2001. He obtained his medical degree at McGill University in 2003, where he later went on to complete his pediatric residency training. He has been the pediatric consultant for Médecins du Monde's Projet Migrant initiative since 2011 and is currently a board member of Médecins québecois pour le régime public. Over the years, he has been part of Indigenous solidarity, migrant justice and anti-police violence organizing and has contributed texts to various publications, including Le Devoir, Briarpatch Magazine and Nouveaux cahiers du Socialisme. He currently works full-time in a pediatric emergency department. Most recently, he has been involved in spearheading #aHand2Hold efforts to reverse provincial policy that prevents caregivers from accompanying their children during medical evacuation by air-transport, a practice that disproportionately impacts Inuit children from Nunavik.

Alanis Obomsawin:
Alanis Obomsawin, a member of the Abenaki Nation, is one of Canada's foremost documentary filmmakers. The many films that she has directed with the National Film Board of Canada explore the lives and concerns of Canada's First Nations. Her 50th and most recent film, Our People Will Be Healed, reveals how a Cree community in Manitoba has been enriched by an adequately funded school that nurtures Indigenous culture.

Obomsawin originally launched her career in 1960 as a professional singer in New York City. In 1967, NFB producers Joe Koenig and Bob Verrall invited her to act as a consultant for a film on Indigenous people. Obomsawin quickly fell in love with the camera and never looked back.

As an activist filmmaker, Obomsawin has always been driven by a desire to give Canada's first peoples a voice. This can be seen in all her films, from Christmas at Moose Factory (1971), which depicts life in a Cree village in James Bay through children's drawings, to We Can't Make the Same Mistake Twice (2016), which describes the legal battle that First Nations waged from 2007 to 2016 so that their children would receive the same care as other Canadian children. Throughout her career, Obomsawin has consistently focused her lens on the importance of roots and intergenerational bonds in preserving First Nations culture.

Obomsawin is no stranger to documenting emerging conflicts, as evidenced by her four films on the Oka Crisis of 1990: Kanehsatake: 270 Years of Resistance (1993), winner of 18 international awards; My Name Is Kahentiiosta (1995); Spudwrench: Kahnawake Man (1997); and Rocks at Whiskey Trench(2000).

Her other documentary films include Incident at Restigouche(1984), a gripping account of the provincial police raids on a Quebec Mi'gmaq reserve; the moving Richard Cardinal: Cry from a Diary of a Métis Child (1986), about a teenager who commits suicide; and No Address (1988), which looks at homelessness in Montreal. Obomsawin's more recent films include The People of the Kattawapiskak River (2012), which exposes the housing crisis facing the Cree of James Bay and was named Best Social/Political Documentary at the Canadian Screen Awards (2014), and Hi-Ho Mistahey!, which premiered at the Toronto International Film Festival Film (TIFF) in 2013 and was nominated for Best Feature Length Documentary at the 2014 Canadian Screen Awards.

Especially close to Obomsawin's heart are the Odanak people and their stories, as witnessed by her short film Sigwan (2005) and her follow-up, the multi-award-winning Waban-aki: People from Where the Sun Rises (2006). In Our Nationhood (2003), Obomsawin captures the determination of the Listuguj Mi'gmaq people to manage the natural resources of their traditional lands. With Is the Crown at War with Us? (2002), the accomplished filmmaker takes a close look at the conflict between the Mi'gmaq and their Acadian neighbours over fishing rights in Burnt Church, New Brunswick.
Obomsawin was inducted into the Playback Canadian Film & Television Hall of Fame in 2010 and honoured during the inaugural Birks Diamond Tribute to the Year's Women in Film at TIFF in 2013. In 2014, Obomsawin also received the Humanitarian Award for Exceptional Contributions to Community and Public Service from the Academy of Canadian Cinema & Television.

Stephen Agluvak Puskas:
Stephen is an Inuit visual artist and radio host living in Montreal. He is a Indigenous community representative for both the Montreal police and Dawson College. He helped start Montreal's first Inuktitut radio show and has extensive experience speaking at schools in order to raise cultural awareness within the greater Montreal community.

#HaveaHeartDay #FNwitness #Waiting4UCanada #AHand2Hold

Caring Society Statement on Latest Human Rights Tribunal Ruling: https://fncaringsociety.com/sites/default/files/Caring%20Society%20Press%20Release%202018%20CHRT%204.pdf

Quebec policy for children during medical evacuation: http://montrealgazette.com/news/quebec/indigenous-children-airlifted-to-montreal-er-without-family-members

Proudly supported by:
First Nations Child & Family Caring Society of Canada
McGill University Faculty of Law
the International Relations Student Association at McGil
---
McGill Social Work Career Fair
Date: Friday, March 16, 2018
Time: 10:00am -1:30pm
Location: Wendy Patrick Room and Room 105, Wilson Hall
Participating Organizations: For a full list, click here from winter 2017
For more information, please contact:
 
Melanie Walkty, Social Work Career Advisor
Tel: 514-398-3304 x0768
E-mail: melanie.walkty [at] mcgill.ca
Jean Hepworth
Tel: 514-398-3304 x0598
E-mail: jean.hepworth [at] mcgill.ca
---
Professor Cindy Blackstock's advocacy work for First Nations children highlighted in the Lancet's Series on Canada
The Lancet's Series on Canada, the first-ever for the journal, examines the country's system of universal health coverage and its global role in health, including Canada's legacy, challenges, and future path on issues such as access to health care, gender equality, global health diplomacy, and Indigenous peoples' health. Professor Cindy Blackstock's more than 20 years of advocacy work for the First Nations children was highlighted in the Series which sets the stage for accelerated Canadian leadership on health at home and abroad, as Canada marks 150 years since confederation. Details see here.
---