Muslim Awareness Week - January 25-31, 2021
Over the decades, Muslims at McGill have had an impactful, yet not-so famous influence and contributions within the McGill community, being intellectual figures within the Institute of Islamic Studies at the University, prominent staff members, influential students, and distinguished alumni. Come and join Muslim Awareness Week, in collaboration with many on-campus groups to get a taste of the History of Muslims at McGill, happening on Zoom on Wednesday, January 27th, at 18:00-19:30 ET: https://mcgill.zoom.us/j/86850582569?pwd=WGVrOGV1R1pXU3NVdVpmZGphU1NYZz09
In 2017, six men were killed in an attack on a Quebec City mosque. On Friday, Jan. 29, at 12:30 p.m., please join Principal Suzanne Fortier and Provost Christopher Manfredi for an online remembrance of these six lives lost. Guests will include Federal, Provincial and Municipal officials, and representatives of the Institute of Islamic Studies and the Muslim Students Association. This event is part of Montreal's third annual Muslim Awareness Week, which runs from Jan. 25-31. Click here for more information.
---
McGill School of Social Work Discussion - Dec 2, 2020 11:30-12:30
McGill Social Work Discussion moderated by Ajantha Vignarajah and hosted by Equity Diversity Decolonization Indigenization Initiative (EDDII).
Register in advance:
https://mcgill.zoom.us/meeting/register/tZwocOirqzkrGNV5cT_VgNIfyG-ktEfqhf2h
---
Film Screening and Panel Discussion: Transgender Parents
In partnership with McGill's Queer History Month, the McGill School of Social Work Equity Diversity Decolonization Indigenization Initiative (EDDII) invites you to a special screening of Director Rémy Huberdeau's film Transgender Parents (2014) on the evening of October 22nd, 2020 at 6:00 pm. The screening will be followed by a roundtable discussion with the Director Rémy Huberdeau, Prof. Jake Pyne School of Social Work York University, Shannon Collins MSW, moderated by Prof. Marjorie Rabieau of McGill School of Social Work.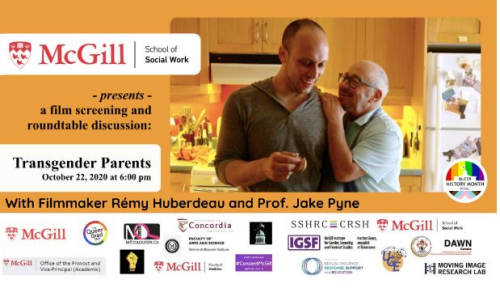 "TRANSGENDER PARENTS reveals the gifts trans people bring to parenting because of, and not in spite of, their gender. It's an intimate and tender look at the art of parenting, some of the hardest relational work in this life. https://remyhuberdeau.ca/en/transgenderparents
Register to Attend:
https://www.facebook.com/events/3523595001037186
https://www.eventbrite.ca/e/film-screening-and-panel-discussion-transgender-parents-registration-122612795171
---
2020 Virtual Spirit Walk - BSW & MSW Students Organize Fundraisers for the Native Women's Shelter of Montreal
Spirit Walkers have walked together on Mount-Royal since 2013 to raise pledges in support of Indigenous women and children of the Native Women's Shelter of Montreal. This year MSW 2020 and BSW 2023 students have organized fundraisers in support. To learn more on how you can participate and make a donation please visit the links below.
McGill MSW 2020 in support of the Native Women's Shelter of Montreal
Native Women's Shelter of Montreal Spirit Walk - with support from the McGill BSW 2023
---
Town Halls - Equity Diversity Decolonization Indigenization Strategic Plan Proposal 2020-2022
---
Scholar Strike Canada
On Wednesday Sept 9 and 10, 2020, Scholar Strike Canada is hosting public digital teach-ins to protest anti-Black, racist, and colonial brutality in the US, Canada, and elsewhere. The strike calls for a pause in teaching and administrative duties to participate, to the degree possible, in teach-ins hosted by Scholar Strike for Black Lives in Canada. The schedule for the teach-in, which will publicly digitally available on YouTube is available on the website https://scholarstrikecanada.ca along with additional resources. Some of the event are listed below. For the full program: https://scholarstrikecanada.ca/schedule/
Wednesday September 9th:
10:30 am – 12 pm: Desmond Cole - Abolition or death: Confronting police forces in Canada.
12:30 -2:00 pm Courtney white, Kevin White, Elder Eileen Antone - Solemn Promises on Stolen Land: Policing and Treaty-Breaking on 1492 Land Back Lane
2:30-4:30 pm: El Jones, Erica Violet Lee - Gender, Colonialism and Anti-Black Police Racist Violence
Thursday September 10th:
11:00 – 11:30 am: Bonita Lawrence – Indigenous Responses to Black Resistance
12:00 – 1:30 pm: Andrea Davis - Black Tax and the Invisible Labour of Black Women in the Academy
2:00 – 3:00 pm: Megan Scribe (Ininiw iskwew) and Eve Tuck (Unangax̂) - Co-Conspiring Against Carceral Systems
3:30 – 5:00 pm: Rinaldo Walcott - Two Crises: A Virus and Labour
5:30 – 7:00 pm Idil Abdiliahi, Beverly Bain - Race to Incarcerate in the University
---
Scholar Strike Canada Teach-in
Isang Bagsak: thinking through racial justice solidarity actions and the fierce urgency of now
#ScholarStrikeCanada teach-in
September 9, 2020, 2:30 - 3:55 pm Eastern via Zoom
Organized by Monica Anne Batac
Teach-in abstract
This #ScholarStrikeCanada teach-in will use examples from historical and contemporary mobilizations and interventions (Black cultural production, Vietnam and Philippine-American Wars, Black Lives Matter, Black / Ethnic Studies, Canadian university anti-racism / equity efforts) to highlight genealogies of Black-Asian/Filipino solidarity actions. It focuses the development of student activism/praxis and targeted action within the context of the university, addressing the specific site of McGill University (Tiohtià:ke / Montreal, QC).
We will be joined by Pan-Asian Collective (PAC), a student group that aims to increase meaningful engagement in Asian history and culture in a way that recognizes the diversity of the Asian experiences. PAC strives to empower and grow the Asian community in Montreal and build a network of support and friendship.
EAST 303 students are encouraged to invite peers (school peers/organizations, friends, family members) who might find this topic relevant and interesting. We may be joined by Asian-identified students and scholars from the McGill School of Social Work. As well, I have extended invitations to the Filipino student associations at McGill (MUFASA) and Concordia (FOCUS).
Before teach-in, , if you have the capacity, please view these two videos
*Content warnings: gun and police violence, enacted murder*
Childish Gambino's This is America: https://www.youtube.com/watch?v=VYOjWnS4cMY
Watch College Kids React to This is America: https://www.youtube.com/watch?v=LtpqdJkoKm8
* * *
Zoom link
You are invited to a Zoom meeting.
When: Sep 9, 2020 2:30 PM Eastern Time (US and Canada)
Register in advance for this meeting:
https://mcgill.zoom.us/meeting/register/tJIocuCspz8tE9zakmrsnzTN1yIym8YEGr4q