Graduate and Postdoctoral Studies hosted its annual 3MT/MT180 competition on March 15, 2017, showcasing the contributions and diversity of McGill graduate research. With only three minutes and a single slide, the presenters wowed the diverse and non-specialist audience with the complexity of their research and its impact on the community. 
​
The presentations were recorded and streamed live online. 
During the event, the judges represented McGill and selected two winners to represent McGill at the CAGS 3MT Eastern regional finals and concours ACFAS Ma Thèse en 180 secondes respectively.
​

The winners of this year's 3-Minute Thesis / Ma thèse en 180 secondes (from left to right):
Laura-Joy Boulos, Olivier Sulpis, Kashif Khan, Nicholas Zelt, and Necola Guerrina. / Photo: Owen Egan

 

 

3MT/MT180 WINNERS


PhD student Laura-Joy Boulos, People's Choice Award; Olivier Sulpis, winner, Ma thèse en 180 secondes; Kashif Khan, winner, 3MT; Nicholas Zelt, 3rd place, 3MT; Necola Guerrina, 2nd place, 3MT.
You can watch the 2017 event, featuring the sixteen incredible graduate students who showcased their research to other academics and the general public. 
Shannon Herrick 
Department of Kinesiology and Physical Education
"A scoping review of engagement in physical activity among LGBTQ+ adults" 
Jan Wollenberg 
Department of Geography
"Restoring Salt Marshes to Combat Climate Change" 
Mariam Saad 
Department of Natural Resource Sciences 
"Strategies for the Detection of Legionella pneumophila in Complex Matrices: The Aptamer Hunt" 


Olivier Sulpis 
Department of Earth and Planetary Sciences
"Cinétique de dissolution des carbonates de calcium à l'interface eau-­‐sédiment dans un océan acide"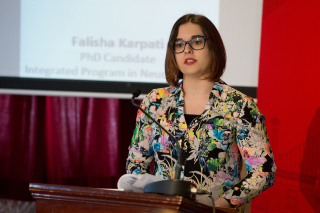 Falisha Karpati 
Integrated Program in Neuroscience 
"Dance and Music can Tune the Brain" 
Kashif Khan 
Department of Experimental Surgery 
"Cardiac Regeneration using Hippo"
Mi Lin 
Department of Natural Resource Sciences 
"How Tom and Jerry Help Manage Groundwater" 
Tao Jiang
Department of Mechanical Engineering
Laura‐Joy Boulos
Integrated Program in Neuroscience
"Récepteurs mu aux opioïdes dans l'habénula"
Nicholas Zelt 
Department of Microbiology and Immunology
"How to Cure a Neglected Tropical Disease" 
Susan Ge
Department of Experimental Surgery 
"Reconstructing Diabetic Charcot Foot Deformity"
Christopher Nzediegwu 
Department of Bioresource Engineering 
"Combating Heavy Metals in Soil" 
Camille Dallaire
Department of Geography
"Classification multi-­disciplinaire des segments de rivières de la planète a haute résolution spatiale"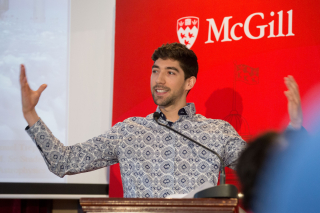 Samuel Trépanier 
Department of Physics 
"Search for the Origin of Cosmic Neutrinos" 
Necola Guerrina 
Department of Pathology
"The Missing Piece in Chronic Obstructive Pulmonary Disease (COPD)"
Émile Brisson­‐Curadeau
Department of Natural Resource Sciences