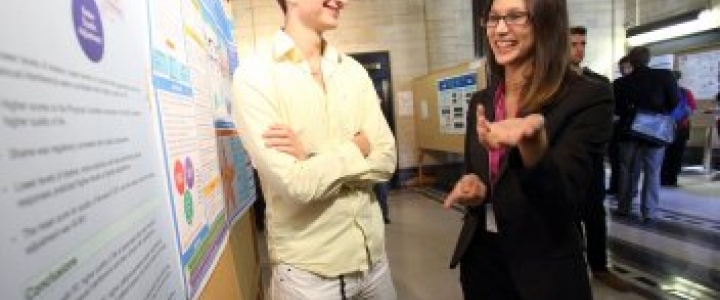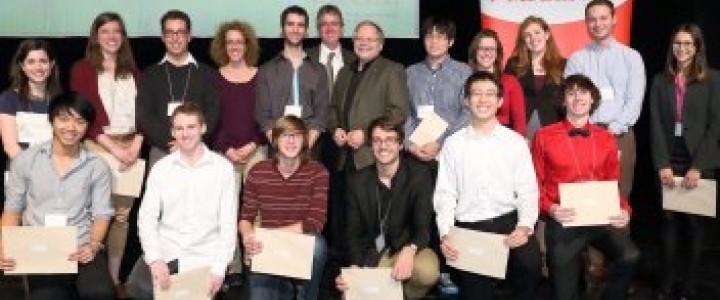 On Thursday, October 10, 2013, students from across the Faculty of Science presented their research projects at the ninth annual Undergraduate Research Conference (URC).
This year, sixty-four students from across the Faculty of Science participated. They showed their results to fellow students, alumni, and members of the public. Once again this year, the spectrum of students' research projects was very broad, including topics such as:
Examining the impact of dental caries in early childhood;
Curious robot exploration: A Review and Action Plan;
The role of fibrillin-1 in skeletal muscle differentiation; and
Pharmaceutical applications of solvent-free chemistry: a route to greener chemical synthesis and characterization
McGill judges had the arduous task of choosing the victors (see below). The prize ceremony took place in McGill's elegant Moyse Hall, and was followed by a very special keynote address (see also below). The day culminated with a reception for students, friends, and alumni, where everyone celebrated the accomplishments of McGill Science students.
---
Webcast of Keynote address:
The Faculty of Science was honoured to welcome distinguished alumnus Dr. John Smol (O.C., B.Sc. '77) who delivered the keynote address at the ninth annual Undergraduate Research Conference.
Science continues to play an increasingly important role in peoples' lives. Furthermore, to be a scientist is an opportunity to lead an exciting, influential and fulfilling life. However, just as it is a career with many opportunities, it is also a life with many challenges. Dr. Smol's presentation provided some personal perspectives on possible ways to maximize your opportunities whilst living in an increasingly complex world.
Dr. John Smol is a noted paleolimnologist who holds the Canada Research Chair in Environmental Change at Queen's University, where he co-directs PEARL, the Paleoecological Environmental Assessment and Research Laboratory. Professor Smol is an Officer of the Order of Canada, a Fellow of the Royal Society of Canada, a 3M Teaching Fellow, the Editor-in-chief of the journal Environmental Reviews, and a frequent commentator on environmental issues for radio, television, and the print media.
The webcast is also available in other formats (.mp3, .wmv, .mp4) via this link.
---
Prizewinners
First and second prizes were awarded in seven categories as follows:
Cellular and Molecular Biology

First prize:
Avital Horowitz
"Bax-suppressor human Septin7 and its yeast orthologue CDC10 are capable of resisting copper-mediated cell death in yeast"
Supervisors: Prof. Craig A. Mandato, Dr. Michael T. Greenwood
Nominated by: Department of Anatomy and Cell Biology

Click to view full image

Second prize:
Daegan Sit
"Development of a High-Throughput, Genome-Wide Screen of Virulence-Related Genes in Pseudomonas aeruginosa using a Caenorhabditis elegans Liquid Killing Model"
Supervisors: Prof. Fred Ausubel and Dr. Natalia Kirienko (Department of Genetics, Harvard Medical School)
Nominated by: Department of Microbiology and Immunology

Click to view full image

Earth System Science

First prize:
Caroline Aubry-Wake
"Response of glacier mass balance and discharge to future climate change, upper Susitna basin, Alaska"
Supervisor: Prof. Regine Hock (University of Alaska, Fairbanks)
Nominated by: Department of Earth and Planetary Sciences

Click to view full image

Second prize:
Mathis Messager
"Development of a method to estimate lake volumes from surrounding topographic information at a global scale"
Supervisor: Prof. Bernhard Lehner
Nominated by: Department of Geography

Click to view full image

Health & Social Science

First prize:
Mark Saffran
"Fear of Missing Out: Prevalence, Dynamics and Consequences of FOMO"
Supervisor: Prof. Richard Koestner
Nominated by: Department of Psychology

Click to view full image

Second prize:
Saskia Ferrar
"Psychosocial predictors of quality of life and dyadic adjustment in men with Peyronie's Disease"
Supervisor: Prof. Irving Binik
Nominated by: Department of Psychology

Click to view full image

Mathematical & Computational Sciences

First prize:
Mathilde Gerbelli-Gauthier and Olivier Martin
"Two Perspectives on mod p and p-adic Galois Representations"
Supervisor: Prof. Henri Darmon
Nominated by: Department of Mathematics and Statistics

Click to view full image

Second prize:
Adam Bene Watts
"Benefits of Random Copying in a Network of n-armed Bandits"
Supervisor: Prof. Doina Precup
Nominated by: School of Computer Science

Medical Sciences

First prize:
Doran Satanove
"Pharmacological Characterization of a Reinforcer Enhancing Effect of Nicotine"
Supervisor: Prof. Paul Clarke
Nominated by: Department of Pharmacology & Therapeutics

Click to view full image

Second prize:
Joseph Yang
"Knee Deep in Water: Aquaporin 9 and Cartilage Damage"
Supervisor: Dr. Benjamin Alman (Hospital for Sick Children)
Nominated by: Department of Microbiology and Immunology

Click to view full image

Organismal and Biological Sciences

First prize:
Bojing Jia
"CLIC Imaging of Cells: Pressing Cells into Focus"
Supervisors: Prof. Claire Brown, Prof. Sabrina Leslie
Nominated by: Department of Physiology

Click to view full image

Second prize:
Lou Beaulieu-Laroche
"Reduced B16 melanoma cells growth upon circadian rhythm induction in vitro"
Supervisor: Prof. Nicolas Cermakian
Nominated by: Department of Physiology

Click to view full image

Physical Sciences

First prize:
Daniel Berard
"Convex Lens-Induced Nanochannel Templating (CLINT)"
Supervisors: Prof. Sabrina Leslie and Prof. Walter Reisner
Nominated by: Department of Physics

Click to view full image

Second prize:
Laura Swayne
"Pneumatically Controlled Single Use Valve on a Centrifugal Microfluidic Disk Device"
Supervisor: Prof. Eric Salin
Nominated by: Department of Chemistry

Click to view full image
---
Downloads
Download the following slides to announce the Undergraduate Research Conference in your class or elsewhere:
---
Contact
Victor Chisholm, Undergraduate Research Officer, 514-398-5964